EAcceleration StopSign Threat Scanner review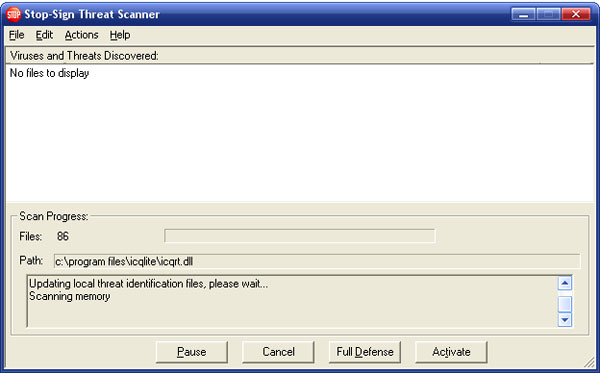 This program is a part of eAcceleration StopSign, a computer protection suite that consists of many useful components designed to eliminate different types of viruses and malware, block spam, prevent attacks from the Internet, etc. Threat Scanner is an advanced spyware remover and antivirus.
The application can scan the entire system including running processes, web browser cookies and all the files located on fixes drives and removable media. It can also quickly check user-specified locations. Threat Scanner uses powerful and highly configurable scan engine that thoroughly examines each local file implementing heuristic analysis. It uses large malware definitions database, which is updated on a regular basis. The program is able to scan files inside archives and e-mail databases.
Unfortunately, scans performed by Threat Scanner take a lot of time. The full scan of regular modern computer needs several hours to complete. Of course, the user can configure the program to scan only selected locations. Custom scans can really save time, but they are not as much as effective as the full scan is.
Our tests revealed that Threat Scanner is prone to minor false positives. For example, it identifies the mirc.exe file as a threat and terminates the associated mIRC program without asking for user permission. However, mIRC is a legitimate, harmless chat client. Another example is the process.exe executable related to l2mfix, a legitimate parasite removal tool designed to eliminate variants of the Look2Me infection. Take a look on one of the screenshots provided below.
The graphical user interface is very simple, but quite convenient. However, it isn't attractive enough.
Threat Scanner's free version refuses to remove any parasites it finds and asks to purchase the full eAcceleration StopSign suite.
Domains associated with eAcceleration StopSign Threat Scanner are stop-sign.com, eacceleration.com and eanthology.com. Orders are made using secure connection.
About the author