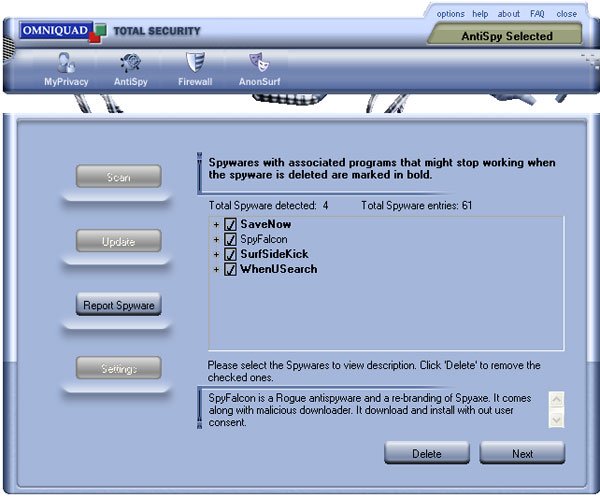 AntiSpy, a spyware remover, is a part of the Omniquad Total Security 2005 suite consisting of integrated computer protection tools – antivirus, firewall, spam blocker, anonymous surfing and privacy software.
The application scans the Windows registry, running processes and the entire file system. Recommended Typical Scan is very fast (takes up to one minute) and quite effective. The user can also configure the program to examine every file located in a separate folder or on selected hard drive. In such case scans are noticeably slower. For instance, scanning the main system disk can require from one to several hours. Of course, this depends on the amount of files in the selected location and their overall size. Omniquad AntiSpy uses large spyware definitions database updated on a regular basis. The program does not implement any real-time protection. It also does not have a lot of additional tools, just the Popup Blocker and simple home page shield that protects the Internet Explorer home page from being hijacked.
Unfortunately, Omniquad AntiSpy is prone to minor false positives. Our tests revealed that the spyware remover incorrectly identifies legitimate software. For instance, it associates registry keys of the popular ICQ 5 client with Aureate and Pinch 1.0 threats. It also recognizes FileZilla, a fully legitimate FTP program as UrlBlaze, and eMule, a harmless peer-to-peer application as BearShare and eMule++, which actually have no relation to eMule. Take a look on one of the screenshots provided below.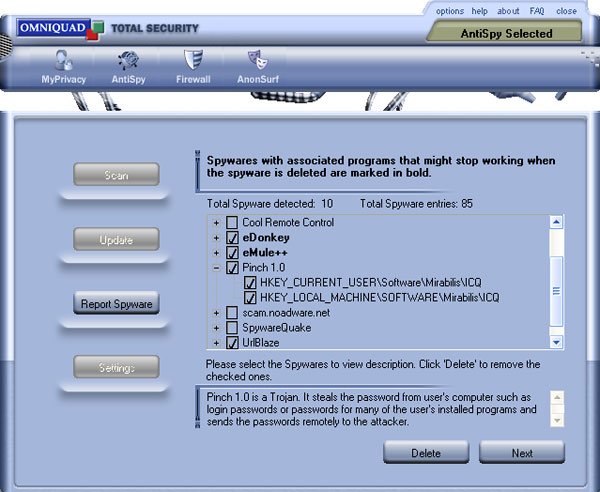 The program's interface is mediocre. Although it is clean and quite convenient, we find it too plain and dull.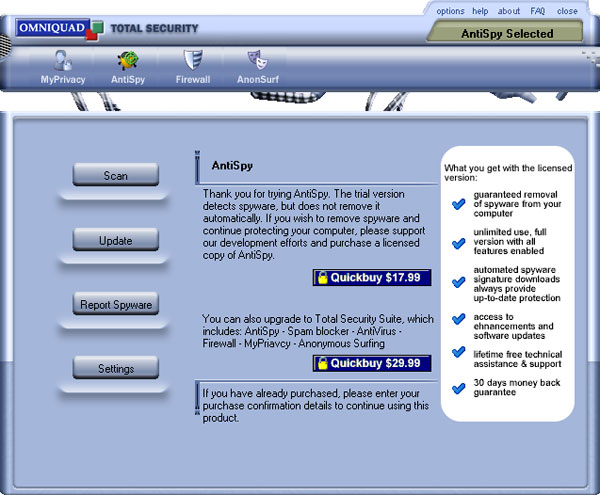 The free version (the vendor calls it trial) refuses to remove any malware it finds. It asks to purchase the full product.
The official web site is www.omniquad.com. Purchases are made via reputable services using secure connection.
About the author