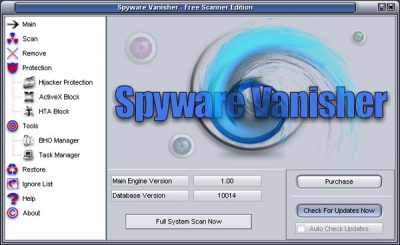 The Free Scan version of Spyware Vanisher was used to scan several computers including absolutely clean machines and systems infected with different spyware and adware parasites. Spyware Vanisher detected some installed malicious programs and did not produce false positives.
The application scans the Windows registry, running processes, cookies, local files and directories. Its engine does not waste system resources and runs even on Intel 486 class PCs. The program can perform Full Scan, Smart Scan For Unknown Infections, Scan For ADS and Fast Scan. The first one is the most thorough mode. The second one allows the program to detect unknown parasites, which signatures are not included into Spyware Vanisher's spyware definitions database. Scan For ADS should be used in order to identify and remove sophisticated malware that cannot be found using regular methods. Fast Scan is the simplest one. It takes only 10-30 seconds to complete. However, all the modes are effective enough and able to detect malicious objects. Scan reports are quite informative.
Spyware Vanisher provides useful additional tools (Hijacker Protection, ActiveX Block, HTA Block) to prevent browser hijacks and block malicious scripts on certain Internet resources. Other functions are: BHO Manager, Task Manager, Restore, Ignore List.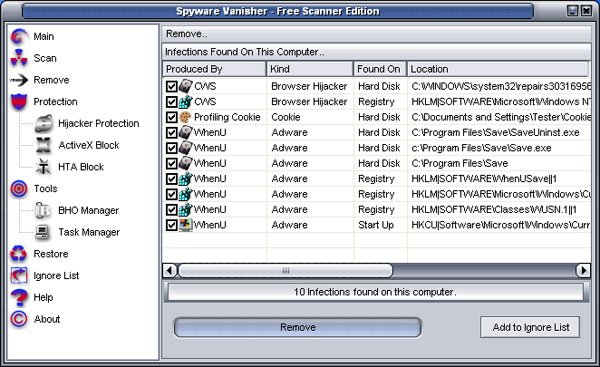 The program's interface is simple and clean. It is user-friendly and convenient.
Apparently Spyware Vanisher scans only the main system disk and bypasses files and folders located on other partitions. On our test computers it has checked over 4,000 files, while there were much more.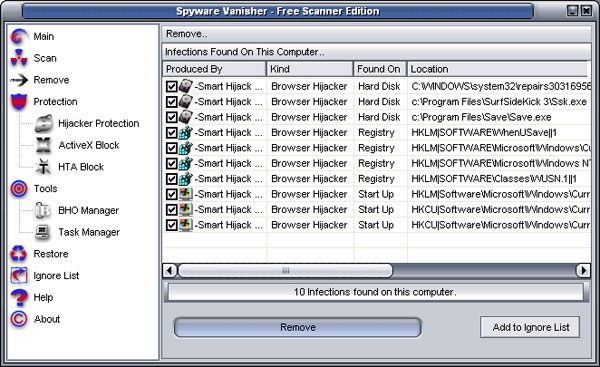 The Free Scan version deserves a healthy dose of criticism. Most protection tools are not available, specific restore functions cannot be used, updates of spyware definitions database are disabled. The program refuses to remove any infections it found and asks to register and purchase full product. Included reference file is quite small and probably doesn't contain lots of spyware signatures. Furthermore, the Free Scan version fails to correctly identify the most recent parasites, as it was not updated for almost two years. Nevertheless, during our tests it managed to detect some unknown parasites, browser hijackers and trojans that even the most advanced spyware removers have failed.
The official web site is www.spywarevanisher.com. Orders are made using secure connection.
In October, 2004, Spyware Vanisher was classified by several Internet resources as corrupt spyware remover because of false positives. However, our tests revealed that Spyware Vanisher has been improved and shouldn't be described as a rogue product anymore. Nevertheless, it isn't as much powerful as similar software of other vendors, so we cannot recommend it.
About the author