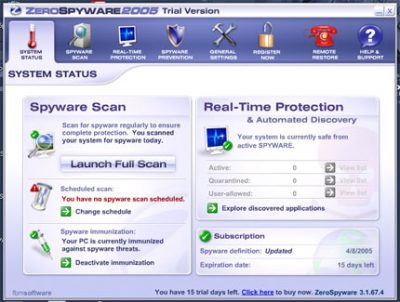 ZeroSpyware 2005 is a comprehensive anti-spyware and security tool, published by FBM Software. We have carefully tested it on several PCs under different environments. ZeroSpyware 2005 passed all our tests and showed very good results.
The application checks every system component, including the Windows registry, running processes, cookies, files and folders. It can perform full system scans or check user-defined locations. ZeroSpyware 2005 uses effective scan engine and extensive spyware definitions database, which is updated on a regular basis. Scan reports are highly informative, the program shows every detail of detected critical object, including its description, exact location and helpful tips. ZeroSpyware 2005 provides powerful Real-Time protection that monitors active applications, web browser plugins and cookies. One undoubtedly useful tool is integrated Intrusion Detection System, which tracks initiated software installations, secures essential system settings, manages web browser options and prevents hijacks. Another interesting function is the Vulnerability Scan. It finds outdated and possibly unsafe components of installed software, which can be exploited by certain malware. ZeroSpyware 2005 includes more advanced features, such as Scheduled Scan, Startup Management, Remote Restore and support related functions.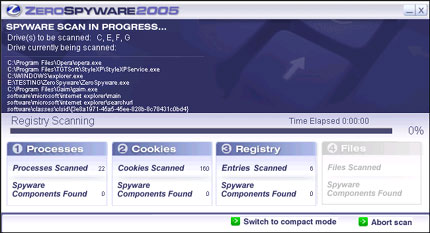 Program's interface is very attractive and user-friendly. It is definitely one of the best.
Vendors offer fully functional trial version which works 15 days.
Domains associated with ZeroSpyware 2005 are fbmsoftware.com, zerospyware.com and zeroads.com. The official site is a high quality source of information and customer support. Orders are made via reputable services using secure connection.
About the author