Riviera Beach agrees to pay 65 BTC ransom for data recovery
Riviera Beach suffers from the ransomware infection which will lead the city to almost $2M expenses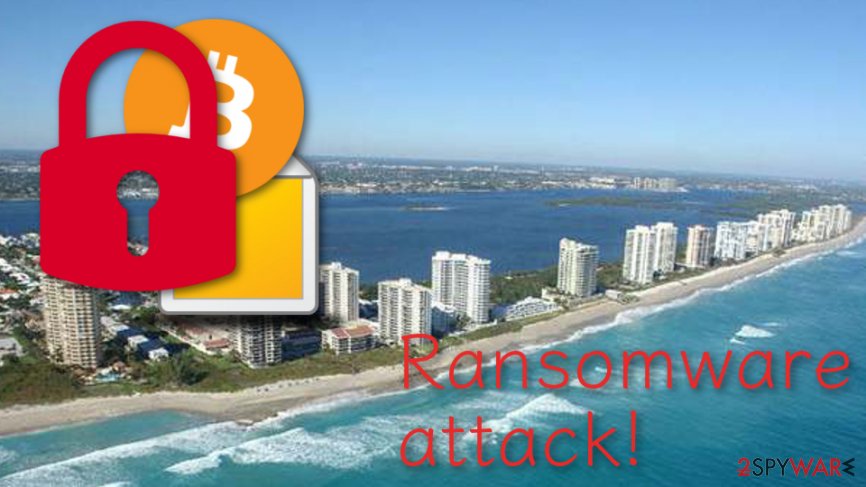 Ransomware is still one of the most prevalent viruses causing numerous troubles for its victims. The latest victim is Riviera Beach, Florida, which had its data encrypted under strong cipher since May 29.[1] The attack was initiated when a person from the Riviera Beach police office loaded a malicious email message and the infection spread around the entire city and numerous computer systems.
This hazardous attempt related in big losses as almost all services of Riviera Beach failed to operate after the data encryption and were shut down. The city's email service, billing operations, and official website are out of control as well.
Currently, all communication processes are performed via the telephone. 911 service is functioning but the operation process is also very minimized.
The city authorities decided to pay the demanded ransom, seeking up to 65 BTC
The cost for Riviera Beach ransomware attack will be huge as the malware managed to make numerous losses, especially, monetary ones. From the start, city officials did not even have a thought to transfer the $600K (65 BTC) ransom to the cybercriminals.[2] However, time passed by and people started seeing that third-party data recovery operations are not giving any result.
After about three weeks of waiting, the authorities decided that the best option will be to pay the demanded price to the hackers, after all.[3] They decided to contact the city's insurance service and ask for the payment. 
However, $600K is not the only amount that needs to be paid in order to cover the damage. Numerous fixes in the city's IT sector needs to be recovered for the proper functioning. This includes buying around 310 computers, 90 laptops, and other types of hardware.[4] All these goods are expected to cost around $941K.
File-encrypting malware is becoming a serious threat to home users as well as companies and cities
Ransomware attacks have caused numerous losses to various famous organizations and companies throughout the past years. If you are a frequent visitor of cybersecurity news portals, you will definitely see some relevant news about ransomware attempts at least twice a week or so.
Ransomware has been striking big organizations such as healthcare, airplane companies, and various manufacturers. Cybercriminals always know where to hit to receive big income. For example, on June 7th, this year, a worldwide attack touched ASCO, one of the largest airplane part providers.[5] The manufacturer provides airplane parts to other giants such as Boeing and Airbus which have also suffered from ransomware viruses in the past.
ASCO was forced to close numerous manufacturing processes in Canada, The United States, Germany, and Belgium. Even though some other subsidiaries have remained safe and stable, it hasn't been reported the exact amount of losses brought to the company by failed operations.
The most important thing that we encourage all users to do is take care of their online security in all ways possible. This topic overtakes different types of activities such as purchasing reputable anti-malware software, keeping a distance from suspicious sources on the Web, avoiding questionable email messages and, most importantly, taking care of the most important data by saving extra copies in remote locations.
About the author
References