Ryan Gosling used as a face of fake Miroskii cryptocurrency
ICO is outed after presenting Ryan Gosling as a graphics designer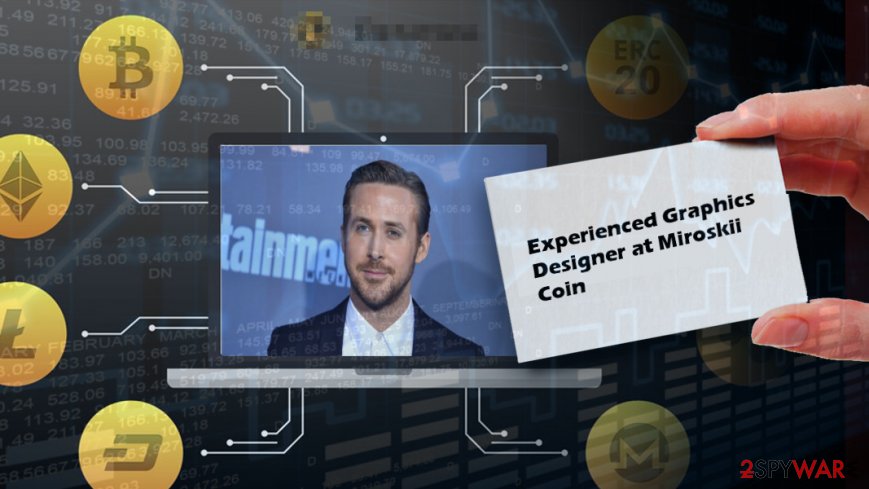 The pictures of celebrities are misused almost every day. This time, the victim is Ryan Gosling – a well known Hollywood actor, famous for taking the leading roles in the Notebook, Crazy, Stupid, Love, La La Land, and other popular movies.
Thanks to cybersecurity experts who are responsible for monitoring the activity of the companies involved in cryptocurrency[1] business, the stock picture of Ryan Gosling was found among the staff members of the Miroskii, Chinese-based cryptocurrency company which claims to be ready to beat BitCoin by introducing an exclusive decentralized bank.
According to reports, the actor was presented under Kevin Belanger's name and was described as "experienced graphic designer with a clear focus on identities and illustration." While we have no doubts that Ryan Gosling is talented enough to be an amazing actor and a graphic designer, but that's not the case. A cryptocurrency with Ryan Gosling as the graphics designer is just a hook suggesting that the Miroskii with its team behind are all fake.
Hackers are the ones who are hidings behind Miroskii's team
Twitter user @CryptoShillNye was the first one who spotted the uncanny resemblance of the graphic designer Kevin Belanger and Ryan Gosling. Upon such findings, cybersecurity experts Jackson Palmer and Claus Wahlers started an in-depth analysis and soon reported the results – the whole staff of the Miroskii creative team are fake.[2] 
Apparently, people who are behind Miroskii project picked stock images of a group of attractive gentlemen, most of which are related to some business. All of them have one thing in common – neither of them is a good judge of cryptocurrencies and blockchain.[3] 
If not Kevin Belanger, which is actually Ryan Gosling, probably no one would have suspect that all of the members are phony. The usage of celebrities photo often used in magazines and news, allowed to reveal a scam which already caused money loss to 380 investors.
Later it has been revealed that the Perry Henderson – who stands for the CEO of multiple firms – is, in fact, an agent from Texas, while Joel Hermann – Founder of Mysterium Network – is Ben B. Rubinowitz in real life who works as an attorney in New York City.
It seems that people who are seeking to obtain money as support for Miroskii cryptocurrency ran logic to pick up photos of people who are hiding in the shade to avoid easy revelation.
Miroskii cryptocurrency with phony staff. Can trust or not to trust?
Short prehistory to illustrate the Miroskii Coin is needed. Those who are interested in cryptocurrency must have heard about the team because it's a new type of cryptocurrency coin, which seeks to ease financial transactions and the entire banking system. It aims at creating a platform where owners of cryptocurrency wallets will be in charge of their exchanges and sales.
The platform of the Miroskii Coin is different from the others since it's "developed under its own highly secure encrypted decentralized blockchain technology."
Miroskii Coin is one of the ICO,[4]  which is an abbreviated name for the Initial Coin Offering. The idea of this service is to presale the coins of new cryptocurrency or crypto-token of a blockchain project in exchange for Bitcoin or Ethereum[5]  or other currently popular crypto-money coins.
As an example of successful ICO would be Ethereum cryptocurrency, while the list of rogue ICOs includes Opair, BitCad, Authorship, and many others. The increasing numbers of ICO scam already induced the US Department of Justice (DoJ)[6]  to start taking actions against fake "initial coin offerings" (ICOs).
The most important part of the Miroskii Coin history is the fact that it already managed to collect more than 830,000 USD. According to the latest reports, 380 investors have been involved.
In comparison to the older scam campaigns related to the blockchain, Miroskii distinguished from the others regarding the "investments" collected. Specialists wonder how such a fishy-looking site, which has seven followers inTwitter, Facebook, and Instagram together, manage to attract so many investors and gain such a profit.
Miroskii Coin denies the charges
A questionable search domain, which is most probably affiliated with the Miroskii, published an article claiming that Miroskii website, social media platforms & domain were hacked and the information provided severely corrupted.[7]
The company cutoffs any relationship with the celebrity actor and other people who are listed as the members of Miroskii creative team. Upon the supposed attack, all websites related to the Miroskii coin stopped working. The company claims that:
The website and the media platforms will soon be opened with a new domain extension with added features of advanced encryption
However, such coincidence is hardly possible. The performance of those websites has been suspended right after the news about Ryan Gosling to be a graphic designer in Miroskii coin.
According to the ICO scam developers, "All funds generated during this ICO phase are intact, MIROSKII coins are safe, and no bitcoin was lost to the hackers." However, these claims are bogus. Cybersecurity experts all as one agree upon the fact that Miroskii ICO is a scam and the Ryan Gosling has nothing in common with this affair.
About the author
References