Staying safe while shopping online. How?
Safety while shopping online is obligatory to keep sensitive data protected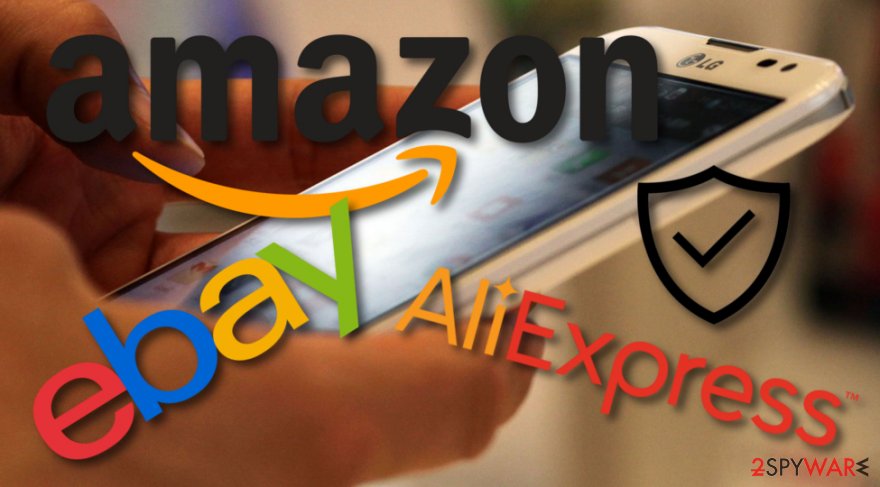 Like almost all users, we believe that you also love browsing for different types of products or services you can buy online. Nowadays, when the Internet has become even more usual than communication in the real world, people are more and more into online shops helping them to purchase their daily stuff easier and faster.
However, as almost everything in the cyber world, online shopping also has its pros and cons. For example, cybercriminals gain more and more knowledge on how to compromise people's accounts and steal their login details and other sensitive information that can be accessed thru the hacked account[1]. 
Note that even if you like shopping on pages such as eBay, Aliexpress, or Amazon[2], you and your personal data are not 100% protected from cyber crooks. However, that does not mean that you can look at your online safety carelessly. We suggest looking through the following tips that might be helpful while trying to stay online while shopping!
Share as less personal details as possible
The less personal information you provide online, the less is the risk of sensitive data exposure. While registering a new account, put as few details about yourself as possible. This way you will decrease the risk of exposure if something serious happens.
Moreover, you should use a different email address while registering your shopping account. Use this email only for purchases and avoid other activities with it. Additionally, use strong passwords combined from different numbers, letters, and symbols. Such codes are harder for hackers to discover. Finally, cybersecurity experts strongly advise using two-factor or multi-factor authentication[3] if possible which can also increase your account's safety.
Shop online safe by using a VPN
Wi-Fi connection has been actively used by numerous people nowadays, so there is no surprise that some of them seem to be very unsafe. If you are using such connection while being somewhere outside your house, e.g., cafe, bookshop, etc., think about connecting to the Internet by using a virtual private network (VPN)[4].
VPN helps to decrease the possibility of letting cybercriminals spot your search requests and results, your IP address. So, this is the main reason, why you need to be very careful while connecting to Wi-Fi outdoors.
Some other things you need to take care of 
Despite the beforementioned safety measures, there are some other ones that might be useful. You should use different credit/debit cards while performing payments online and in physical shops. This way you can avoid unexpected money losses as most of your income will be safely kept in another card.
Furthermore, you should always check the domain name of the website you are shopping in. Some criminals create fake domain names that appear to be very similar to the regular ones and trick users into sending their money. Additionally, always keep an eye on your finished payments and the statements of the online store, in case they have been updated recently.
Finally, note that Mobile Apps[5] can make your online shopping process less difficult and much safer. Why so? Well, you cannot get a fake Amazon or eBay application from a real one. If you download your programs from a trustworthy store, you should not get mistaken by the app's originality.
About the author
References