Steer clear of Facebook "Dislike" scams!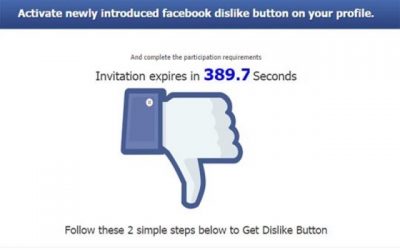 If you are one of these 1.49 billion active Facebook users, you have probably noticed people sharing catchy-looking websites that are filled with fascinating titles. They usually have interesting titles suggesting people to become the first ones to see, get or receive something. For example: 'Get this incredible offer for free!'; 'Never seen before video!!!', etc. Unfortunately, such pages should never be visited. When you go to any of such websites, you have to click 5 buttons in a row to see something that is simply meaningless. Besides, there is always a risk to be infected with malware. Sometimes people are asked to share the content on their Facebook page, sometimes they are told that they need to allow third parties to see their contacts and so on. This is done just for trying to promote questionable pages and collect information about users. Fortunately, Mark Zuckerberg decided to stop this activity on his social network and mentioned a hint that 'dislike' button could appear in Facebook anytime soon.
However, as it is a relevant topic nowadays, scammers have started using it for promoting their fraud websites as well. They have started spreading misleading offers that suggest something like that: 'Get newly introduced Facebook dislike button on your profile.' During this week, we noticed several 'get dislike button' promotions on this social network and there is a huge possibility that we will see more of them in the future. Please, do NOT fall for them!
If you would click on Dislike button offer, you would be redirected to a site asking you to complete several steps in order to receive the button. Typically, some of them ask you to share the page with your friends, others ask to send the link to several group chats. At this point, you should realize that it is a strategy, which is used for promoting fraud pages. These webpages are very likely to ask you to participate in a survey and download a program that you don't really need or that you have to avoid. The frauds get bonus from the creators of these programs for every download.
It is completely obvious that to get such button you don't need to go to some third-party website. Please, keep in mind that it is a technical Facebook thing to create the official "dislike" button! Legitimate Facebook features are always released through Facebook itself, so when the new "dislike" button will be released, it will show up in your account. Do not let the frauds trick you and do not trust third-party websites that are promoted with their help. Everything associated with Facebook, like updates and improvements, can be reached thru this social network.
About the author