The best malware removal software of 2017
What are the best malware removal programs of 2017?
Researches show that cyber crime is a rapidly growing and ever-changing area of crime, which is definitely a major concern today[1]. Although cyber crime awareness has increased[2], the speed of malware evolution appears to be a little too fast for home computer users to keep up with. Therefore, to reduce the risk of becoming a victim of a malware attack, users should not only follow safe browsing practices but also install and continuously update an anti-malware software. If you're not familiar with anti-malware definition, you should know that unlike antivirus, such program is capable of detecting and removing viruses as well as less dangerous virtual parasites such as adware, browser hijackers, and rogue system tools. To put it shortly, it is a software that detects a wider range of malicious or potentially unwanted programs.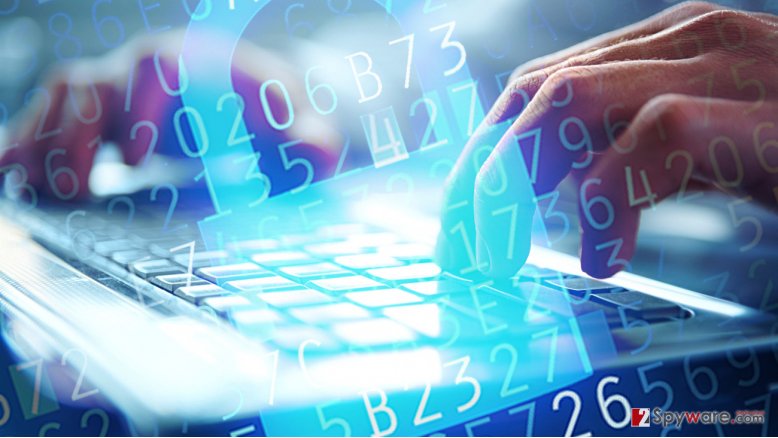 There are many anti-malware programs available today – some of them offer real-time protection, while others function as on-demand scanners. It is important to understand that no program can do everything at once; consequently, it is normal that different programs detect different malware/spyware examples. In fact, computer security professionals state that using malware removal tool alongside antivirus is a highly recommended option[3]. It goes without saying that each anti-malware program is slightly different and provides a different set of features, so it can be hard to choose one. Our team has prepared a list of the best malware removers of 2017, and you should definitely take a look at it if you are currently on the hunt for a malware removal tool. If you are looking for in-depth software reviews, you can find links to them below.
1. Malwarebytes 3.0
Malwarebytes is one of the most well-known and acknowledged malware removal tools. Previously known as Malwarebytes Anti-Malware, the software is now identified under Malwarebytes 3.0 name, and its developers present it as an antivirus replacement. There is no denying that the Premium Malwarebytes version is a next-generation product, which offers for anti-malware shields, including anti-ransomware, anti-exploit, anti-malware and also protection against malicious Internet sites. We must point out that the program slows down the computer as it scans it, but considering how quickly it checks all system directories and files, it shouldn't be a big problem. The Premium version provides real-time and anti-exploit protection, prevents access to malicious websites and blocks ransomware attacks. You can try the Premium version for 14 days or buy its license for $39.99 (valid for one year). Learn more about Malwarebytes 3.0.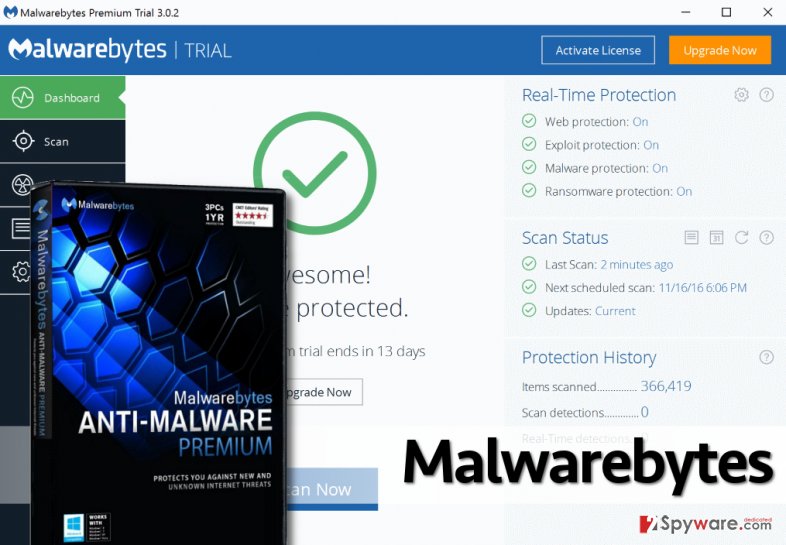 2. Plumbytes Anti-Malware
Plumbytes Anti-Malware is an excellent malware removal program for people who are less tech-savvy because it provides very user-friendly interface without dozens of adjustable settings that can seem confusing sometimes. Besides, thanks to Plumbytes' multi-thread algorithm, the program scans the computer quickly. Unlike antivirus programs, Plumbytes detects and removes not only malware, but spyware as well, so you won't have to suffer from problems caused by viruses and potentially unwanted programs. Plumbytes has many advantageous features, for example, it detects and removed Trojans, rootkits, and worms; besides, it also sets up "anti-hijack" protection to secure your browsers and of course browsing sessions. To put it shortly, Plumbytes provides comprehensive protection against spyware and malware and is considered to be one of the top anti-malware programs nowadays. The software license comes with six-month subscription and costs $49.99. Read full Plumbytes review…
3. Webroot SecureAnywhere AntiVirus
Webroot SecureAnywhere Antivirus can be called the smallest and fastest antivirus program that has a high malware detection rate and extremely powerful scan engine, which allows checking your computer system in only 20 seconds. Webroot Antivirus has cloud-based servers[4] filled with program definitions, and the program uses them to check if files found on user's computer are safe or not. If this lightweight antivirus detects an unknown program, it quickly sends information about it to its servers and keeps an eye on the program to see if it initiates any suspicious activities. Webroot AntiVirus takes certain actions according to information it receives from the server. Besides, Webroot is capable of removing malware and spyware as well as secure your browsing sessions with a real-time anti-phishing feature. On top of that, it protects your webcam from spying viruses. Webroot SecureAnyWhere Antivirus license costs $25.99 per year. See a full Webroot AntiVirus review here.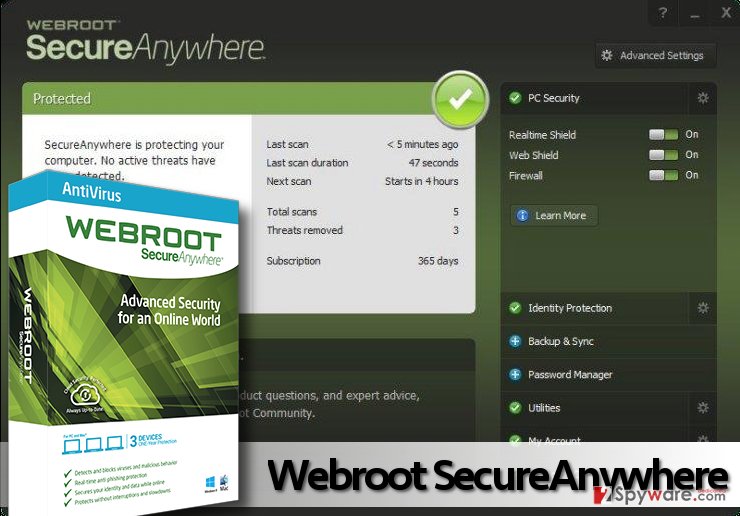 4. Zemana Anti-Malware
Zemana AntiMalware is a new, but powerful malware removal software that can check your computer within 5 minutes. The free version of Zemana suggests fewer features than the premium one – the free version detects malware and removes it, cleans web browsers and fights against rootkits and bootkits, whereas the premium version adds real-time protection feature, secures the computer from ransomware attacks, increases zero-day malware protection and provides access to 24/7 technical support. An undisputed advantage of this malware removal tool is the price of its premium version. It costs only $6.95 per year. Learn more about Zemana AntiMalware here.
5. OSHI Defender
OSHI Defender doesn't score as high as previously mentioned programs in testing, but it does cover a lot. OSHI Defender ensures safe online payments, protects personal data, and user's digital life. The program safeguards the PC from intruders, malware and attempts to violate your privacy. OSHI Defender, just like Webroot, has the cloud-based scanning feature, which helps to scan the computer rapidly. It is recommended to use this program along with antivirus, because although it can remove malware, it works more like a privacy protector and might not be able to detect very old or very new malware or spyware threats. OSHI Defender's license comes with a six months subscription and costs $39.99. Read more about OSHI Defender…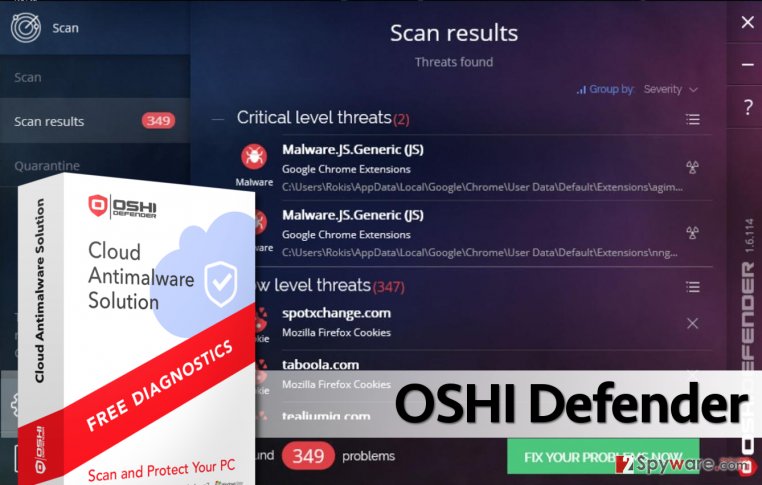 BONUS: Fix damaged system, optimize it and remove malware with Reimage
Reimage is comparably new tool, which we find very useful. It is a top-notch PC repair tool, which checks the system for hardware, security and stability problems. This program reports technical problems that might be preventing the computer from working at full capacity, then identifies and removes malware such as viruses, adware, Trojans, rootkits[5], spyware, and worms. Finally, Reimage provides the user with information about computer's stability. This program also has another excellent feature – it uses components from its online database (that contains over 25 million files) to replace missing or corrupted Windows files (System Files, DLLs, Registry Keys, and so on). Reimage's license for 1 year costs $69.95. More information about exceptional Reimage's features is provided in Reimage review.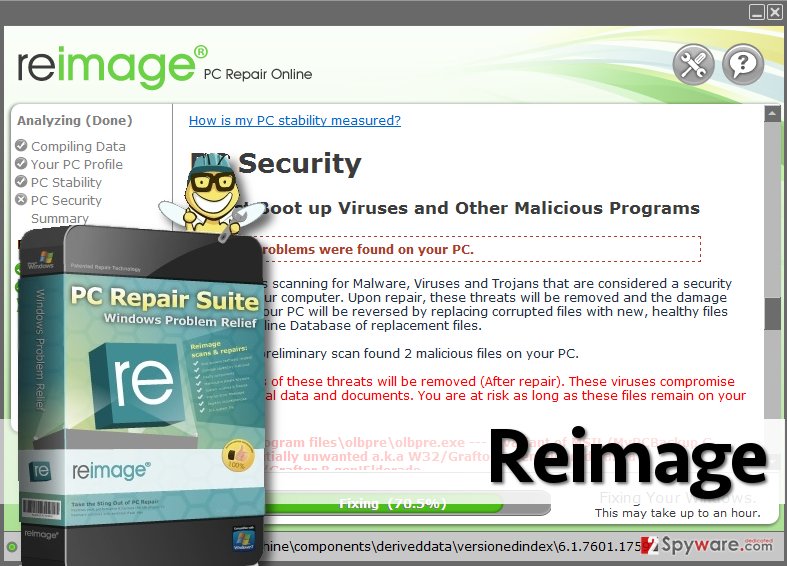 About the author
References
Read in other languages