The case of Fabiansomware: how the hackers screwed up big time
Taking a look at recent news in the ransomware world, it seems that these cyber threats are becoming sort of tools for hackers and virus researchers to have it out. While the former are getting busy to outwit the IT experts by releasing more and more complex virus encrypting viruses, virus researchers try their best to keep up. Luckily, there are multiple cases when IT professionals manage to hack ransomware threats and set the virtual community from the terror of such viruses. The case of Fabiansomware reveals that sometimes battling the virus researchers turns into an amusing story.
Before the case of this ridiculous, yet amusing, case, few may know Fabian Wosar. He restlessly battles the ransomware developers in the shadows. Moreover, against his own will, he became a worldwide celebrity just in a few days. The authors of Apocalypse virus found it a personal matter to create such ransomware which their main enemy – Fabian Wosar – would not hack. Unfortunately, they failed once again and as the virus researcher successfully shattered their hopes. As a result, the latter turn of events completely destroyed the cyber criminals' self-esteem – Fabiansomware has been released. You might already guess that their last attempt went to waste as the famous IT expert created a decryption tool right away. If you happen to get infected with Fabiansomware, rest assured. You can find the free decrypter in the official website of Emsisoft.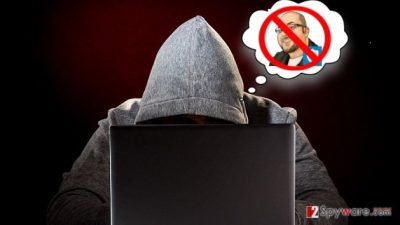 Hackers and virus researchers find different ways to spice up each others' lives. When an IT expert, Ivan Kwiatkowski, encountered the scam, he decided to play along for a while. He deliberately let the crooks get access to his personal files. Afterward, his virtual machine was supposedly infected with several hundred of malware. When he called the indicated number of technical support, he was offered to obtain an anti-spyware which costs over 200 USD. However, the story reached its climax when the virus researcher decided to teach the hackers a lesson by striking back with a sample of Locky ransomware. It is unknown how the story ended, looking from scammers' perspective, but certainly, some participants of this case had a good dose of a laugh. Leaving jokes aside, though it might quite easy to decrypt some of the ransomware, there is still a number of file-encrypting viruses which might inflict significant damage to your computer.
About the author