Tomorrowland's ticket system hacked, personal data stolen
Tens of thousands of Tomorrowland customers' data exposed due to the ticket distributor's hack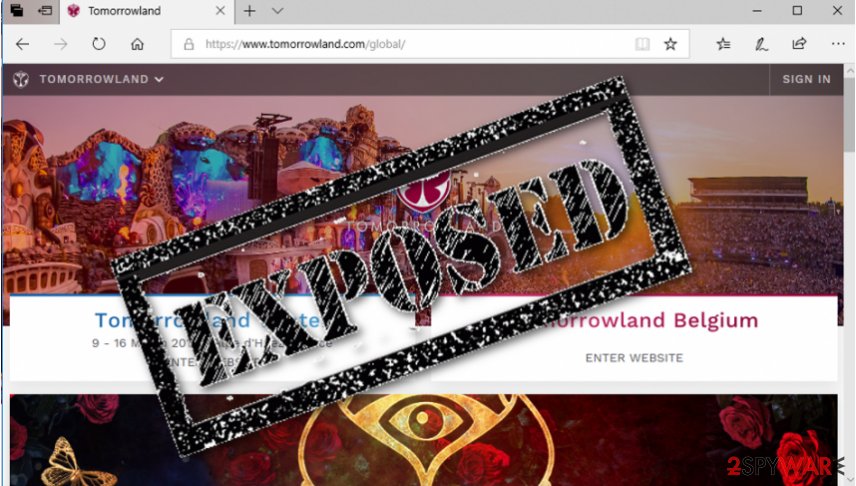 Recently, Tomorrowland music festival's organizers informed their users about the hack of their ticket provider Paylogic. The cybercriminals managed to steal sensitive details from around 64,000 customers who bought tickets for the festival four years ago. The good news is that cyber crooks haven't been able to access any payment or address details as there were none of them provided[1].
However, it is already known that cybercriminals have exposed some information that belongs to festival goers, such as:
name, surname;
gender;
e-mail address;
postal code.
Tomorrowland[2] is an electronic dance music festival which is held each year in Belgium. An interesting fact is that this attempt affected data of only those customers who booked tickets for the show that was held in 2014. Other customers' data who were using the online ticket-booking service remained untouched.
The hack was initiated due to an outdated system
A spokesperson named Debby Wilmsen claimed that dubious-looking activity was noticed when an outdated system of Paylogic was found and let experts suspect about the secret cyber attack[3]:
The administrators of the Paylogic ticketing system noticed unusual activity on an outdated system. After an extensive analysis, an old data file of Tomorrowland 2014 appeared on it.
Despite the fact that cybercriminals haven't stolen any sensitive information that related to debit/credit card numbers, SSNs[4], and other similar data, there is still a chance of facing identity theft as not all personal details remained safe during the attack.
Special actions were taken immediately after the hack
Once Tomorrowland's employees found out about the attempt that was made on private users' data by using an outdated server, the company took actions immediately and managed to close the server right away[5]. Moreover, they informed the privacy commision about the events and sent e-mail messages which warned users who might have become the victims of the secret attempt.
Additionally, the company asked to be careful while receiving e-mail letters about various ticket sales, addresses, and other particular information. If they do not come from the original sender, these emails should be deleted. Furthermore, the organization stated that the official site, tomorrowland.com, so it should not be mixed with any other fake one.
Staying safe online hasn't been as important as it is now
Cybersecurity experts recommend always paying attention to your online safety. We guess no one wants to have their sensitive data leaked or suffer from the identity theft. To avoid such a possibility, we need to gain knowledge about what kind of precautionary measures we can take to keep our valuable information safe from the criminals' eyes.
Some advice would be to generate strong passwords for all Internet accounts. Moreover, it is strongly advisable to use two-factor authentication which will also increase your safety level. Remember, provide as less sensitive details as possible and do not register to online websites you do not really need to.
About the author
References