Wikileaks CIA Leak: 5 spying secrets you need to know
On the 7th of March 2017, Wikileaks exposed 8,761 documents[1] that revealed how US Central Intelligence Agency (CIA) launched various attacks and spied on people. "Vault 7" by WikiLeaks is supposed to be the biggest leak in the history; even bigger than infamous Snowden leaks. According to the Wikileaks, CIA was able to hack into iPhone and Android devices, computers running Microsoft, Mac and Linux operating systems, and Samsung smart TVs not only in the United States but European countries as well. They also kept secrets from biggest manufacturers about security flaws in their products and put many users at risk. What is more, they were searching for the remote tools that are capable of controlling smart cars and trucks in order to cause various undetectable accidents. Thus, in this article, we want to present the 5 biggest secrets revealed in "Wikileaks CIA Leak."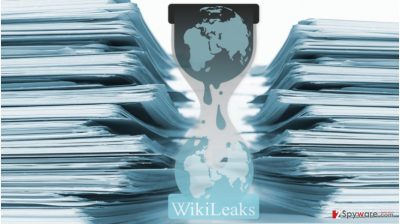 1. CIA could hack into iPhones and Androids
According to the leaked documents, Central Intelligence Agency developed and used zero-day exploits and malware to crack smartphones, gain root access to them and extract information from the hacked devices. Their developed tools allowed to bypass the encryption of such applications as WhatsApp, Signal, and others, and read private chats.
2. CIA could hack Samsung smart TVs
US Intelligence Agency used a technology created by the Embedded Devices Branch to turn smart TVs to into listening devices. They used so-called "Weeping Angel" technique to infiltrate Samsung smart TVs and install special software that allows record peoples' conversations even if TVs are turned off.
3. CIA developed malware to attack Microsoft, Mac and Linux operating systems
CIA developed a cross-platform malware that was used to hack Windows, Linux and Mac OS X operating systems.The malware allowed CIA to spy and even control computers running these OS. Thus, they can watch every step online even if a person uses anonymous networks. However, Windows 10 users should feel safe because CIA might have targeted only older systems.[2]. Mac users are also suggested to download the latest version of iOS and other important updates.[3]
4. CIA hid vulnerabilities that might have been used by cyber criminals
According to the Wikileaks, the agency knew about serious vulnerabilities in Microsoft, Apple, Google and other company's products; however, they haven't informed about them. Thus, these manufacturers haven't been able to fix these bugs, exploits or "zero days." These secrets kept by CIA might have been used by other malware developers to attack people all over the world. What is more, these hidden vulnerabilities affected even the "U.S. Cabinet, Congress, top CEOs, system administrators, security officers, and engineers".[4]
5. CIA looked for ways to control smart cars
Smart cars and trucks seem to be safe vehicles that prevent from accidents. Though, US Central Intelligence Agency, in October 2015 was trying to find the way to infect vehicle control systems. Wikileaks reveal that the purpose of this control is unknown, but it seems that agency wanted to hack smart cards in order to make "nearly undetectable assassinations." However, it's not the first attempt to hack vehicles.[5]
Central Intelligence Agency is known to have more than 5,000 hackers who had created thousands of programs, viruses, and malware to launch the attacks. Though, cyber security experts claim that having updated computers and mobile devices protects from this kind of attacks. At the moment, leaked information is being under investigation by a federal criminal probe. Though, WikiLeaks claim that "Year Zero" is just a first bunch of documents from the "Vault 7" series. Even more documents from a secret network at CIA headquarters will be revealed soon.
About the author
References