Delta Search. How to Remove? (Uninstall Guide)
What is Delta Search?
Delta Search is a search engine that has clearly gone too far. It's obvious that this potentially unwanted program is used by its owners to promote affiliate websites that seek to improve their sales or promote their services. For that, Delta Search may easily try to show you forged search results that may be filled with various links, ads and similar things. After being clicked, these ads may cause annoying redirections to unknown websites that may be filled with really suspicious content. This and many other factors have made security experts to include this program tot the list of browser hijackers and potentially unwanted programs. If you have already noticed that Delta Search has altered some of your computer's settings, such as the default search engine, the bookmarks list or the homepage, yo shouldn't ignore this because you will have to use Delta-search.com or other suspicious search engine every time you open a new tab on IE, Google Chrome, Safari or Mozilla Firefox we browser.
Please, keep in mind that we don't recommend using this search engine for your search sessions because it's a potentially unwanted application that may easily show you forged search results. Most importantly, you must remove Delta Search if you haven't installed it with your knowledge. For that you can use SpyHunter.
UPDATE: People started to inform us about an increased distribution of Delta search virus in the middle of April, 2015. If you have also been tricked into downloading it to your PC system, you should use a guide below and fix your computer. Remember, people who are related to this hijacker have been writing comments in various forums claiming that this program is not related to malware. This is a clear defensive strategy, as delta search uses sneaky distribution techniques to infect computer systems and trick people into visiting affiliate websites. The same engine is used for several parasites on different subdomains: mixidj, visualbee..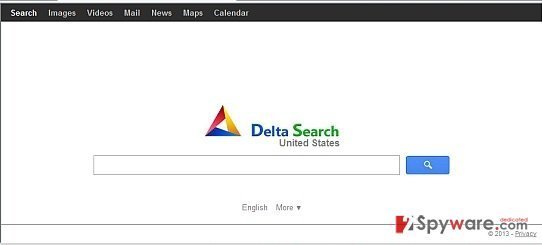 Delta Search variations:
Delta Search virus: This virus is one of Delta Search variations causing browser's redirections to delta-search.com malicious search engine. As a result, the owners of this website get ability to return altered search results and make people visit related websites. In most of the cases, this virus infiltrates computers in a bundle with freeware and shareware, but it may also be caused by malware, such as rogue anti-spyware or ransomware. If you think that your PC may be infected with Delta Search virus, you should check your PC for this infection.
Delta-search.com redirect: Delta-search.com redirect is the issue, which is usually caused by Delta Search virus. It starts manifesting when virus infiltrates the PC and alters the part of computer's settings. In most of the cases, it affects start page. default search engine and new tab page, so it can hardly be missed or mixed with other infection. We highly recommend scanning computer with updated anti-spyware when suffering from Delta-search.com redirect.
yhs.delta-search.com: This search engine is a clear copy of Delta-search.com, which has been causing various problems. It seems that scammers have altered its address in order to trick more PC users, who have already been notified about issues that can be caused by this unfair search engine. We highly recommend staying away from yhs.delta-search.com because it returns forged search results that may redirect users to infected websites just like its previous variant.
mixidj.delta-search.com: Mixidj.delta-search.com is the mostly-spread variation of Delta Search virus, which uses a slightly altered address but acts identically as previously released variants of this virus. It can appear on each of your web browsers after downloading freeware and shareware, so be very careful when letting such program inside your machine. The clearest sign, notifying that your machine is infected with this redirect virus, is discovering this site instead of your start page and default search engine.
visualbee.delta-search.com: This search site belongs to the category of potentially malicious websites and is closely related to Delta Search. It is typically used to increase visitors traffic to specific domains, so you should be aware that it may return altered search results and show annoying pop-up advertisements. If you want to avoid this DeltaSearch-related website, you should be very careful when downloading freeware on your computer. If you noticed visualbee.delta-search.com on your PC, you should remove it without a delay.
It might be that we are affiliated with any of our recommended products. Full disclosure can be found in our Agreement of Use. By downloading any of provided Anti-spyware software you agree with our
Privacy Policy
and
Agreement of Use
.
Alternate Software
Alternate Software
We are testing Malwarebytes Anti Malware's efficiency (2015-05-13 23:12)
Geolocation of Delta Search
Map reveals the prevalence of Delta Search. Countries and regions that have been affected the most are: Poland, Argentina, Philippines, India and France.
Removal guides in other languages
---