What is GetSavin?
GetSavin is an adware, which starts displaying its commercial ads once it gets inside the system. It can be installed either manually from its official site Adpeak or in a bundle with other programs. Typically, this program is promoted as a tool, which can be used to get the latest information about various sales, coupons, discounts and similar deals. However, if you have been convinced that this program seeks to help you save the money, you should doing so. In fact, we haven't managed to find a person who informed us about saving some dollars with a help of GetSavin ads. Beware that this program belongs to Adpeak, which has already initiated various discussions on the Internet. In most of the cases, people report about unwanted ads and redirects during their browsing. However, it seems that it may also track information about people's search terms, mostly visited websites and similar activities on the Internet.
One thing is clear - GetSavin can easily initiate all these activities as well, so you should try to avoid it. If you have downloaded this program to your computer, you should know that soon it may become an unwanted intruder, which interrupts you while you are browsing on the Internet. After clicking any of its ads you may be tricked into visiting unknown, unsafe and similar websites that shouldn't be visited. Besides, as we have already warned you, such adwares can also be used to track users' browsing habits and install additional programs on the system, including GetSavin Toolbar and similar. If you have been seeing GetSavin ads for a while during your browsing on the Internet, it means that you have installed this adware on your machine. We don't recommend leaving it there if you haven't installed it manually. In order to remove it, you should run a full system scan with SpyHunter or Webroot SecureAnywhere AntiVirus, which is compatible with Windows OS and Mac OS X.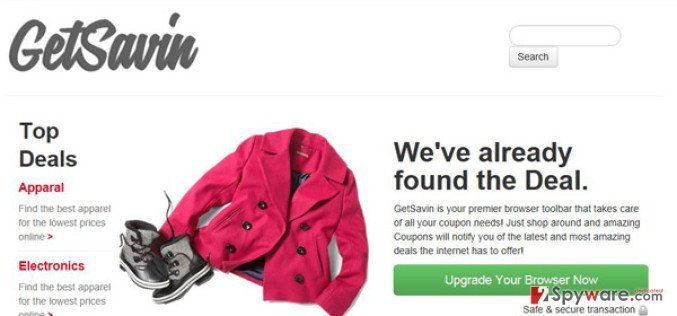 HOW CAN GETSAVIN hijack MY PC?
As we have mentioned, GetSavin can be installed from its official website. However, many users have discovered this adware on their computers out of nowhere. This distribution method is based on other programs, that have it included to their 'components' list for monetization or other purposes. So, you should always pay attention to every installation window and what's said on it when installing something. Once it gets inside, GetSavin starts flooding the screen with its commercial notifications that are filled with various links. Besides, soon you may find out that you can't use your browsers normally because you have GetSavin toolbar on your PC. If you are one of such victims, you should remove GetSavin from the system.
HOW TO REMOVE GetSavin virus?
In order to remove GetSavin and related adwares from the system, you should think about automatic removal of this program. However, you can also do that manually with a hep of a guide that is given below.
It might be that we are affiliated with any of our recommended products. Full disclosure can be found in our Agreement of Use.
By downloading any of provided Anti-spyware software to remove GetSavin you agree with our
Privacy Policy
and
Agreement of Use
.