What is ViewPlay?
ViewPlay is a potentially unwanted program, which may start showing its ads during your browsing. That's because this browser add-on is promoted as an optional component of other applications and it can easily appear on your computer out of nowhere. Once it does that, it typically displays 'Ads by ViewPlay', 'ViewPlay ads', 'brought to you by ViewPlay' and similar pop-up notifications. Please, do NOT fall for them because there is no guarantee that they are safe and will help you to save the money. No matter that they are full with price comparisons, information about sales and similar deals, there is no guarantee that they will redirect you to safe and harmless websites. Of course, ViewPlay adware ads may totally irritate you because they are displayed every time when people start their browsing sessions.
When trying to find ViewPlay, you should look for it in your Add/Remove Programs folder. However, sometimes it may hide from the user in order to prevent its removal from the system. In this case, we highly recommend using automatic removal methods of this freeware. You should think about running a full system scan with SpyHunter, STOPzilla or other anti-spyware if you are experiencing ViewPlay redirects, slow downs and similar issues. Besides, we must add the final reason that explains why we think that you should get rid of this program. No matter that ViewPlay can hardly pose harm to your PC, it may rely on tracking cookies and try to track your online activities. As far as we know, this information is not personally identifiable. However, there is no guarantee that suspicious third parties won't get ability to reach it.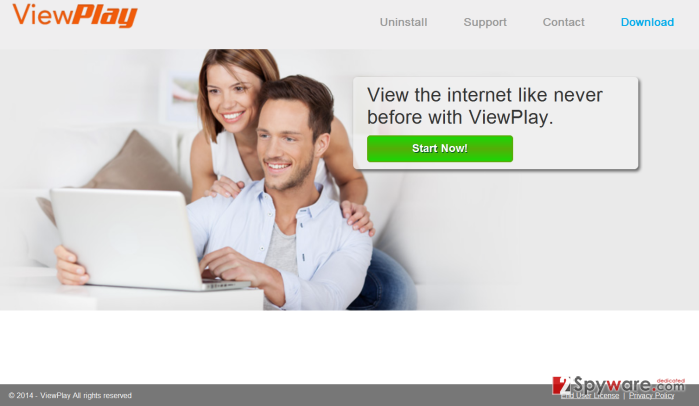 How can ViewPlay hijack my computer?
ViewPlay plug-in should display useful coupons, comparison deals and discounts for your desired items. Unfortunately, this is yet another marketing trick in order to distribute this useless extension. Furthermore, we also have noticed that ViewPlay virus may travel as an additional attachment with freewares and sharewares. Beware that this dubious intruder may try to use your desire to install freeware on your computer as quick as possible. It may try to use even the smallest security gap to infiltrate your computer without being noticed. In order to avoid that, you should stop clicking Next button when installing freeware. Instead of that, you should check every single program that you are willing to install. Select Custom or Advanced installation option, follow the whole installation process, look for suspicious attachments (add-ons, toolbars, plug-ins, apps, etc.) and opt out of them.
How to remove ViewPlay virus from my computer?
In order to prove out doubts about this program, we will give you a small quotation from its privacy policy section: "The Software (ViewPlay) is supported by various types of advertising displayed in your browser, including, without limitation, search-related ads, banner and video ads, in-text ads and links, transitional, interstitial and full page ads.". If you want to avoid these ads, you should remove this useless plug-in before any further damage is done. These simple instructions will help you:
It might be that we are affiliated with any of our recommended products. Full disclosure can be found in our Agreement of Use.
By downloading any of provided Anti-spyware software to remove ViewPlay ads you agree with our
Privacy Policy
and
Agreement of Use
.