A new wave of Facebook Messenger virus spotted in Germany and Tunisia
A Facebook virus is threatening users with bogus Youtube links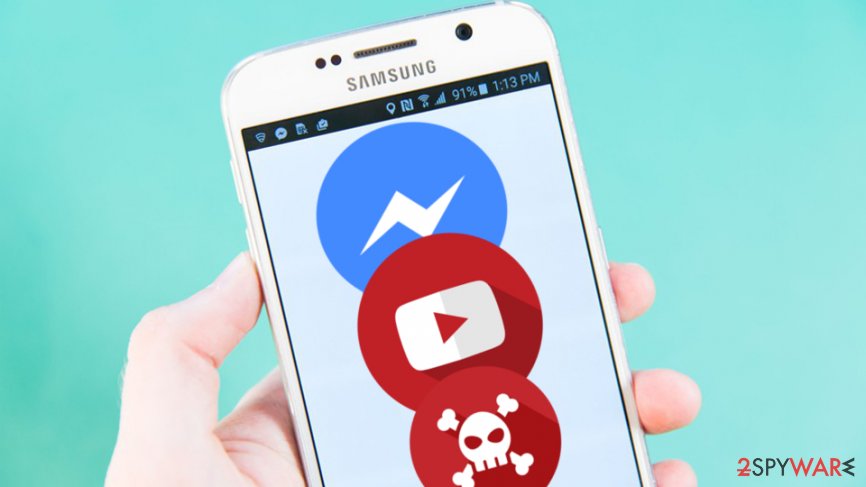 A nasty Facebook Messenger virus returned[1] on April 9th and was recently spotted in Germany and Tunisia. National Agency for Computer Security[2] published a report warning that the scam forces Facebook users inadvertently put their devices in jeopardy again, risking malware infections and leaked data.
Social media users are receiving what is seemingly an innocent message from people on their friend list. The message contains what seems to be a YouTube link. The author also claims that the video is about the user, adding the name with few astonished emojis, making the message more believable. Additionally, the preview of the video includes targeted person's photo, picked from his/her social media account.
It is clear that Facebook messenger malware creators use social engineering[3] skills to trick multiple users into clicking the link. Without a doubt, a video about yourself might spark curiosity, especially if you don't remember one made about you.
The Facebook Messenger virus multiplies via contaminated download links
As soon as the victim clicks on the link, he or she is redirected to another page. However, the promised video is nowhere to be found. Instead, the user is prompted to download an attachment that is a Google Doc[4] file.
After infiltration, Facebook Messenger Youtube virus starts its suspicious activity immediately – picks up a picture of another victim and displays the same link. This way, malware is capable of spreading without users giving much thought about it.
Depending on victim's operating system, he/she might be redirected to different websites, such as phishing sites, fake software download websites, etc. It can cause users to click on various malicious links and infect their devices with other malware. Alternatively, victims can install shady adware apps that fill their browser with persistent adverts.
It is yet unclear that the virus is capable of, as it seems like its primary goal is to spread itself infecting as many social media accounts as possible and later target more users in victim's friend's list. Some users reported that they were unable to login to their Facebook accounts after a malware attack.
However, the potential danger is there to stay: the virus can hack[5] with your social media account and potentially steal sensitive information.
Protect yourself from the Facebook virus on a social network
It goes without saying that the first thing you should do after encountering such fraudulent message is not to pay attention and simply close down the Messenger. DO NOT click on the link, even if it is very tempting.
The first thing you should do is inform the person that is affected by the virus. Typically, users will not know that their Facebook account is spreading malware. Thus, it is vital to let your friends know so that they could eliminate the virus.
If Facebook Messenger virus has compromised your account, you have to take immediate steps to secure your personal data and your device.
Firstly, you should go to your Facebook Settings & Apps -> Websites and Plugins and select Disable to protect your account from unauthorized access of third-party apps. The second step is to change all your passwords on ALL accounts (do not forget that malware could potentially steal your data) and check your activity log on Facebook. Finally, you should scan your machine with reputable security software and let it eliminate all the threats automatically.
Facebook virus[6]  has been taking rounds since 2014. Millions of Facebook Messenger app users have been caught in trickery to visit malicious websites, got their personal data stolen or locked up their files with dangerous ransomware. Thus, be careful next time you use your Messenger app.
About the author
References