Indian police raids 26 call centers: arrests 63 tech support scammers
The arrests were made after Microsoft officially complained to the officials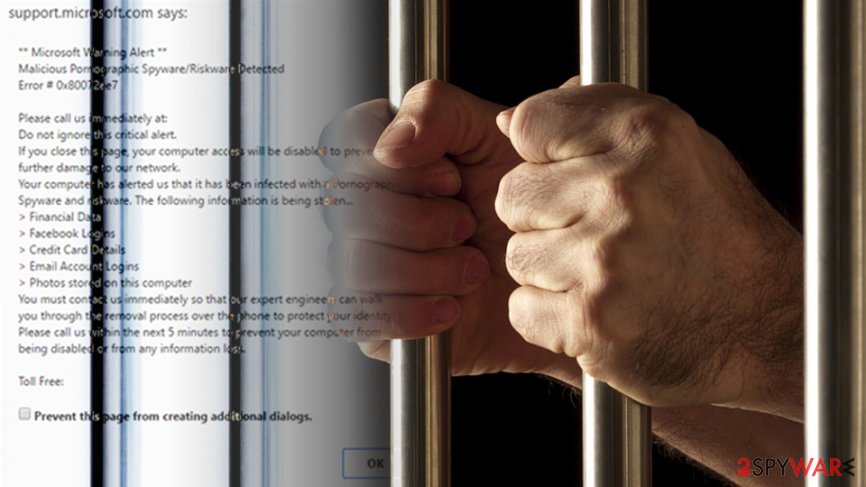 The police of New Delhi conducted 26 call centers raids and arrested 63 people in connection with tech support scams.[1] The crooks relied on adware and malicious websites that display fake pop-ups that claim that the PC is infected, and the only way to fix the problem is by calling the "Microsoft" tech support. Victims ended up paying between $100 and $500 for the useless services or software.
Microsoft has been collecting customer complaints from 2014 via the "Report a technical support scam" feature and was focusing on working with North American authorities to shut down the criminals' operations in the US and Canada. The arrests in India, however, have been conducted in the past two months after the police received the information from the Federal Bureau of Investigation and Interpol.
The arrests resulted in catching criminals that were involved in 7,000 reports received by Microsoft from 15 countries. The police seized a variety of evidence (voice chats, call recordings, call scripts, etc.) hidden inside the hardware, such as:
hard drives;
servers;
laptops;
mobile phones
computers
Microsoft is actively trying to stop tech support scammers
Authorities and tech companies were battling tech support scams for almost two decades now. However, the fight against scams took off in 2014, when Microsoft launched the "Report a scam" campaign. Since then, several security bodies were involved (Federal Trade Commission, AARP, London and Canadian police, etc.) and the first Tech Support Scam Summit was held to reduce online social engineering[2] attacks.
Microsoft and authorities now expanded the operation to catch criminals in foreign countries. In October 2018, Indian police raided ten call centers which resulted in the arrests of 24 people.[3] This week, 39 more arrests were made.
Additionally, Microsoft is actively trying to reduce the number of affected users by warning them in their blogs[4] and official forums. The blog offers a variety of tech support scam examples and the ways how to avoid them or what to do after interacting with the bad actors.
Scammers rely on social engineering
There are thousands of tech support scams created ("National Consumer Center,"[5] "Congratulations Amazon user," etc.) and all of them rely on the same principle: make users believe that a dangerous virus infects their systems, or their personal information is in jeopardy. In some cases, scammers add technical codes (like Windows error codes) into their pop-ups, merely to make it look more legitimate.
Users are usually redirected to malicious sites by adware – a potentially unwanted program that shows misleading ads and redirects to phishing websites. Those who contact crooks are explained that their PC needs immediate help, and the only ones who can provide it are the alleged computer masterminds. Of course, the service is not free, and victims are often scammed into paying ridiculous amounts of money for useless software or are tricked into giving remote access to their computers, which essentially can result in data-stealing malware infection.
A small victory for Microsoft and PC users
Fortunately, many computer users are already aware of tech supports scams, and are likely not to contact cybercrooks when prompted. According to research conducted by Microsoft,[6] six-in-ten users were in contact with scammers in 2018, down by 5-points since 2016, so the time invested into the scam reduction brought good results.
The arrest of cybercriminals behind scam campaigns serves as a small victory to the whole userbase around the world. For the future, Microsoft predicted:[6]
This research suggests that both education and technology can play a role in reducing consumer's vulnerability to tech support scams. A 12-point drop in scammers asking for social security numbers (or their international equivalents) reflects the power of awareness building and education while increased adoption of ad-blocking technology in recent years potentially contributed to a significant decline in pop-up ads/windows scams.
In 2016, Mumbai police arrested 70 people that were involved in scamming people, pretending to be officials from tax office.
About the author
References