Manage your taxes safely: cyber security experts suggest how to avoid identity theft
Tax season leaves nobody indifferent. Some are looking forward to getting that extra reward for the years hard work, while others sigh with discontent even thinking about having to waste their whole evening filling boring forms. Nevertheless, regardless of whether we like it or not, we all spare some extra time to accomplish this chore.
This year, IRS are expecting over 153 million tax return inquiries[1], most of which are going to be submitted remotely, i.e. via phone or online. Unfortunately, this gives cyber criminals and scammers a perfect opportunity to make use of the situation and phish some sensitive data[2]. In the most unfortunate cases, this may end up in identity theft and, eventually, financial loss. In fact, during the past year, somewhere around 250,000 reports were filed accounting identity theft, and that's only with the IRS[3]. The IRS representatives address the issues of file tax filing security themselves in their recently published notice, in which they talk about security safeguards implemented for the tax season of 2017. On our behalf, we would like to give a few tips on how to prevent culprits from stealing your sensitive information and using it for malicious purposes.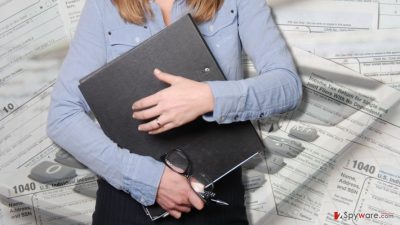 First and foremost, dedicate some time for the tax filing procedure and don't leave it until the very last minute. Rushing through the process is unsafe and stressful, so we highly suggest doing yourself a favor and planning ahead. You should start off by reevaluating the security of your computer on which the tax filing will take place. Make sure the device is protected with some sophisticated malware defense software and that its operating system and installed software are up-to-date [4]. The automatic layer of protection may be especially helpful in cases when fraudsters try to trick users into downloading infected documents instead of the official tax return form. This way, you will not only protect your personal information but potentially prevent such malicious viruses like Spora ransomware from infiltrating your PC. Besides, security tools with a real-time protection will warn you against visiting potentially dangerous phishing sites and unknowingly disclosing information to the fraudulent third parties. Finally, make sure are connected via a secure network and never use public hotspots to perform any tax-related operations.
When you have everything set up, it is time to get started. Remember that you should only download tax filing forms from the official government websites and by no means follow links that offer to obtain these documents on any other sites. Keep in mind that scammers will use all sorts of techniques to lure you into their traps. They may launch dummy sites identical to the official ones, send emails in the name of governmental institutions[5] or try to lure you in with random pop-up ads offering fraudulent return preparer services, to name a few.
To make the experience as stress-free as possible, you must prepare. Make use of the security technology and take an interest in cyber security yourself. We recommend regularly looking through our site to learn about the latest scamming and online crime techniques.
About the author
References