Microsoft engineer took care of Reveton ransomware financial affairs
Microsoft network engineer charged in Reveton ransomware case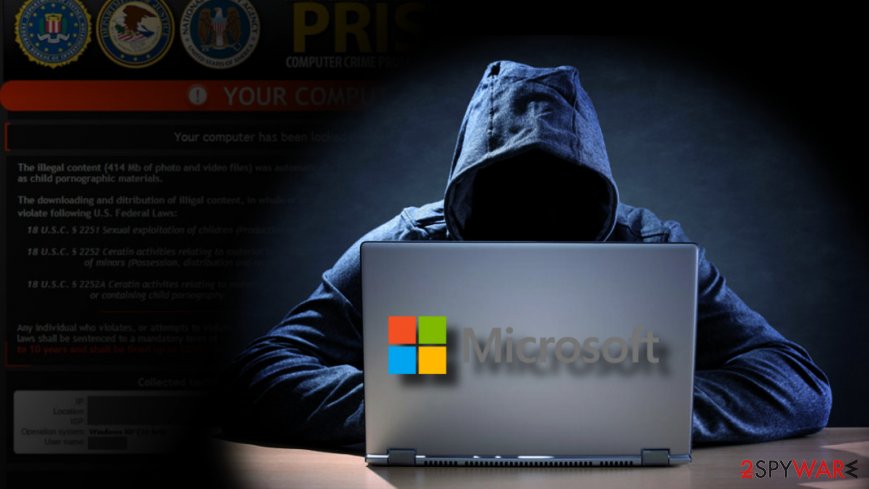 Law enforcement officials announced that one of the Microsoft team members, forty-one-year-old Raymond Uadiale,[1] is accused of money laundering and implementation of Reveton ransomware.
The suspect is facing federal charges in Floride where he is being judged for the participation in the Reveton ransomware distribution and ransom collection, which is known for lasting since October 2012 and March 2013. Police revealed Uadiale's relationship with a British hacker known as K!NG. Men managed to collect more than $130,000 ransom from Reveton ransomware victims.[2]  Uadiale is known for receiving 30 percent of profit, while K!NG gathered the rest of 70 percent. 
Criminals performed different tasks to realize the ransomware
According to law enforcement, evidence has been collected proving the fact that K!NG and Uadiale have different tasks to complete in Reveton ransomware realization. British hacker nicknamed K!NG was responsible for the distribution of the malware. Reveton ransomware, also known as Police ransomware, has been mainly distributed via Citadel malware,[3] TROJ_REVETON.SM4 and TROJ_REVETON.SM6. Trojan horses.
Uadiale, in the meanwhile, took care of the financial side. It managed payments (the ransomware demanded to pay 300 USD) and shared the revenue with K!NG via Liberty Reserve virtual currency.
The suspect is currently free on $100,000 bond
Up until now, Uadiale holds the position of network engineer at Microsoft site in Seattle since 2014. The suspect has been employed by tech giant soon after the Citadel (an offspring of Zeus Trojan) malware that was used to trick people into visiting a drive-by-download website and infect the system with Reveton has been terminated.
Jared Strauss, the assistant U.S. Attorney,[4] confirmed in court that the suspect participated in the Reveton campaign and money laundering before he was hired by Microsoft.
The evidence collected by court approves the fact that Uadiale transferred more than $130,000 to K!NG disguising its identity as Mike Roland. However, it's not yet plagued guilty yet. The court released Microsoft's engineer for the $100,000 bond and a must-wear electronic tracker.
If Uadiale will be plead guilty, he risks being sentenced to 20 years imprisonment or paying a fine up to $500,000. Besides, minimum three years of supervision will be a must for the release.
Crooks earned more than $130,000 profit from Reveton ransomware
Reveton[5] ransomware was one of the most infamous ransomware virus active since 2012 to 2014. It used to spread via Citadel malware, TROJ_REVETON.SM4 and TROJ_REVETON.SM6. Trojans.
It targeted PC users in the United States and became the dominant ransomware strain in the landscape. As soon as the ransomware entered PCs, it locked the screen and displayed a warning message from Homeland Security National Cyber Security Division and the ICE Cyber Crime Center claiming that the PC has been locked on the grounds of illegal activities, such as viewing or storing child pornography and similar unauthorized cyber activities.
The warning message contained a form of MoneyPak to which the victims were expected to transfer $300 within 48 hours to evade the charges.
According to malware researchers, the crypto-locking ransomware collected more than $130, 000 USD ransom payments.
About the author
References