How crypto-malware earned $25 million in two years?
Ransomware attacks are all about money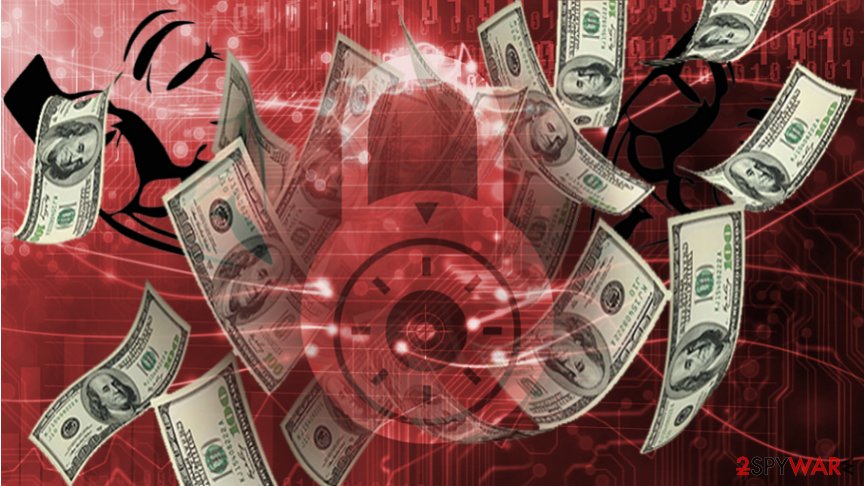 It has been long since cyber criminals malware ceased to be just a way to entertain hackers. The events of the past years have revealed that ransomware has evolved into most elaborate of all cyber infections and a most profitable illegal way to earn stunning amounts of money.
By encrypting the most valuable digital possession – personal data – felons have succeeded in extorting over 25 million dollars just in two years span, Google study reveals.[1]
Locky – as the most profitable ransomware virus
Though ransomware has been a widely discussed topic within the past couple of years, ransomware threats are not a novelty. Before this persistent crypto-malware, there were TeslaCrypt, CryptoWall and its subsequent versions which managed to earn over 325 million dollars.
Moving on to the most recent years, Locky file-encrypting threat[2] indeed manifests exquisite technical structure, it attracted much attention for its developed distribution and support network, separate encryption and payment systems, and its tendency to strike hospitals.
Although the threat also employs several distribution techniques, spam emails prove to be most effective. Despite constant IT experts' warnings, netizens still take the bait after getting a forged subpoena or the fake message from an official institution.
Spam emails remain a popular tool among Cerber's and CryptoMix hackers as well.[3] Some of the threats from the latter malware family also disguise under fake USPS notifications. Besides this technique, EITest attack strategy and exploit kits significantly contribute to the expansion of ransomware network.
Petya virus: Money? We don't need it
As surprising as it may seem, there are virtual threats which inflicted a much greater damage worldwide, yet earned much less in terms of profit. For instance, WannaCry managed to paralyze computer systems in more than 100 countries and infect 250 000 devices. To perpetrators' disappointment, in overall, it only brought $50 000 revenue.
Another major ransomware, Petya virus, which rolled out right after WannaCry, revealed that the authors were not interested in earning money but instead quenching their desire for destructiveness by programming a "data wiper" rather than real ransomware.[4]
Finding a safe place
Since hackers discover craftier ways to disrupt cyber world order and extort money, some of you might get depressive thoughts looking for effective countermeasures. Indeed, ransomware threats may result in enormous financial losses and emotional breakdown.
Nonetheless, the cases of Petya and WannaCry reveal that every highly sophisticated threat can be sooner or later terminated. Meanwhile, all you can do is to arm up with reliable anti-virus tools and stay vigilant. After all, some of these threats' success highly depends on your credulity.
About the author
References