A nuker is a malicious computer program, which is very similar to a Trojan horse. Such programs are mostly used to carry a destructive payload and make various modifications of the system by adding or removing critical system files. By doing so, they can affect overall computer's performance and also decrease its speed to the minimum. Beware that some types of nukers are capable of destroying computers and leading them to the loss of sensitive information. A typical nuker can also be used by the hacker to attack a target computer system to slow it down, crash it, restart it or turn it off. Some parasites are also capable of erasing all system and application files, formatting a hard disk or even posing a harm to certain computer components.
Activities that are caused by this threat when it is inside the system:
The infiltration of the most of nukers can hardly be detected and disabled before it starts running its payload. Once it is finished, it results in general instabilities of the system, frequent computer crashes, unexpected restarts and shutdowns. Besides, the most of nukers can lead their victims to a complete or partial loss of their valuable information, personal data and other user sensitive files. Beware that they can totally erase all the files from your hard disk, destroy the entire operating system and install additional software, which is considered malicious.
When inside the computer, the most of nukers cause these dangerous activities:
Various modifications of the system. Such threats can add their registry values, files and other components. They can also try to disable particular applications and install the needed ones.
Destruction of the entire PC system. Nukers are capable of corrupting, overwriting or deleting various files that are installed on the system. Also, they can destroy essential system components, erase its critical files and folders and even format each of your hard disk drives.
Denial of Service (DoS) and similar attacks. These threats can easily initiate various network attacks against the specified remote computer.
Damage related to essential hardware components. Such threat can alter various hardware settings or clear the CMOS memory. In addition, it can cause unwanted system restarts, turn off the machine or crash it according to its needs. 
No uninstall feature. Nukers are seriously dangerous computer programs that can't be removed from the system with the help of uninstalling. Typically, they hide in the background, use files that look like legitimate ones and rely on other trickeries that are supposed to help them hide in the system as long as possible. 
Methods that are used by nukers to infiltrate computers:
When it comes to infiltration techniques, nukers have been spreading around with the help of the similar was as worms, trojans, and other threats. For infecting the system and infecting it, they can easily exploit its security vulnerabilities and infiltrate computer without user's approval. Beware that some versions of nukers need to know only the IP address of the target computer to attack or infect it. Also, a small part of these threats must be installed manually.
Here are the major ways used by these threats to get into the system unnoticed:
1. Security vulnerabilities. The most of nukers infiltrate computers by exploiting security vulnerabilities of the operating system of the target computer. Such parasites have no installation wizard and do not require any approval of the affected computer's owner. Some part of nukers can be monitored thru hackers' PCs and do not need to have viral components installed on a target machine.
2. Other viruses. Nukers can also be installed on the system with the help of other parasites, such as worms, trojans, backdoors or viruses. They can infect a target system without user's knowledge and try to affect everybody who are using a compromised computer. 
The most "famous" examples of nukers:
Nukers are rare cyber threats that share practically identical functionality. The following examples illustrate typical behavior of the nuker.
The Click nuker is designed to perform a Denial of Service (DoS) attack against a specified computer connected to the Internet. Such attack usually causes the affected system to stop responding or unexpectedly restart without asking for user permission. As a result, the user can lose any work that was not saved before the attack begun.
WinNuker infects hacker defined remote computers by exploiting known Windows security vulnerabilities. It silently creates viral files and modifies the registry, so that the threat runs on every system startup. Once executed, WinNuker runs its payload, which causes a compromised computer to crash.
BadLuck, also known as Belnow, is an extremely dangerous nuker that can be remotely controlled by the attacker. It deletes executables and critical system files, web and text documents. BadLuck corrupts the Windows registry and clears CMOS (this may severely damage a compromised computer). The attacker can use the nuker to display annoying messages and perform other malicious actions.
Removing nuker from the system with the help of anti-spyware software:
Nukers work in the same manner as regular cyber infections, such as trojans, rogue anti-spyware, ransomware or other viruses. Therefore, the most of their components can hardly be removed manually because they are hidden deep inside the computer and masked under different names. The most of nukers can be found only with the help of reputable anti-spyware. In this case, we highly recommend selecting one of these programs: FortectIntego,SpyHunter 5Combo Cleaner. They are considered advanced spyware removers that are filled with advanced features, such as deep system scanners and extensive parasite signature databases.
If you can't remove a nuker from your computer with the help of these programs, you should know that there is a huge possibility that you are dealing with an advanced version of this threat that was updated before the database of your anti-syware was filled with new files. In this case, you should add your question to Ask us page and wait for the answer of 2-spyware security experts. 
Latest nukers added to the database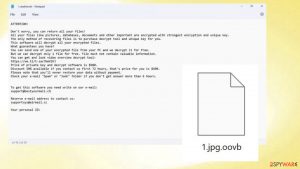 Oovb ransomware is the virus that demands large sums of money in exchange for the alleged decryption.
Information updated: 2017-05-11