PewDiePie fans launch an attack on Chromecast devices
PewDiePie fans keep trying to support their beloved persona in illegal ways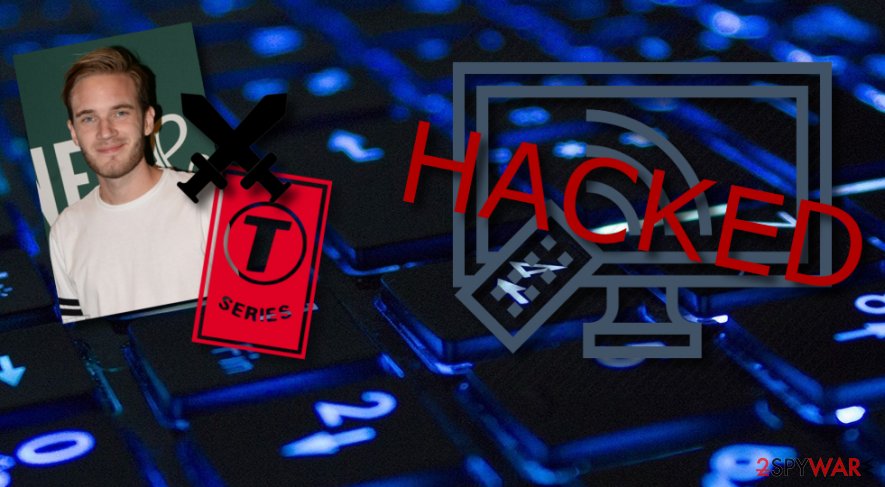 Not so long ago, the entire world heard about the YouTube battle between the most popular YouTuber named PewDiePie and the second most popular channel called TSeries.[1] The Indian channel has reached the second place in the most popular YouTube channel list and, naturally, has been trying to take the first place which has been taken by PewDiePie for a long time.
Due to the before mentioned reasons, PewDiePie fans have gone crazy while trying to keep their beloved YouTuber in the first place. Recently, hackers released a computer virus called PewDiePie ransomware[2] which aims to encrypt files on the targeted PC and urge the victim to subscribe to the Youtuber's channel. Otherwise, the locked files are said to be lost forever.
No matter that PewDiePie has already expressed his concerns and claimed that such activity does not make him happy, fans don't seem to slow down. According to the latest reports, hackers decided to hack Chromecast-powered smart TVs and support the famous YouTuber by showing a YouTube video every 20 minutes. 
Hackers HackerGiraffe and j3ws3r launch an attack on thousands of Chromecast-powered devices
Even though all this activity might seem like a joke, it is not that innocent. Around 65,000 Google Chromecast devices and 100,000 smart TVs have been involved in the hacking attempt and even exposed various sensitive information online.
Two crooks named "HackerGiraffe" and "j3ws3r" were able to manipulate routers that have activated the UPnP function and perform their illegal activity. According to them, they are doing this for two reasons:
To inform users about vulnerable security systems;
To help PewDiePie stay in the first place.
Once hacked, the affected TV screen is set to show such message:[3]
Your Chromecast/Smart TV is exposed to the public internet and is exposing sensitive information about you! You should also subscribe to PewDiePie.
Because the routers were leaking personal details, this allowed the hackers also to rename names of various machines and devices remotely. Research says that around 8,000 hacked Chromecast devices have been renamed to "Hacked_sub2pewds_#". However, hackers were pleasant enough to warn users to enable 8008, 8443, and 8009 ports to avoid possible data exposure.[4]
Chromecast is advising its users to disable the UPnP function to avoid similar hacks
As the hackers have already reported, they initiated such activity only to inform users about possible data exposures that can happen due to weak protection.[5] According to computer researcher Craig Young, devices, such as Google Chromecast, are often lacking the required protection and access to them can be gained in various ways:
A key problem here is the misconception that LANs are actually private networks. The reality is that there can be a number of ways for external attackers to gain unauthorized access into these 'private' home networks.
The Chromecast company explained that the flaw is not related to the company's devices specifically but to the router settings that have been selected during the hacking attempt. Furthermore, the organization advised for its users to  turn off the UPnP mode to avoid similar attempts:[6]
To restrict the ability for external videos to be played on their devices, users can turn off Universal Plug and Play (UPnP).
About the author
References