Ransomware threats target Asia Pacific region
Security experts have just announced that around 66 million ransomware attacks were detected throughout the first half of this year. While Europe and USA have always been the main targets, virus researchers have just reported a serious wave in APAC (Asia Pacific) region. Surprisingly, India, Indonesia, and Singapore are among the top ten victims of the list while Taiwan and Thailand can be found in leading positions. Certainly, the hackers have ulterior motives behind these cyber attacs. Who or what is the main suspect and what is the goal of these attacks in Asia?
Singapore, the small country, located in the southeast of Asia region, is well known for its economic and technological superiority. However, the technological advancement did not ward off hackers from attacking the state. Currently, this country ranks 12th in the main victim list. What is more, certain groups of ransomware-families were observed roaming in this area. Though TeslaCrypt has been officially terminated by it owners, its variations still target the residents of Singapore. CryptoWall ransomware also made itself prominent in this region.
Another country, India, has also been victimized by the hackers. While economists forecast India's economic breakthrough, cyber criminals do not miss the chance to attack this country. Last year, more than 430 million malware attacks were recorded. Businesses and corporations were the main targets. Specialists revealed that hackers prefer to exploit zero-day vulnerabilities. Likewise, they can hack the systems easier.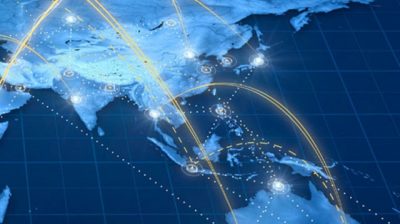 Moving on, banks of Indonesia and South Korea reported the data breaches. Cyber criminals have managed to break into the official websites and disable them. These attacks were mainly of DDoS (distributed-denial-of-service) origin. With the help of this malware, the servers are pre-occupied which result in outer inaccessibility. Luckily, there were no major financial losses.
Taking a general look at all these attacks, one might suspect to be Anonymous behind these attacks. Last month, the latter organization claimed to launch Operation Icarus. The bank in Greece was attacked by this group with the same DDoS attack. The real goal of this intention remains unclear. Does Anonymous merely attempt to shatter the existing system? This and many more questions remain unanswered.
It is likely that other, unaffiliated hackers, might exploit this cyber campaign for their own benefits by covering their tracks with the same hacking technique. Let us hope that with time all these questions will be answered which will help to escape further damage. Until then, companies and independent users are advised to update their security applications, monitor the safety of the computers, cooperate with IT specialists and avoid visiting suspicious domains.
About the author
Read in other languages