Today we are going to review two anti-spyware programs that are both rapidly gaining popularity among computer users. The first one is Reimage, and the second one is Plumbytes Anti-Malware. These two programs have proven to be trustworthy and powerful malware removers, however, although these programs are very similar, there are some differences that we would like to discuss. These differences make these programs unique and useful in different ways.
Latest versions: Plumbytes Anti-Malware 1.0.1.9; Reimage Repair 1.5.3.9.
Free versions: Plumbytes Anti-Malware Free; Reimage Express.
Paid options: Plumbytes Anti-Malware 2016; Reimage Repair 2016.
Installation: It is easy to install these programs. You just need to download an installer, double click on it, command it to install the program and choose language preference. Programs can be established in a few minutes, and they both run a full system scan as soon as they're installed.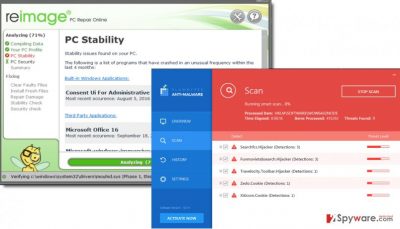 System requirements: At the moment of writing, Plumbytes provides versions for Windows 10 (32 or 64 bit), Windows 8 (32 or 64 bit), Windows 7 (32 or 64 bit), Windows Vista (with SP2, 32 bit only) and Windows XP (with SP3, 32 bit only) users. The program requires 60 MB free disk space and 512 MB RAM data. Meanwhile, Reimage is compatible with Windows 8 (32 or 64 bit), Windows 7 (32 or 64 bit), Windows Vista (32 or 64 bit), and Windows XP (32 bit). Besides, it needs 1GHz 32 (x86) or 64bit (x64) processor – either Single-core or Multi-core and 512 MB system memory; besides, it requires 40 GB hard drive with 15 GB available space.
Scanners: Now we have to say that Plumbytes and Reimage have entirely different system scan algorithms. While both programs scan the system for spyware and malware, Reimage has much more functionalities. It can be considered a 2-in-1 type of program. It also works as a system optimizer, which can fix Windows errors. Besides, this program has an exceptional feature that helps to reverse the damage made by viruses – it can replace corrupted or deleted files with clean ones that it takes from its continuously updated database. Reimage's scan goes through three stages to find hardware, security and stability problems. To detect viruses, the program uses an integrated Avira Antivir feature. Therefore, because this application checks more system areas than Plumbytes does, it takes more time to complete the system scan. Plumbytes only checks the system for threats, so it finishes scanning the system in a considerably shorter amount of time.
Malware removal: Both programs efficiently find malicious and non-malicious but potentially unwanted programs for free, however, to remove the threats and enjoy all useful features, the user needs to purchase the full version of either Reimage or Plumbytes. Reimage's license for one year costs 61,95 Euro, while Plumbytes' license costs 34,99 Euro, and it comes with six month subscription. As you can see, prices do not differ that much, but functionalities of these programs definitely do. It is evident that Reimage is a more advanced program that provides a wider set of functions than Plumbytes does. Besides, if the user does not like the functionality of one or another program, one can request a refund within 60 days from the purchase date, while other security programs allow doing that within only 30 days from the acquisition date. Besides, if Plumbytes or Reimage cannot fix a particular problem, then you can get in touch with their support team and get them to look into your problem and provide a customized fix. However, it is unlikely that you will need to ask them for help because both programs can detect and remove ransomware, Trojans, adware, browser hijackers, and other viruses, even the latest ones because the databases of these programs are updated daily. If you want your anti-malware program to be able to detect all computer threats, make sure you download and install its updates as soon as they are released!
Final notes. Our team thinks that both these programs are strong and competitive programs, however, if you are not looking for a PC optimization tool, you should opt for Plumbytes. Otherwise, we believe that Reimage is an exceptional anti-malware software and an outstanding PC optimizer that can not only find and repair computer problems but remove malware and replace corrupted Windows files with clean ones.
More Reimage vs other anti-spyware programs can be found in this Reimage review.
About the author
Read in other languages