TrickBot virus. How to remove? (Uninstall guide)
New malspam campaign is employed to deliver TrickBot trojan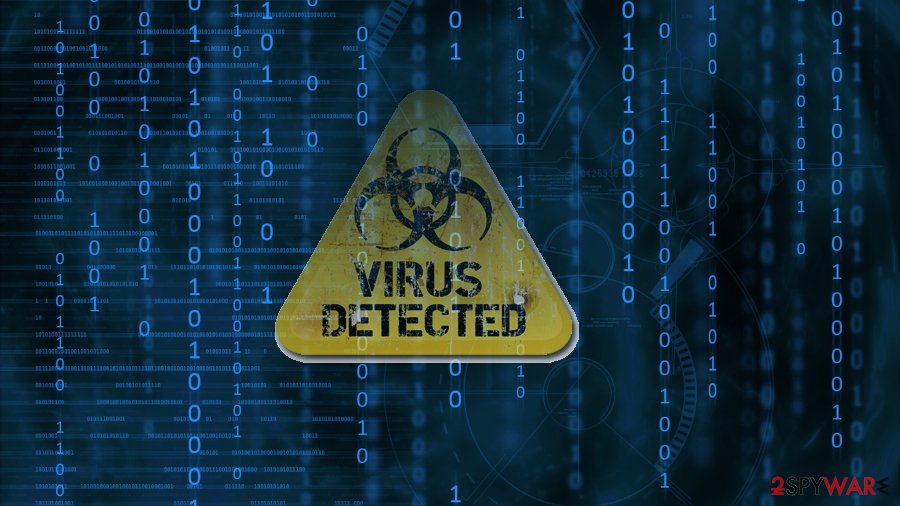 TrickBot is widely known for its banking trojan features which allow it to mimic online banking windows and steal personal information, such as log-in names and passwords. Analysts claim that this malicious program was invented and released to the cyberspace after noticing a significant success of Dyre trojan[1]. While in June 2017, it was actively peforming attacks on CRMs and Payment Processors, now it has employed a new malspam campaing for distribution[2]. 
Analysis revealed that this banking Trojan employs similar encryption techniques and hijack strategies as Dyre (alternatively known as Dyreza). Malware can bypass some security applications and infiltrates the system when users click on the malicious link or downloads a fake program.
After the invasion, TrickBot injects its malicious scripts and codes into banking websites. In other words, the cyber threat switches the original version of the site with its malignant substitute. In order to enforce this technique, C encryption language is used. In this regard, the newly detected Trick Bot malware also uses the improved version of the algorithm – C++.
What is more, the technique is supplemented with Microsoft CryptoAPI algorithm unlike AES and SHA256, previously employed by Dyre. Unlike the previous version of the virus, Trojan.TrickBot executes COM and TaskScheduler commands to maintain the computer under control.
The first campaigns were targeted Australian banks only. However, on April 2017 Trojan has been spotted attacking banks in The United States, Canada, United Kingdom, Ireland, Germany, France, Switzerland and New Zealand.[3]
Nevertheless, the Trojan mostly targets banks; other users might encounter it as well. In case of the attack, you need to run a full system scan with reputable malware removal program, such as Reimage. It will help to remove TrickBot from the system entirely.
TrickBot virus deceives users as a deceptive email attachment from fake Lloyds Bank
Experts have recently spotted a new way which was employed to distribute TrickBot trojan. The malware was spreading inside the email letters from fake Lloyds Bank[4]. It was disguised as an attachment holding confidential account documents. Note that official Lloyds Bank is not related to this malspam campaign in any way, except that its name was used for malevolent purposes.
Victims report receiving an email from <secure@lloyds-commercial.com> on December 6 2017 which contained Protected32.doc attachments. Obviously, the letter was designed to look extremely genuine and convinced may people to believe its legitimacy. 
Questions about TrickBot virus
The email briefly explained the recipients that it is an automatically sent message which does not require a reply. It simply encouraged the gullible people to check the attachment and included the following instructions:
To unlock/view your documents, follow the instructions below.

1. Look for an attachment (Protected.doc) ( typically at the top or bottom; location varies by email service).
2. Your Authorization code is: 430SJAOPS982XXS.
3. Enter the authorization code when prompted.
Remember, that you should not open any email attachments which look suspicious or unrelated to you. We want to remind you about the previous techniques which hackers used to spread TrickBot malware. The hackers have tried to employ similar malspam campaign in June 2017 which was almost identical to the one spreading Jaff ransomware.
Cybercriminals used social engineering techniques to trick users into opening a malicious email attachment. They included an obfuscated PDF file that opens a Word document. This file asked to enable macro command in order to see the content. Clicking "Enable Macros" button executes Trojan on the system. New victims of TrickBot were banks in India, Singapore, Netherlands, and Bulgaria. [5]
However, financial institutions were not the only ones who had suffer from Trojan. Now it also targets two Customer Relationship Manager (CRM) SaaS providers and PayPal users. On May security researchers discovered two malware distribution campaigns that targeted 210 URLs and 251 URLs.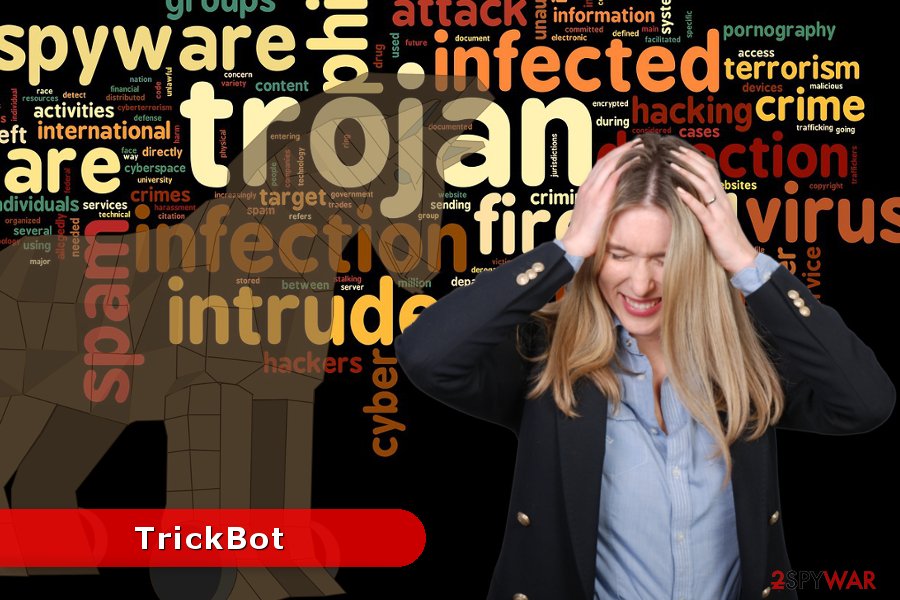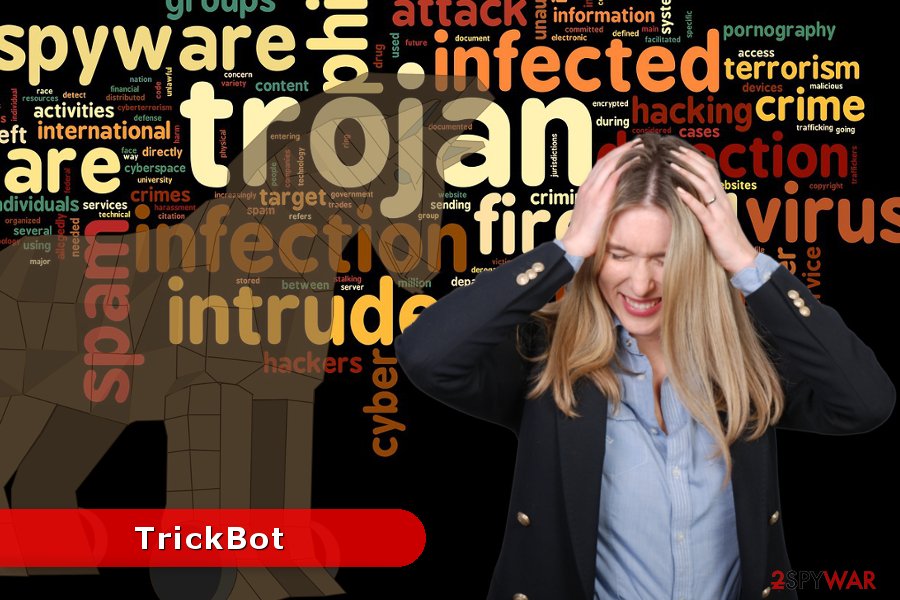 Slide 1 of 2
Trojan spreads via phishing emails
Experts have detected that phishing emails are still the primary distribution method used by hackers to infiltrate TrickBo[6]. They might disguise under genuine looking PDF or DOC documents and contain Invoice or Private Details subject line. People are easily tricked to open the malicious attachments since criminals imitate well-known companies.
Malware also aims at PayPal users. Thus, if you receive an email from PayPal about suspicious activities in your account or reporting about other problems, you should login to their website directly instead of clicking provided links or attached documents.
The crooks develop different techniques to access personal information. Thus, such emails are usually very convincing. Do not fall into their trap even if they ask you to review suspicious invoice documents or tax reports.
Furthermore, the Trojan can attach itself to a free application. So you should give it a second thought before installing even a new media player.
The latter often happens to be the carrier of more malicious cyber threats. By exercising additional caution, you will reduce the probability of TrickBot hijack.
Learn how to safely terminate TrickBot virus
The only way to clean your system from Trojan horse is to employ a reliable security software for TrickBot removal. This malicious program has the ability to imitate legitimate computer processes or files.
Therefore, trying to find and eliminate all malware-related files from the computer is a difficult and complicated task that might lead to irreparable damage to the system.
We highly recommend installing Reimage, Plumbytes Anti-MalwareWebroot SecureAnywhere AntiVirus or Malwarebytes Anti Malware and run a full system scan with the help of one of these security programs.
Lastly, we want to remind that you have to remove TrickBot immediately because this data stealing trojan might lead to money loss and other serious privacy-related issues.
About the author
References
Removal guides in other languages