Chromium is an open-source web browser project launched by Google
Chromium is a project started by Google in 2008. This open-source code[1] allows programmers to create various web browsers. However, the project itself began in order to create an infamous Google Chrome web browser. Currently, developers can modify and improve this code in order to release new tools to browse the web which offer advanced features to the users.
Chromium web browser can be safe to use as well as Google Chrome. However, just like many other open-source projects, this might be used for shady purposes. Therefore, it's important to learn how to identify legitimate and potentially dangerous web browsers.
Due to the similarity of names, many computer users still cannot understand what is Chromium and how it differs from Google Chrome. Thus, in this article, we are going to explain the major differences between these two products and tell how to recognize malicious and legitimate Chromium browsers.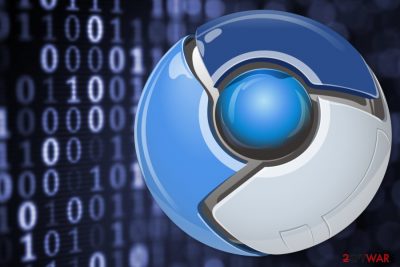 Chromium vs Chrome: untangling the definitions
Chromium definition on the official website identifies the main its difference from Google Chrome – it's not a browser:
Chromium is an open-source browser project that aims to build a safer, faster, and more stable way for all users to experience the web.
As we have mentioned in the beginning, Chromium Google project is the base code for building Google Chrome – a web browser which is widely used all over the world. Therefore, Chromium is a programming code, while Chrome is a final product.
Below you can see the table that stresses out more operation, design and other differences between them:
| | |
| --- | --- |
| Google Chrome | Chromium |
| Multicolored logo | Blue logo |
| Monitored by Chrome developers | Modified by distributors |
| Updated by Chrome automatically | Updates depend on the developer |
| New releases are carefully tested | Distributors can choose the testing depth of new releases  |
| Security Sandbox is active by default | Sandbox depends on the developer |
| Crash reporting is active by default | Crash reporting is not available |
| Usage-tracking feature  | No user metrics feature available |
| Support for additional video formats |   |
However, developers have taken advantage of an open source code and created several browsing tools. Chromium Browser typically shares the same features that are explained in the right part of the table. However, different programs can have unique functionality and features that were added by their creators.
No matter that Google Chrome and Chromium operate in almost the same manner, Chrome is still considered more convenient and effective. The only advantage of Google Chromium is the opportunity to customize it according to your needs. However, you must know what you are doing.
Choosing Chromium web browser: the best examples in the market
As we have already mentioned, Chromium was released with an intention to help users fill a well-known browser with extra features. There are numerous legitimate Chromium-based browsers, having different functionality, security and privacy levels, and design. The most famous ones are Vivaldi, Comodo Dragon, and Epic. 
Vivaldi aims to remember missing Opera's features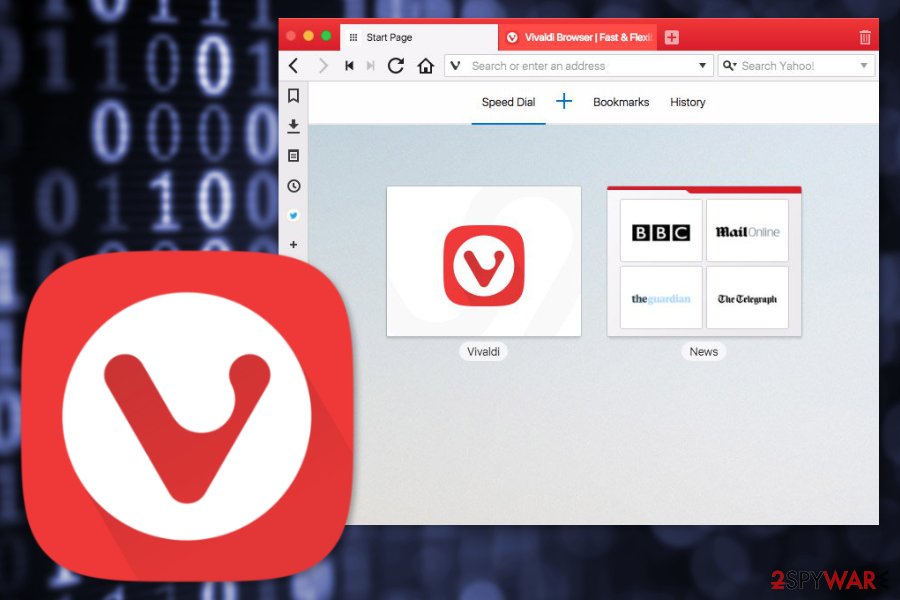 Vivaldi is one of the latest Chromium-based browsers that was presented by Vivaldi Technologies. The company was launched by former CEO and co-founder of Opera Software, so the developer is definitely not a newcomer.[2] Vivaldi's aim was to return the most of features that have been removed from Opera with its latest updates.
The most distinctive feature of this Chromium web browser is the amount of themes and modes offered to its users. They can change the background color, the start page, address bar, tab's position, and many other options. Vivaldi allows "stacking" and "tiling" tabs, adding notes to bookmarks and installing extensions developed for Google Chrome.
Main features:
Auto color changing 
Custom themes with scheduling
Tab stacking, tiling
Content blocker, color filters, CSS debugger
Custom keyboard shortcuts
Quick commands
etc.
Epic Browser offers advanced privacy protection
The main feature of Epic browser is privacy. Being developed by Hidden Reflex, this Chromium web browser claims to be capable of helping users improve their security online so that they could forget a need to browse only when in incognito mode or with the help of VPN.
The main way how does Epic work relies on removing the entire browsing data right after being turned off. Having in mind that it does not store the following information, some users can seriously consider opting for this Chromium-based web browser:
Besides, Epic is known to rely on SSL connections, block tracking scripts and even encrypt your data to hide your location or help you access blocked websites.[3] Unfortunately, this Chromium browser is not compatible with password managers and may not work on some websites. The good news is that it is compatible with both, Windows and Mac OS X.
Comodo Dragon provides secure browsing options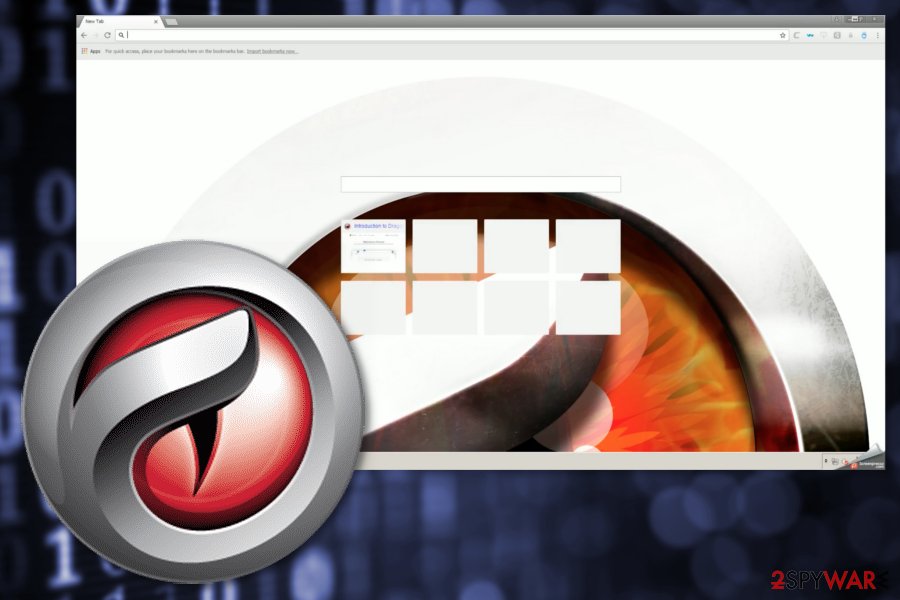 Another software developer using Chromium code to design its own web browser is Comodo Group. This developer is already known for years spent in making security software, IT management platforms and similar solutions.
According to them, the main reason why users should opt for Comodo Dragon browser is its provided security. Besides, they promise the fastest search engine and extra-friendly user interface.[4] Unfortunately, at the moment this Chromium browser is compatible only with Windows.
How does this Chromium browser improve users' security online? Most importantly, it does not enable Chrome's user tracking, search suggestions and other questionable features actively used by this famous search tool. Besides, it relies on websites' SSL certificate to measure their trustworthiness. Its GUI is very similar to this browser, so you won't feel lost after downloading it.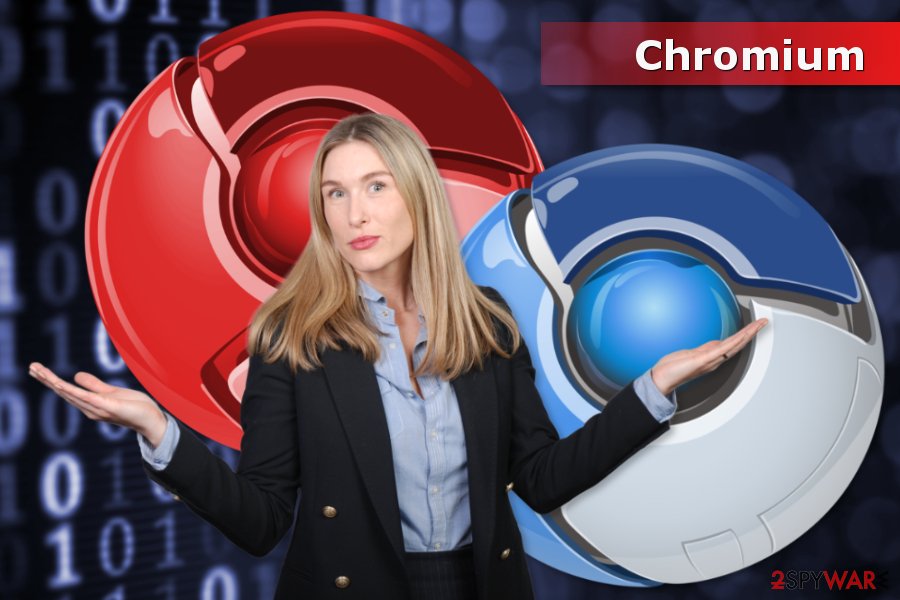 Chromium malware: when open-source code is used for malicious purposes
Computer users who are looking for a new tool to surf the web, often came up with the question is Chromium safe and whether they should use them. The previously mentioned top three Chromium-based browsers are absolutely legitimate. Though, the list of similar, but less popular programs, can be extended.
However, while some developers have been in a rush to create web browsers filled with improved features, others have already taken advantage of the open source code to release rogue search tools. Security experts have already noticed a new tendency – the appearance of malicious Chromium browsers, e.g. Chromium virus.
Unfortunately, many users have no idea that they are dealing with potentially unwanted programs[5] pretending to be legitimate and safe to use Chromium-based browsers.[6] However, you should definitely remember these names and stay away from them on the Internet:
Each of these programs can put your privacy and security at risk. Besides, they can initiate unwanted changes in the system, cause crashes while browsing the web and initiate other problems. Thus, bogus Chromium browser removal is highly recommended. Fortunately, these fake tools can be uninstalled either manually or automatically.
Identifying malicious Chromium browser
The majority of rogue Chromium web browsers are promoted as tools helping users enhance their browsing experience, provide the most accurate search results or protect their privacy. Usually, developers of these programs claim to be related to Google or official Chromium project by using their credentials, design and similar details.
However, the analysis of different examples of Chromium virus has revealed that they operate as potentially unwanted programs, not as useful programs. The main negative features related to such programs are: 
Spreading in software bundles. Typically, fake Chromium browsers are promoted in freeware or shareware packages. Therefore, incorrect installation of free programs might lead the installation of the unwanted browser as well. It may happen when installing software using Quick/Recommended settings which do not openly disclose about additional components.
Data tracking. Rogue Chromium browser usually tracks user's activities online. They collect search queries, browsing history, IP address, location, and similar non-personally identifiable details. Note that there's always a chance that they might try to steal sensitive data, including logins, passwords or credit card information.
Delivery of aggressive advertisements. These corrupted browsers are also capable of delivering an increased amount of online ads. Data tracking activities allow building user's profile and providing targeted ads that users are more likely to click.

An excessive amount of ads diminishes browsing experience. They might cover necessary content or whole browser's screen, do not have active close (X) button and redirect to commercial websites. However, some of these ads might include malicious content or redirect to scam or phishing websites.
If you have been dealing with any of these negative features, you should note that there is a huge chance that you have become a victim of malicious Chrome browser. Keeping such program on the system can additionally lead you to financial loss or identity theft. Thus, it's important to remove Chromium browser immediately.
Things to remember when choosing Chromium browser
In order not to become a victim of Chromium malware, you have to be careful when choosing a Chromium-based web browser. For that, you should follow these simple security tips:
Check the information about the developers. You should look up for their previous projects and read users' reviews about the Chromium web browser you are going to install.
Read reviews and opinions online. Before installing Chromium browser, read not only user's reviews and opinions on the developers websites (they might be fake), but look up for the opinions in forums or blogs. Additionally, try to find experts' reviews.
Download Chromium-based browser from the publisher's websites only. Keep in mind, that third-party sites can include malicious versions of the program. Thus, you can easily install Chromium virus instead of a legitimate tool.
If you notice shady activities, uninstall Chromium immediately. If you noticed an increased amount of ads, redirects to shady websites, promotions of questionable software soon after installing a new browser, you should perform Chromium removal ASAP to protect your PC and privacy.
About the author
References