McAfee AntiSpyware review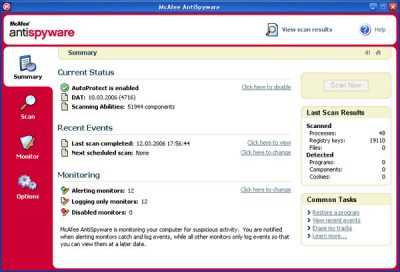 We have carefully tested McAfee AntiSpyware made by one of the leading security software companies. Our tests revealed that this product provides effective protection against most spyware and adware threats as well as some dangerous viral parasites. The program was noticeably improved compared to the previous version that we have tested one year ago. Nevertheless, it is still not so powerful and advanced as its major rivals are.
The application very thoroughly scans the Windows registry, running processes, tracking cookies, and the entire file system. McAfee AntiSpyware allows to choose between the Thorough scan and the Custom scan. The first mode is the most effective, but it takes quite a lot of time. On our test machines it requires from 30 to 45 minutes to complete. The Custom scan mode allows the user to choose hard drives to scan and enable or disable the detection of tracking cookies. However, scanning only one hard drive and no cookies takes from 10 to 20 minutes. Even the registry scan is relatively slow: it requires approximately 4 minutes to finish.
McAfee AntiSpyware uses regularly updated spyware definitions database, which currently includes almost 52000 parasite signatures.
The program includes integrated real-time protection monitors that detect changes to the system configuration, networking settings, web browser and security options. The program alerts the user whenever a suspicious activity is detected.
McAfee AntiSpyware comes with several useful tools. The Restore Programs utility allows restoring removed software. Erase My Tracks deletes all web browsing trails and history. Event Log shows and exports logs of important events that happen on the computer.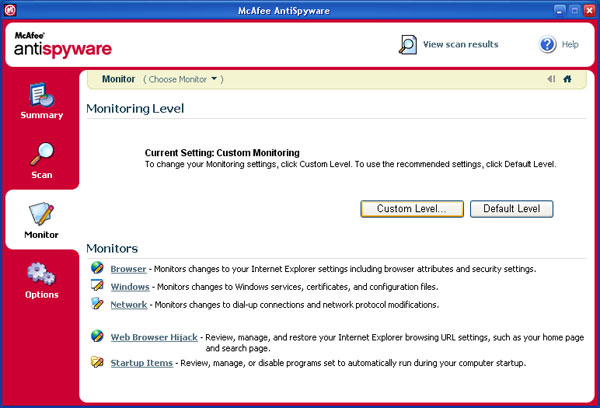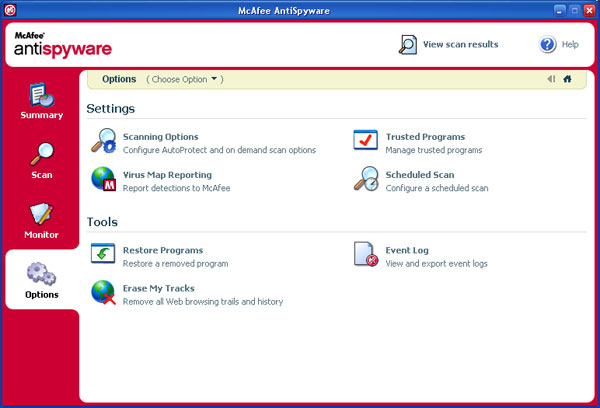 The program comes with McAfee SecurityCenter, which integrates controls of other McAfee software such as VirusScan or SpamKiller. However, it may become almost useless in case no such applications are installed, and you do not plan purchasing any of them.
The program update function is very inconvenient. The vendor does not provide separate spyware definitions database updates, but offers only full updates of the entire product. This means that you usually cannot download a new database, but need to install an updated version of the entire program. First of all, you have to wait until the download finishes. Then, after installing an update, you have to restart your computer. But that's not all. On the next startup, after an update will be registered in the system, you will have to reboot the machine once again. So, often one single update needs two system reboots.
Fully functional trial version is available. It expires 30 days.
The official site is www.mcafee.com. Purchases are made via secure connection.
McAfee AntiSpyware is a quality program. It is a much better choice than other less popular products made by small companies.
About the author