SpyHunter is a sophisticated tool that can protect you from malware and its effects
SpyHunter is one of the most effective and advanced spyware removers available on the market today. Numerous tests performed on different computers have revealed that this program has an exceptional capability to detect spyware and remove it from the affected PC system. Thanks to the built-in tool Spyware HelpDesk, users can fix even the most damaged PC systems, so there is no surprise that this program has been widely used by both, IT experts and home computer users. More information about SpyHunter Help Desk and other helpful features can be found in this review.
Nevertheless, if you decided to install SpyHunter 5, which is the latest version of this software, you should note that its free version can only be used for scanning the computer and checking whether it's infected with malware on not. It's good when you need to try the software and check what positives or negatives it has.
However, if you need to remove specific viruses from your computer, you should get a full version of SpyHunter, which costs $39.99. Once you receive SpyHunter 5 registration code, it will allow you to use such features like free tech support, custom malware fixes and, of course, daily definition updates that are needed for preventing the most dangerous and sophisticated computer infections.
SpyHunter download is easy – just make sure you selected a legitimate version
As we have said, SpyHunter is a commercial product, but you can try it for free by clicking this link. Program's installer is barely 6.5 MB in size, so the download process shouldn't take longer than a few seconds if using modern internet speeds.
As soon as the download is finished, you need to click on the executable SpyHunter-Installer.exe to begin the installation of the program. If User Account Control shows up, click Yes (make sure that the publisher is EnigmaSoft Limited, as fake SpyHunter versions crafted by hackers were also observed in the wild).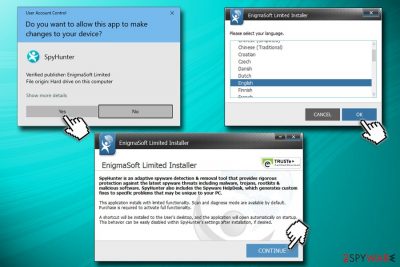 SpyHunter download should be quick, as main executable is only 6.5MB
SpyHunter installation procedure
Once SpyHunter-Installer.exe is launched, you will be asked to choose your language – it is available in 30 languages (English, German, Japanese, Russian, Swedish, Albanian, etc.), so users all over the world can use the software without limiting their understanding of its operation.
Read through the Installer information, and click Continue.
Next, you will be presented with the End User License Agreement, which also includes Privacy Policy. In this section, you can find all the details on the software operation, what rights you as a customer have, what type of information is collected, and how it is used, etc. If you agree to terms, select the "I accept the EULA and Privacy Policy" 
Finally, click Accept & Install button to begin the installation. After it is complete, click on Finish.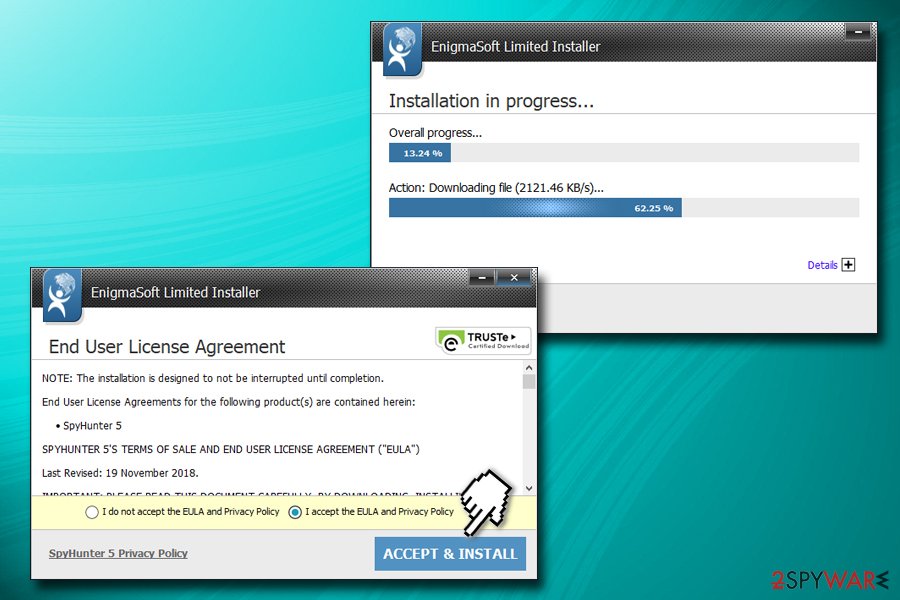 You need to agree to SpyHunter's Terms and Conditions before you can proceed
Scan computer with SpyHunter to ensure your computer safety
Once SpyHunter installation procedure is complete, you will see a pop-up window that will indicate the update which is necessary for the first scan to be effective. This process should only take a few seconds, so you might not even notice it, but it is vital it does happen – so make sure you have an internet connection enabled during the installation.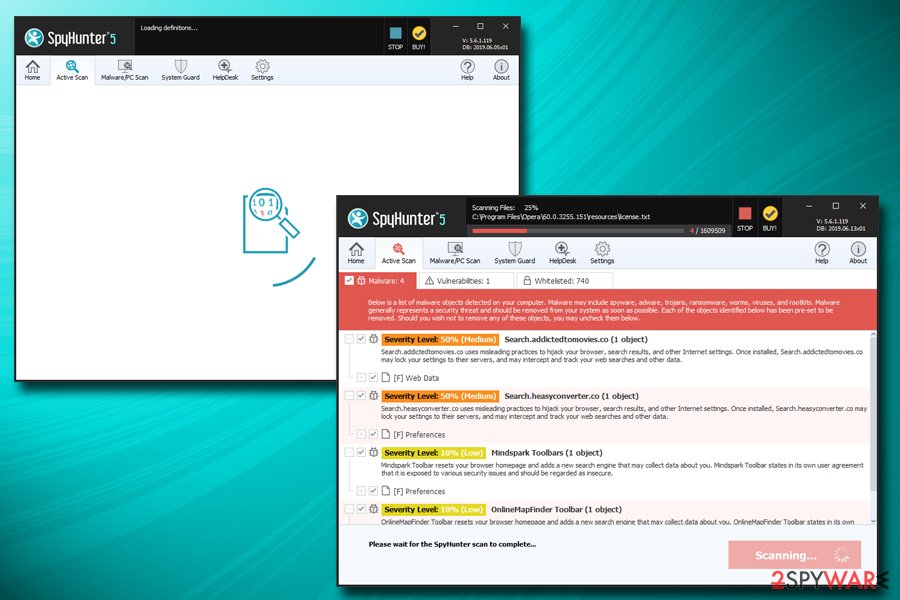 The scan should activate automatically after the installation
After the database of SpyHunter is fully updated, a scan full system scan will begin automatically. If you do not have an internet connection when you first install the application, you can start the virus database update manually at any time when you connect your machine to the web.
All you have to do is go to Settings > General and then click on Check for update now! Nevertheless, it is highly recommended to use the Automatic update feature, as it will download updates whenever they are available.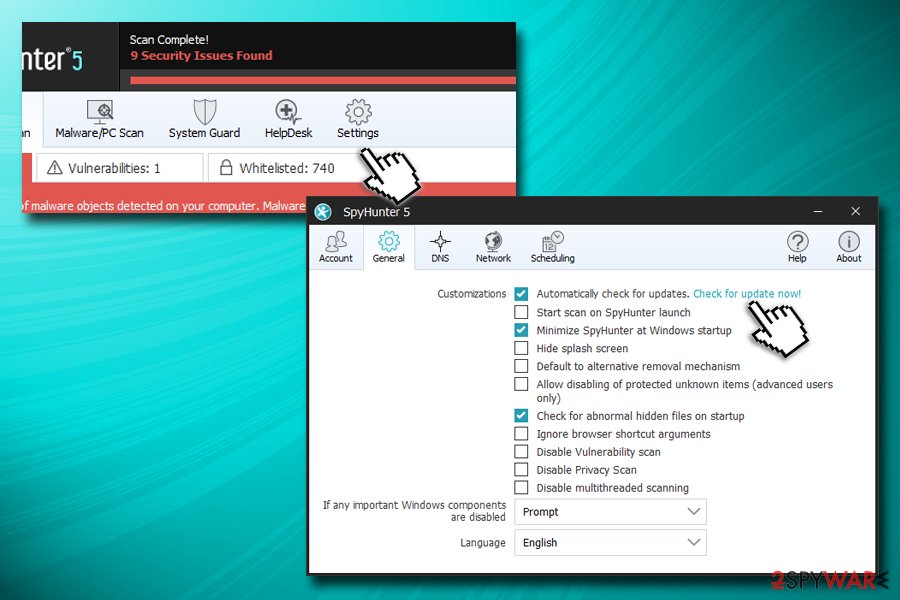 You need to make sure SpyHunter is up to date
In order to start a system scan, you click Start Scan Now. Note that the first scan might take a while, as the app is checking every file on your system – and there are millions of them. SpyHunter will check the Memory, Windows registry, files located on all fixed drives, running processes and cookies. Once the scan is complete, you will be able to see all the malicious entries that security software found on your device.
Besides scheduled or full system scans, you can also use a Custom Scan feature, which would allow you to scan individual sectors:
Files
Memory
Registry
Privacy Issues
Rootkits
Vulnerabilities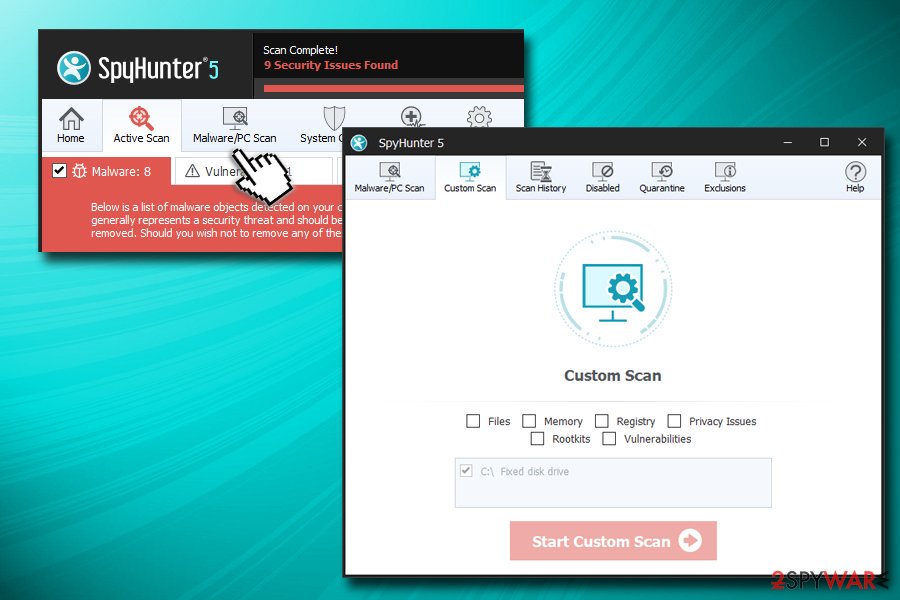 You can pick what you want SpyHunter to look for on your device in a Custom Scan option
In the scan sections, you will also be able to see scan history, quarantined files, exclusions, and disabled items. As you can see, SpyHunter is highly customizable and can be used to satisfy all customers' needs.
Activate SpyHunter and remove malware, or activate its Trial version
Once the scan is finished, you will see three sections in scan results:
Malware
Vulnerabilities
Whitelisted
The last section is generally not important for a regular user, but you should definitely pay attention to Malware and Vulnerability entries. The former displays all the malicious entries in the registry, web data, information files, executables, and other threats – you will also be able to see the precise location. Vulnerabilities section displays various weak spots inside your system that hackers could use to break in with the help of exploits. This problem is usually fixable with software updates, although SpyHunter can do it for you.
To remove all these parasites and related objects, you have to activate SpyHunter. If you have already paid for this software, click the Next button to terminate all the infections from your computer. However, if you do not have a license key, you will not be able to eliminate all malware entries from your device.
However, if you want to try how SpyHunter works, you can activate the Trial version, which would allow you to delete all the threats once after 48 hours. If you do not want to wait, you can simply purchase a full version of the application to enjoy its limitless features.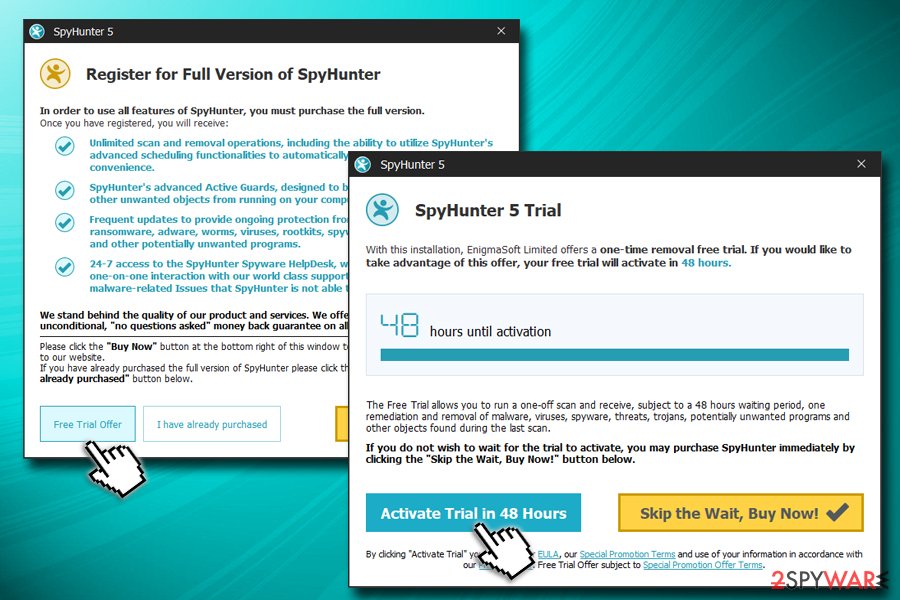 You can activate Trial version of SpyHunter which will let you delete all threats once free of charge
Once the program finishes the scan, it asks to restart the computer and complete malware removal. That's it! You removed malware with SpyHunter from your computer!
Reviews in other languages