Spybot – Search & Destroy tutorial
Table of contents.
Introduction
Installing Spybot – Search & Destroy
Starting Spybot – Search & Destroy for the first time
Using Spybot – Search & Destroy
Using Spybot – Search & Destroy in the Advanced mode
Conclusion
Spybot – Search & Destroy is a pioneer in spyware removal. This absolutely free product is a perfect tool to find and remove most parasites from the system. The user can configure almost any aspect of the program. Spybot – S&D is quite easy to use. However, to reveal all Spybot – Search & Destroy potential you should read this guide. It will help you to learn how to use the program to get rid of spyware, adware and other dangerous pests.
For more information please take a look on our Spybot – Search & Destroy review.
First of all you should get the program. Spybot – S&D is free to download. You can obtain it from the official site. Current application version size is about 5MB. The download shouldn't take a lot .
Now you can install the program. Double-click on the downloaded executable file to start the installation. Follow setup instructions, read and accept the license agreement, select installation folder and choose the components you wish to install, define Start Menu folder for the program's shortcuts. Then the setup will ask you to select additional tasks.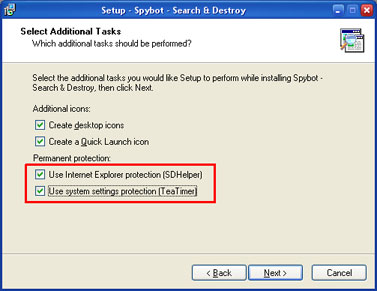 Image 1. Selecting Additional Tasks
In this part of setup we recommend you to check Use Internet Explorer protection (SDHelper) and Use system settings protection (TeaTimer) unless you use another product with similar features enabled. These two options protect your web browser and system from undesirable modifications that parasites can do.
When you have selected additional tasks press the "Next" button and then the "Install" button. This will copy all Spybot – S&D files and register it in the system. When the setup is complete you will be presented with a last window asking you to finish the installation.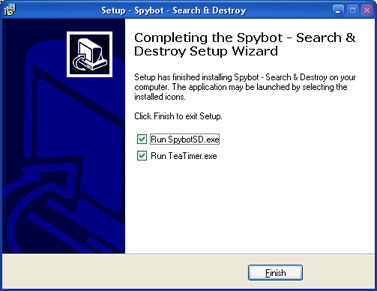 Image 2. Completing the installation
In this window we recommend you to check the both options. This will start Spybot – S&D and activate real-time protection module.
If you have followed above recommendations the program should start immediately after the installation. Otherwise you need to find the desktop, quicklaunch or start menu icon of Spybot – S&D. On the first run the program's wizard will ask you to complete several steps.
1. Create registry backup
You should backup the Windows registry so it could be restored in case of some system failure. This step is not necessary, but you should complete it by pressing the Create registry backup button. This tasks usually takes few minutes. When it is over, click on the "Next" button.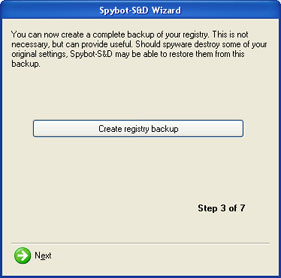 Image 3. Backup the Windows registry
2. Update Spybot – S&D
At this step the application will ask you to update its components or spyware definitions database. Click on the Search for updates button. The program will contact its web servers and report if any updates are available. To download and install updates press the Download all available updates button. This will take some time depending on the overall download size and your Internet connection speed, so be patient. After download is finished press the "Next" button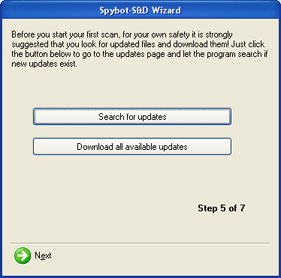 Image 4. Update the program
You can bypass this step, but without latest updates Spybot – S&D may be unable to detect and remove recent threats, so it is a very good idea to complete it.
3. Immunize the system
This function modifies Internet Explorer settings to prevent malicious scripts and harmful programs from running automatically while visiting some unsafe web sites. Clicking on the Immunize the system button will start the immunization procedure. Although it is not required, it is very effective and really blocks dangerous code, so consider performing this task. After it was successfully completed press the "Next" button.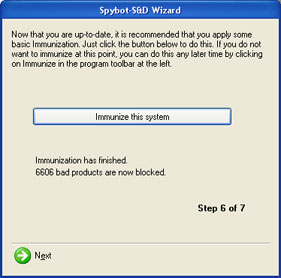 Image 5. Immunization is finished
The last step is simple. Spybot – S&D will ask you start the program by clicking on the Start using this program button. You also can press the Read tutorial or Read help file button in order to read official information about the product.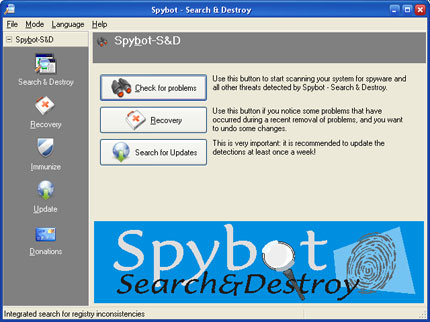 Image 6. Spybot – S&D start screen
1. Preparing the program
Before using the program you should update it. Every anti-spyware product relies on its database, Spybot – S&D is not the exception. Threats appear constantly and outdated program is unable to stop the most recent of them, so you should update it leastwise once a week or, even better, every time you run it.
You can access the update section by clicking on the Update button. The Update screen will appear. Click on the Search for Updates button. The program will contact its web server, report if any updates are available and list them. Select all listed items, choose a server closest to your location and click Download Updates. This will download and install all necessary updates. The program will be automatically restarted in order to apply changes. If no new updates are available, the list will remain empty and "Download Updates" will not appear.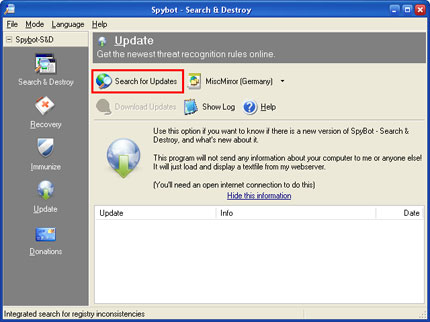 Image 7. Find and install new updates
Spybot – Search & Destroy is translated into more than 40 languages. If your native language is one of them, you can select and apply it. The list of available languages can be accessed from the Language menu. To apply the language simply select the name (flag) of your country and click on it.
2. Checking for problems
To scan your system for problems, i.e. spyware and adware infections, browser hijackers or other parasites, click on the Check for problems button located in the program's start screen (Image 6) or within the Search & Destroy section. Spybot – S&D will check the Windows registry, cookies, running processes, files and directories. The scan usually takes several minutes or even more, so be patient. All detected threats will appear in the Problem list.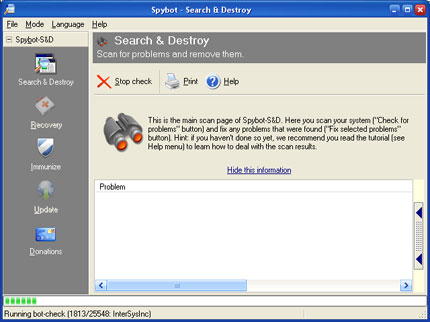 Image 8. Checking the system for problems
3. Analysing detected objects
After the scan is over, the program will display the list of all found problems. This list can contain three types of entries divided by their colors.
Red entries are the actual parasites that should be completely removed from the system.
Green entries indicate locations where some software keeps recorded user tracks. These tracks may include lists of recently opened files, performed actions, visited web sites, etc. It is recommended to fix green entries.
Black entries report about certain system problems like missing critical files, incorrect settings, corrupted data, etc. These entries shouldn't be fixed unless you are absolutely sure that corresponding objects are really broken.
Each entry can be expanded to show associated objects such as related registry keys or files. To expand the entry click on the + sign next to an entry. Already expanded entry is marked with the – sign. On the Image 9 these signs are designated by red boxes.
Spybot – S&D provides information about most detected objects. Clicking on the button in the green box (Image 9) will show detailed information about currently selected entry. The information pane can be opened or closed by pressing the same button.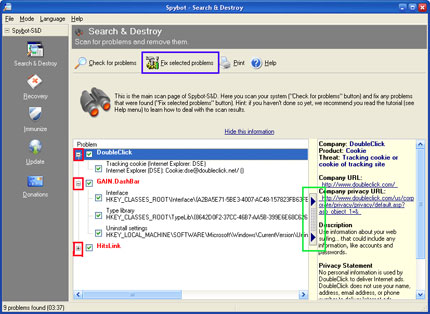 Image 9. Found problems and their description
4. Fixing found problems
To fix certain problem you should check it with a checkmark and then press the Fix selected problems button (on Image 9 it is in the blue box). Parasites will be completely removed from the system.
Sometimes Spybot – S&D cannot eliminate certain malware immediately mostly because its processes are running or its files are in use. In this case the program will ask you to allow it to run on next Windows startup. You should reply "Yes". On next startup Spybot – S&D will start automatically before any other applications and fix remaining problems.


Image 10. Allow Spybot – S&D to fix problems on next system restart
5. Immunizing a web browser
Spybot – S&D can prevent your web browser (Internet Explorer, Opera, etc.) from running known malicious ActiveX scripts and other harmful code. Its browser add-on SDHelper has the ability to block access to certain unsafe web sites stored in Spybot – S&D database. These features can be enabled in the Immunize section, which can be accessed by pressing the Immunize button.
To enable immunization click on the another Immunize within the section (on Image 11 it is in the red box). Progress bar located below will show immunization status and provide information how many bad products are blocked. If you would like to undo the immunization, press the Undo button (on Image 11 it is in the green box).
In the screen section designated by blue box you will find the controls of SDHelper module. Simply check Enable permanent blocking of bad addresses in Internet Explorer and select default SDHelper behavior from the below drop-down menu. This will install a browser plug-in, which will monitor visited web pages and block access to known malicious sites.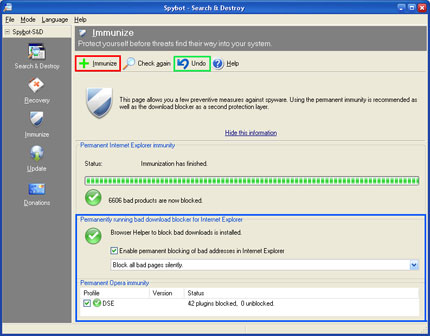 Image 11. Immunize the system
6. Restoring fixed objects
All objects fixed by Spybot – S&D can be restored using the Recovery function. This function can be used to revert accidentally made system or software changes while fixing certain problems. To access the Recovery section click on the Recovery button in the left pane. This will bring the Recovery screen. To restore certain entry, place a checkmark next to it and click on the Recover selected items button (on Image 12 it is in the red box).
If you are sure that some entries really belong to harmful programs, you can completely remove them from the Spybot – S&D backup. To do this, select an entry and press the Purge selected items button.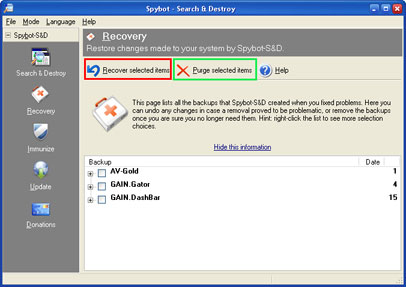 Image 12. Restore changes made by Spybot – S&D
Spybot – S&D can be used in two modes: default and advanced. The default mode was described in the previous part called Using Spybot – Search & Destroy. In this part you will find guides for using miscellaneous tools accessible only from the Advanced Mode. To enable this mode, click on the Mode menu and select Advanced mode. All tools described in this part can be accessed from the program's left pane by clicking on the Tools button.
1. Editing the system startup list
The system startup list contains programs that will be started along with Windows. These programs are installed third-party software, essential OS services, security tools, etc. However, there you also can find malicious startup items related to certain parasites. Spybot – S&D allows to see and edit the startup list. The System Startup tool can be accessed by clicking on the System Startup button in the left pane.
All enabled items have a checkmark next to them. Disabled items have empty checkboxes. To toggle certain item off or on, you should select it and press the Toggle button (on Image 13 it is in the red box). This will allow some program to run on Windows startup (or prevent it from running). If the item actually belongs to a harmful parasite, you should completely delete it from the startup list. This will prevent a parasite from starting on system startup. To do this, select the item and press the Delete button. If you are in doubt about some objects, Spybot – S&D can provide information on them. To learn more, click on the button designated by the green box. This will bring the information pane.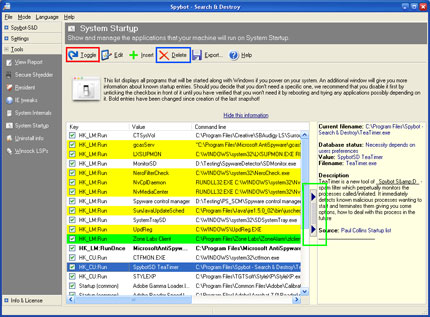 Image 13. Edit the system startup list
2. Searching for registry problems
The Windows registry is the most often used system component. All applications leave their fingerprints in it. From time to time some errors appear in the registry. These problems decrease overall system performance and may cause computer instability. Spybot – S&D has the tool called System Internals that will help you to clean up your registry and fix its problems. To access the tool click on the System Internals button in the program's left pane.
To scan the Windows registry for problems click on the Check button (on Image 14 it is in the red box). The process may take a while. When it is over, you will see a list of detected problems divided into categories by problem type. To fix certain entry, select it and press the Fix selected problems button. Spybot – S&D will ask you to confirm the operation. Reply positively only if you are really sure.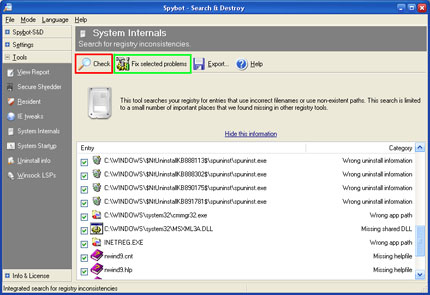 Image 14. Fix registry errors
Spybot – S&D has more advanced tools such as the Secure Shredder, ActiveX, IE tweaks, Process list, Winsock LSPs, Uninstall info, BHOs, etc. These tools require deep system knowledge and should be used with extreme care. If you don't know what does LSP or BHO mean, then you definitely do not need them.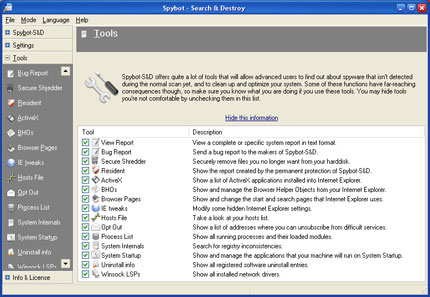 Image 15. More advanced Spybot – Search & Destroy tools
Spybot – Search & Destroy is a perfect multifunctional anti-spyware solution. If you do not want to pay for a spyware remover, choose this program. If you do not like Spybot – Search & Destroy or simply want to use another spyware remover, please take a look on the list of our recommended anti-spyware products.