At first sight, SpyHunter and Spybot – Search & Destroy seem to belong to the same, anti-spyware, category. However, after downloading each of these programs to the system, it becomes clear that these programs can hardly be compared. Even when taking into account that Spybot can act as an antivirus software on your computer, it is more than obvious that you can hardly trust this security software. According to security experts and researchers, today Spybot is considered neither a reliable anti-virus nor a powerful anti-spyware. To save your time and nerves trying to get rid of this program, we recommend you to select SpyHunter instead.
Latest versions: SpyHunter 4.2; Spybot – Search & Destroy +AV 2.4
Free versions: SpyHunter Free; Spybot Free
Paid options: SpyHunter Full version; Spybot Professional Edition.
Installation: To install SpyHunter you need to go thru usual steps: click the Download button, get the installer and go thru a Setup Wizard. Typically, this process takes less than a minute. Spybot's installation requires going thru almost identical steps. When on its official website, it's hard to miss the "Donate" button. However, donations are optional, and you can install Spybot for free if you want to test it before making a payment. In fact, we recommend you only this action sequence.
Scanners: SpyHunter runs a Quick system scan right after installation. However, you can also select a Full system scan if you want to check your computer thoroughly. The software returns professional scan results after 10 or less without causing slow downs on your computer. When SpyHunter detects malicious components on your computer, it gives them informative descriptions. However, each of viruses and potentially unwanted programs can be saved by deselecting the check mark given next to its name.
In the meanwhile, Spybot provides a typical System scan and a File Scan letting you check only specific files on your computer. When the program starts scanning, it finishes its work within a couple of minutes. However, you can expect to see a drop in your system speed during this process. Unfortunately, but you cannot schedule a scan on Spybot, so you must make it up with these slow downs. The list of viruses is also provided with checkmarks that can be deselected when needed.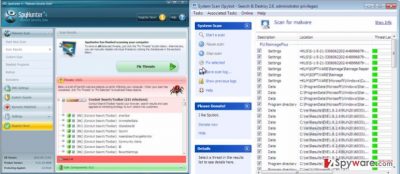 Malware removal: While SpyHunter requires purchasing its full version to remove malware from the system, you can fix your computer with Spybot for free. However, it doesn't mean that it's a better choice if it doesn't require you to purchase its full version. No matter how great the idea of fixing your computer for free seems, you should know that Spybot can leave you infected because it fails to detect more than half of malicious components. Also, as we and some other computer researchers have noticed, Spybot freezes when it starts "fixing" computer. In addition to that, it provides a very poor customer support that may fail to respond to your inquiry for weeks.
Final notes: If you take your computer's security seriously, you should consider buying SpyHunter instead of using Spybot free. Even if you fall for purchasing its Home and Professional editions, you may be unsatisfied with the service. Spybot causes system slow downs, fails to detect a generous amount of malware and can also leave you with no assistance when needed.
To compare SpyHunter 4 to other anti-spyware software, go back to SpyHunter review.
About the author