In the beginning, it may seem that Webroot cannot be compared to SpyHunter. It is cloud-based anti-virus, which offers such innovative features as anti-ransomware, real-time identity protection, social network protection, and similar features. However, we should not forget that the most important task of security software is to detect malware on your computer. The second step should be successful removal from the system, which seems seems to be too hard to Webroot. After testing both security programs, we should say that Spyhunter detects a wider range of malware and, instead of reporting about legitimate files as malicious, takes care only of malicious ones.
Latest versions: SpyHunter 4.2; Webroot AntiVirus.
Free versions: SpyHunter Free; Webroot Antivirus Trial.
Paid options: SpyHunter Full version; SecureAnywhere Internet Security Complete.
Installation: Installation of Webroot is straightforward – you just copy paste your keycode and click the Install button. However, you will also be asked to enter your email address while installing the software what may cause the appearance of commercial messages in your inbox. Besides, sometimes it seems that its interface is too busy what cannot be said about SpyHunter's graphical user interface. To add SpyHunter to your computer, you need to visit its download page, click the Download button and follow the steps of Setup Wizard. This process takes less than a minute.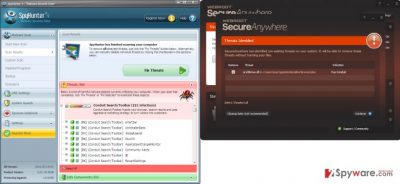 Scanners: You can choose from a Quick and a Full system scan after installing SpyHunter on a computer. To increase the chances of detecting every malicious component, opting for a Full system scan is recommended. After the software finishes its job, it returns a list of viruses that can be saved by unchecking a pre-checked check mark. SpyHunter is designed to inform people about a wide range of viruses, including adware, browser hijackers, ransomware, rootkits and similar malware.
Webroot starts its first system scan without even letting the user know about that. We should say that its scanner is quite impressive because it finishes its job within a minute. However, we should note that Webroot fails to detect and report about potentially unwanted programs, such as adware and browser hijackers, that are especially active nowadays. Its scan report is clear but it could be more informative.
Malware removal: To remove viruses with SpyHunter, you need to buy its license. However, the full version gives you an opportunity to use its exceptional feature called Spyware Help Desk. Why would you need it? Imagine that you are infected with malware and your anti-spyware fails to detect it. Instead of buying another one or taking your PC to IT professionals, there is the only thing you need to do – contact SpyHunter Help Desk and let its professional team take care of your computer. While you don't need to update Webroot to remove viruses from the system, note that its trial version lasts only 14 days. Once it expires, you have to either upgrade it to the full version or look for another security solution. When discussing malware removal, we must say that Webroot does its job very well – the program deletes a virus and re-scans the system within several minutes.
Final notes: There is no doubt that Webroot is the anti-virus of the new age. However, it should be used only in conjunction with a reliable anti-spyware program because it fails to detect PUP. If money is important to you and you don't want to pay twice, we recommend selecting SpyHunter that showed better results when searching the system for malware. No matter that it has fewer features, the software fully implements the most important task – protects you from malware.
You can read a full SpyHunter review and more security software comparisons here.
About the author