Statistics Has Revealed That Mac OS X is Getting Increasingly Vulnerable to Malware
Bitdefender has presented a half-of-the-year statistics related to lowest level security threats, namely adware and potentially unwanted programs(PUP). It has been found that the number of adware and PUP infections is increasing every day. While this problem has already been prevailing with regards to Windows OS, it seems that Mac OS becomes more and more vulnerable as well. For example, the number of adware infected MACs in the USA and Germany increased almost 50 percent. Besides, in Denmark and Romania the number of attacks even exceeds 50 percent.
Mac security experts have noticed that, at the moment of writing, DNS-themed adware-type programs are actively spreading around the Internet along with free software, including Mac-oriented free applications. DNS-themed adwares, including DNS Unblocker, DNS Unlocker, DNS Keeper, DNS-Locker, and similar kind of ad-supported extensions trick people into believing that they are providing free DNS (Domain Name Server) services. For example, as DNS Unblocker developers state, it is supposed to "Unblock blocked websites and digital media for Free!" Sounds great, isn't it? However, it is just a marketing trick that affiliate marketing supporters apply to make people install ad-supported applications. All the adwares listed above are known for displaying sponsored advertisements while people are browsing the net. Besides, they are blamed for using tracking cookies and accumulating personally and non-personally identifiable information about their users. Security vendors also warn about severe slowdowns and urge people to treat both browser's and the system's performance changes as a warning that a computer threat might be hiding deep in the system.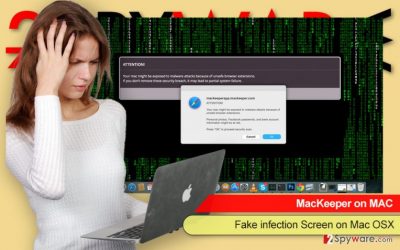 Expect annoying advertisements, there is another factor that has let security experts categorize adwares and PUPs as computer threats. It is related to the content that they may try to promote. Over the past year, our security experts have received thousands of complaints about misleading pop-up advertisements that made people install other PUPs. That is why security experts highly recommend people to steer clear from adware-type programs and PUPs. The biggest problem why so many Mac users end up with adware infections is that they still believe Mac OS to be much adware-resistant if compared to Windows. Unfortunately, practice shows that Macs are becoming more and more vulnerable, so to stay adware-free, it is a must to mind at least the basic security measures.
Both Windows and Mac users should, first of all, select free programs carefully and download them only if they are needed. Second of all, before the installation, it is always advisable to read EULA, Privacy Policy and other relevant information that may inform about third-party sponsorship, advertising, tracking software, and similar things. Third of all, always check expanded installation settings ("advanced," "custom") and deselect additional components. Besides, always keep your Mac and iOS software up-to-date. Finally, keep a reputable anti-spyware installed and regularly update it.
If right after installation of freeware you Mac or Windows OS has started acting strangely, don't ignore that. If every time you open a web browser "Ads by XXX" start bothering you, don't ignore that. Adwares and PUPs are actively spreading around, so make sure that you check the system with SpyHunter, STOPzilla, Malwarebytes Anti Malware.
About the author