The little secret from Microsoft is revealed, and it's called Green Screen of Death
Will Blue Screen of Death be replaced with green system crash screen? It's definitely one of the hottest discussion topics raised in IT world at the end of 2016. The Senior Program Manager of the Microsoft, Matthijs Hoekstra, decided to provoke more talks about new features of leaked Windows 10 build 14997 by posting mysterious tweet[1]. However, Chris123NT revealed the big secret and posted the picture of Green Screen of Death (GSOD) on Twitter.[2] It raised numerous rumors and assumptions what users can expect from the new Windows version.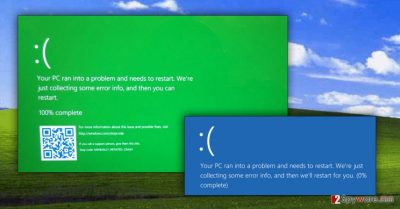 It's already known that Windows 10 Insider builds users will need to get used to the new system crash notification. Indeed, the iconic Blue Screen of Death[3] will be replaced with Green Screen of death. However, this feature will be only available on the Insider; other Windows versions continue informing about system errors in the old way. The new feature allows Microsoft staff to provide faster services to the customers. The changed color lets support service to distinguish Production and Insider versions, and this allows prioritizing customers and their problems.
Microsoft has already released few updates and improvements on the classic Blue Screen of Death last year, for instance, they added the QR code[4] that helps to explain the system crash reasons. However, changed color is not the only feature of Windows 10 build 14997. This version also includes improved Microsoft Edge, gaming mode, Blue light settings, and many other features.[5] However, it seems that netizens are only passionate about green color. While some people are excited to meet the Green Screen of Death, others are disappointed for having to wave goodbye to the good old blue error window.
The library of funny and ridiculous Blue Screen of Death cases will be probably expanded by green failures as soon as the newest Windows version is released. Online jokes are just the bright side of the history of BSOD. It's possible that cybercriminals will figure out how to use a green screen for their illegal activities as well. We have already talked about BSOD Error virus that tricked many inexperienced computer users to call fake tech support service asking for the help with supposed malware attack.
About the author
References