"To be continued": a new form of Facebook virus starts spreading
It is no big news that this social network has been continuously attacked by hackers and every sort of scammers. They brainstorm vivid ideas how to surprise the Internet community with a new cyber threat. Some time ago they struck the users with several versions of Facebook virus. These were computer worms which infected victim's account and spread the link with a virus to all his or her accounts. This time, the crooks used a similar technique to infiltrate the account. The infected user unwillingly sends a video which contains a recipient's name. Shortly, the malware has been named as Facebook video virus. Therefore, a question arises – how should you counter it?
Throughout its existence, Facebook has experienced multiple cyber assaults already. It seems that users quite recently managed to get rid of different variations of Facebook malware. One of the most well-known cases were Facebook Invitation and Message viruses. These were none other than computer worms. If someone recklessly surfed through an infected website or downloaded a corrupted program, he might have unintentionally downloaded the malware. Within seconds, a computer worm infiltrated his Facebook account and started sending intriguing or an amusing video to the victim's contacts. Giving into human curiosity, other users recklessly clicked on the link without the awareness of getting infected. And so the wheel of the infection starts spinning again. Luckily, this technique of deception has been quickly exposed and users started to become more self-cautious. Moving on, computer hackers had not given up, and they came up with Facebook Suspension virus. The targeted users received a personal message that their accounts were about to be suspended. Alarmed by such notification, they clicked on the fake verification link. Likewise, they fell for the bait again.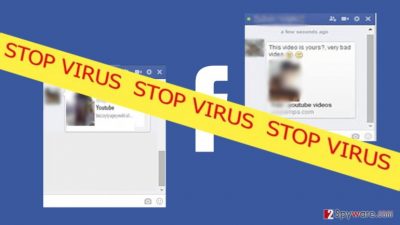 Unfortunately, a cyber campaign against Facebook continues. Currently, the crooks released a virus which also works a computer worm. After the infection, a victim unintentionally sends a video containing the recipient's name. Thus, few users suspect that the video, which contains their name, might be a fraud. Therefore, such carelessness facilitates the successful distribution of Facebook video virus. So you might ask: is there is a way to escape such fraud? Since the traffic of the malware is hardly controllable, there are few chances that you might escape it, especially if one of your friend's account is taken over. What you can do is update your security applications or obtain more powerful ones which provide real-time protection. Lastly, you can simply avoid clicking and opening such links.
About the author
Read in other languages