VPN uses powerful encryption and secure servers to keep the connection private
Virtual Private Network connection allows sending and receiving data across shared or public networks as if the device is connected to the private network. VPN software provides functionalities of security and management by using an encrypted layered tunneling protocol. It handles authentication methods with passwords and certificates so that users can gain secure access to the internet.
A VPN will encrypt data sent from the device when accessing online services and applications, so the IP address associated with the machine in use can be hidden. Simply put, all the websites that you visit online, videos you watch, products you purchase, and other information is no longer associated with your physical device/IP.
Instead of using your assigned IP, the software can replace with one of the thousands, this way avoiding showing your real IP to anyone who tries to access it, including your Internet Service Provider, websites, or even the government. The service allows you to protect your data from being exposed to online trackers and access sites that may be banned in your country.
In other words, if you live in a country where certain content is restricted (for example, Google and common social networks like Facebook are banned in China), you can access it without any problems when having a VPN client installed on your system, as connecting via it changes your location based on your assigned IP.
Unfortunately, sometimes such services can be used for spreading malware instead of protecting from it. Hackers target VPNs[1] via malicious copies of legitimate sites or hijacking official pages of the software providers. 
Here are only a few advantages that you can benefit from when using a Virtual Private Network:
Stop rogue advertisers from following your internet activity and collecting information about you.
Protect against identity theft by using secure connections that cybercriminals cannot exploit to steal passwords and personal information.
Access content around the world without location-based restrictions.
Avoid data throttling and hide your online activity.
Take care of privacy and be in control of revealing yourself online. 
The purpose

Provide more secure and private connections to wi-fi hotspots;
Avoid vulnerable connection exploitations that hackers may rely on;
Give the users access to websites that get blocked due to location-based limitations;
Help customers control their privacy and identity.

Types

Open-source VPNs, browser-based tools, built-in software features provided by OS developers

Possible misuse
Some VPN providers may be focused on tracking you online and collect personal information. Malicious actors may hijack official sites or provide information on malicious copies of such sites and deliver malware instead of providing secure connections
Main functionality
Increased privacy and security on connections prevent disclosure of private information. VPN uses authenticated remote access, tunneling protocols, encryption techniques to secure data and the connection itself
Deployment types

VPN in mobile environments that configuration is not fixed to a single IP address, but roams across various networks.

VPN on routers that use various cryptographic techniques to provide additional security. Such VPNs on routers protect devices like TVs, gaming consoles and other devices not protected by native VPN clients.

Possible classification of VPN systems

Tunneling protocol used to tunnel the traffic.
Tunnel's termination point location.
The type of topology of connections like site-to-site.
The level of provided security.
The layer of OSI the software presents to the connecting network.
The number of simultaneous connections.
VPN for security
There are some misconceptions about the VPN software – it is believed to protect against malware and hacking attacks. However, these tools only encrypt your data and traffic – they do not possess any anti-virus properties. You need professional anti-malware tools to keep the system clear of malicious infections.[2] 
Nevertheless, a VPN service can keep your private information from hackers. The software relies on particular encryption methods, so no malicious actors can get their hands on your emails, passwords, data on the machine, credit card, or online banking credentials. Besides, Remote Desktop connections should always be protected with a VPN to prevent unauthorized intrusions (ransomware has been delivered to businesses and organizations using RDP in the past few years).
VPN ensures that you can safely access public Wi-Fi hotspots without worrying about attackers exploiting the connection.[3] The already mentioned functionality of hiding your IP address can make sure your inline traffic is encrypted, and surveillance agencies or Internet Service Providers can not identify you or track your online activities.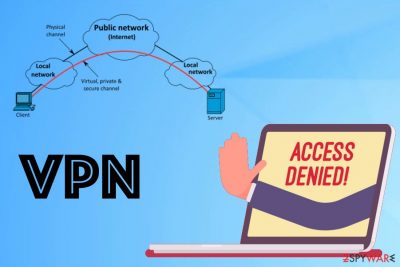 VPN is the service that extends across a public network and enables the user to send receive data securely.
Types of VPN software
There are various types and flavors of VPN connections that provide the functionality of anonymity. The most popular configurations are L2TP/IPsec, OpenVPN, IKEv2, and PPTP; some providers only support one of these, while others employ multiple configurations, making it more versatile and flexible.
Built-in VPN
A built-in VPN simply means that the provider does not require additional installation – the functionality is embedded within another application. For example, Chrome OS that runs on Chromebook supports such functions with L2TP/IPsec and OpenVPN. iOS version 10 supports IKEv2, IPsec, and L2TP.  Android version 6 supports PPTP, L2TP/IPSec PSK, L2TP/IPsec RSA, and three more flavors. OS X 10.11 El Capitan and Sierra 10.12 also provide the PPTP, L2TP, IPSec, and IKEv2 configuration of the VPN client. Windows 7 and Windows 10 support VPN software PPTP, L2TP/IPSec, SSTP, and IKEv2.
Open-source
Open-source software is available for OpenVPN and IKEv2 based VPNs mainly. It implements virtual private network techniques and creates secure point-to-point or site-to-site connection in routed or bridged configurations and remote access facilities. Such a VPN utilizes SSL/TLS for key exchange. 
Not many VPN providers allow users access to the open-source software, and instead suggest using the proprietary software. NordVPN, for example, has three types of VPN software for Windows operating systems and offers six ways to connect to their VPN service.
Browser-based VPNs
VPN apps that are installed on the computer work on the operating system level. Any connection made using them sends everything from your device to the VPN server. However, this software can also exist on the web browser level; even though these tools are not that secure, browser-based VPN can protect the incoming and outbound data from the browser.
Opera is one of the browsers that includes VPN client software and is wired into a VPN provider SurfEasy. This feature is disabled by default, but users can simply turn it on via Settings panel – it is free and has no bandwidth limitation. Other web browsers can gain VPN functionality via particular add-ons and extensions that are available from multiple VPN software providers. Chrome extensions are more popular, but some of them can be installed in Opera and Firefox browsers.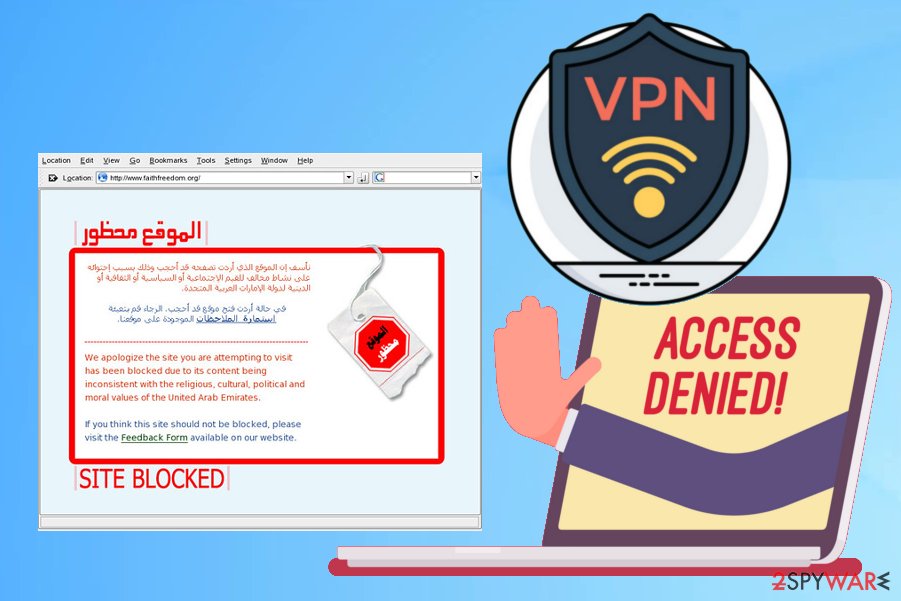 Some sites are not accessible due to geo-location, so changing your IP address can help you see the content.
Choosing the VPN software that is the best for your needs
It is debatable which Virtual Private Network is the best or the most secure from all the software providers. However, many experts note that software from a VPN provider is not the greatest, as there is very little information about what the client is doing during its usage. Also, there is no way to test the quality of the application and if such software is delivering the promised functionality. If the software is not maintained properly, it may be running on users' machines not patched, with means that zero-day vulnerabilities can provide malicious actors entry.
There are some privacy issues when it comes to VPN. You as a client need to trust that the provider is not spying on you or gathering information that is personal and sensitive. It is also important that the provider has enough expertise within the field to provide the best server software maintenance, encryption, and timely updates. Considering that a VPN is employed to stay anonymous online, a provider collecting user data is the least you could expect.
For example, if your device runs Windows with a built-in VPN client, you know that Microsoft is the one responsible for writing the code for the application. If you trust Apple to protect your privacy, the VPN built into macOS or iOS you use is the safest probably.
Some users run VPN clients all the time (in such case, unlimited bandwidth plans are used) to ensure that their internet connection is anonymous and secure. In case you need to manually turn on the VPN, some data may have already been transmitted to insecure sources and information leaked. You should look for a VPN client that can immediately detect when the device connects to the web and protect that connection, whether it is LTE/4G or Wi-Fi.
Also, these VPN types we mentioned are designed to work on a single device like a laptop, desktop, phone, or tablet. If you want to protect multiple devices with the VPN, you can use the option that applies software to a router. There are many choices, and some OS that run on the router devices support VPN clients like DD-WRT, Tomato, OpenWRT, MikroTik, Sabai, DrayTek.
You may have to configure your router and can also take advantage of VPN, but the easier option can be software that is sold by vendors. Modified routers that have configurations and can act as VPN clients are distributed by various developers. You can also connect a VPN-enabled and a regular router interchangeably.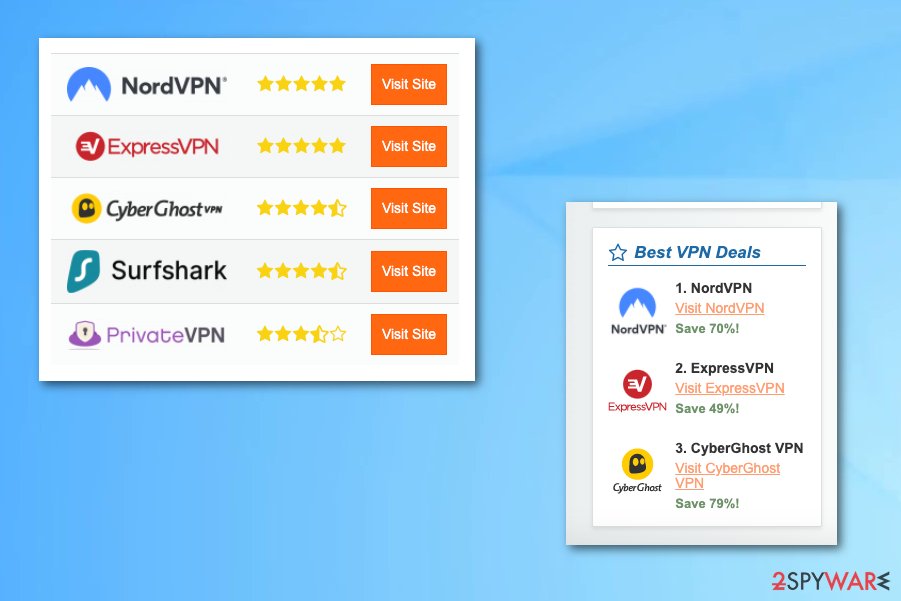 User reviews and ratings are one of the more important facts that should encourage to get "this" VPN not "that".
VPN – a target for malware and hackers?
When you rely on proper VPN, the service should use army-grade encryption and well-protected servers, so every feature is in order, and your device is not targeted by malicious actors. Cybercriminals are not likely to bother trying to affect the connection with malware. It is too much work go to about it that way, so malware is not the issue here. Unfortunately, free VPN services still can be targeted by cyber infections due to insufficient security measures and vulnerabilities. 
If you are using proper security tools and a free VPN, you shouldn't be concerned with the possible issues, because decent anti-malware ensures that you are protected from such intrusions. However, there is a chance that your private information can get leaked by hackers or shady VPN usage can actually make things worse:
It redirects your online traffic, floods the screen with advertisements and affiliated content.
It tracks or gathers your sensitive information, sells it to third-parties.
Whenever looking for an application with particular functionality, be it a system optimization tool, a security program, or a VPN, you need to ensure you are downloading it from official sources or developers' partners, as hackers often create fake copies of such. Additionally, you should also watch out for fraud – many applications that claim to protect users from ads and malware end up being malicious. Thus, pay attention to reviews, community board posts from users,[4] and other sources that could provide you information about the app you are about to install to avoid a negative impact on your privacy and security.
Use a reliable anti-malware program and paid version of VPN, so that your device can be clean of malware and protected at all times. There are many benefits in using the premium/paid version of VPN because by investing a few dollars each month, you can get all the best features needed to protect your connections and privacy:
Bypassing geo-location blocks. VPN is needed to break some blocks of streaming sites, not all free software can offer that.
Unlimited Bandwidth. Any restrictions on the usage of the internet.
Protection on multiple devices. Premium versions of VPNs can protect numerous devices, and some even offer to secure an unlimited amount of machines.
Value. You can find many deals for VPNs with discounts on premium versions of software, so you get the best value for your buck.
Security. VPNs use army-grade security features like data encryption, so your information can be kept safe.
Speed. Hidden online activity and protection from Isp throttling[5] affects the speed significantly because there is nothing that slowdowns the connection.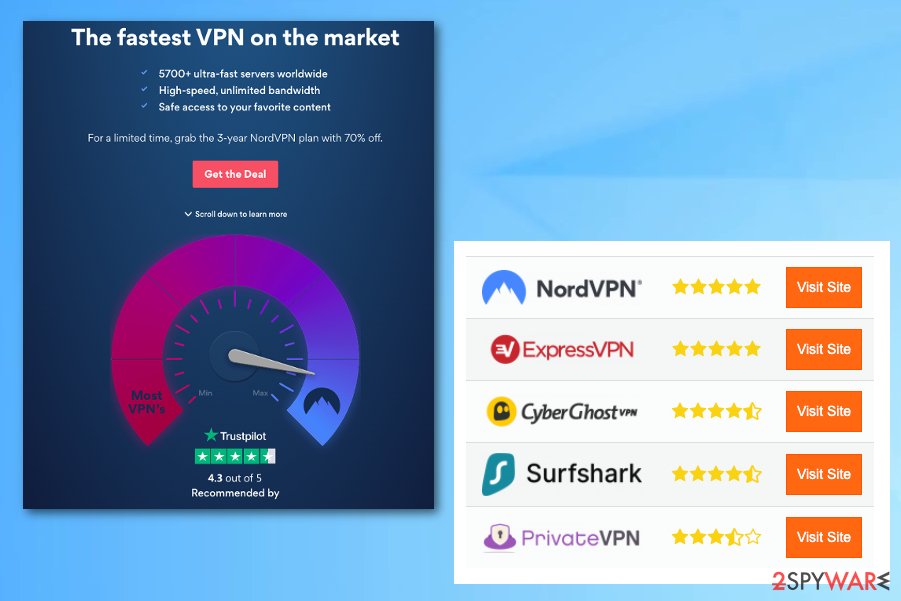 You should consider getting the paid version of VPN software, so you can be sure that all benefits are applicable.
VPN in the future
In this day and age, when the technology changes and is revolutionized, updated each minute, it is important to stay secure. Especially when it comes to cybersecurity because malware creators and criminals are always seeking to find new ways of earning more money from their illegal business. The more recent ransomware campaigns and hacking attacks show that there are more cyberattacks in the future. Your data is the most valuable asset these days, especially when identity theft and privacy issues become such a massive trend in various industries.[6]
Anti-malware software can directly protect you from getting infected with malicious programs, such as spyware, viruses, remote access trojans, data-stealers, ransomware, and other threats. However, when it comes to your privacy, there is nothing that AV engines could help with – you need to employ a VPN for that. You can protect your data and online privacy by using VPN software, so you are the one in control.
Some governments use censorship, so the device that is connected all the time should also be protected. Many people are going for VPN software to secure their information that is transmitted online. This is the method that adds a level of protection and security so people can avoid attacks like MITM and increase security on multiple levels. 
The rise of the digital era made the lives of many much easier and more convenient, it allowed businesses and organizations to perform their jobs quickly as never before. Most of us have their financial information and other private data somewhere exposed. Thus, privacy concerns are now extremely relevant, and choosing a correct VPN software can help you stay not only anonymous but also safe. 
Keep yourself protected online as much as possible by following these tips:
if you have concerns about the collected data, check out the Privacy Policy of the application you are about to install;
stay away from torrents, pirated software, sharing sites and similar platforms;
keep the OS, programs, and security tools up-to-date and running;
pay close attention to sources, sites you visit and emails you open, so that you can avoid malicious infections;
clean the machine with AV tools more often, so malware can be terminated before infection escalates and results in system damage;
rely on professional cybersecurity experts and software providers.
Latest Software Reviews
Private Internet Access is a privacy-focused VPN service that restricts third-parties and government from spying on you.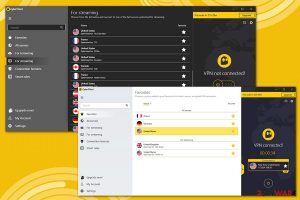 CyberGhost – a feature-packed VPN service that helps to prevent tracking.
Information updated: 2021-06-15