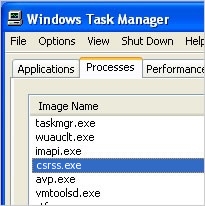 csrss.exe is a standard file, which runs in Windows systems. This process is necessary to help Windows operate properly. Users should never stop or terminate this process using Windows Task Manager, because this may cause very serious Windows operational errors, such as Black Screen of Death and similar issues. csrss.exe file is usually located in C:\Windows\System32 folder and takes about 4,000 - 7,000 bytes of disc space. This file is also known as a Windows Client Server Runtime Process and is responsible for managing the majority of the graphical instruction sets under the Microsoft Windows operating system.
DANGER!
Sometimes viruses and other cyber threats may be named just like legitimate Windows processes. csrss.exe is a legitimate and essential file of Windows, therefore, hackers often use this name for naming their own viruses. If you noticed that there are more than two csrss.exe processes running on your Windows system, there are huge chances that your computer was affected by W32.Backdoor.Sokacaps, Spy Software 4 Parents, KidWatcher, Key Logger Buddy Pro, ICE Remote Spy and many other viruses. You should waste no time and check the file with some reliable security tools in order to make sure that computer is safe. This is also recommended after noticing that csrss.exe is negatively affecting your computer. In order to check the trustworthiness of csrss.exe, you should scan it with RegCure Pro.
We might be affiliated with any product we recommend on the site. Full disclosure in our Agreement of Use.
By Downloading any provided Anti-spyware software you agree to our
privacy policy
and
agreement of use
.
If you know or you have a website or page about csrss.exe file, feel free to add a link to this list: