AntiVirus 360 Remover. How to remove? (Uninstall guide)
AntiVirus 360 Remover is a rogue anti-spyware application. This time cyber-thieves use a slightly different approach. They claim that AntiVirus360Remover is the best choice when user's PC is infected with notorious rogue spyware remover called Antivirus 360. AntiVirus 360 Remover is advertised as an easy one click Antivirus 360 removal tool. Of course, the rogue has more useful futures. It can speed up your computer and protect it from other nasty infections. However, this is not true. In reality, AntiVirus 360 Remover is just another scam.
It uses misleading tactics and trojan viruses to access a computer. AntiVirus 360 Remover is advertised on various untrusted websites. Usually it is installed without user's permission and knowledge. The rogue can be also downloaded form AntiVirus 360 Remover homepage, but this is less common situation. Once AntiVirus360 Remover is installed, it performs fake system scan and reports various bogus results, mainly about spyware and malware infections. Those infections cannot be removed with a trial version, so the user has to purchase AntiVirus 360 Remover. However, it is advisable not to do so, because AntiVirus 360 Remover is absolutely worthless application. Don't waste your time and money. Remove AntiVirus 360 Remover from the system as soon as possible after detection.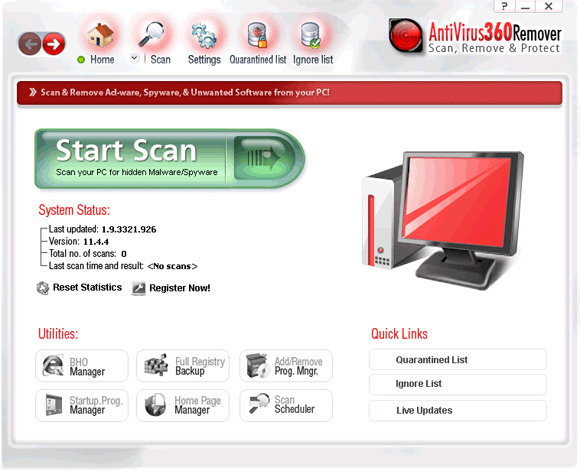 About the author