Can 2016 be the beginning of a new spam era?
If you regularly keep an eye on your email's "Spam" folder, you might have already noticed a concerning tendency – an increasing amount of junk mail is reaching our electronic mailboxes every day. Though we can easily witness the flood of spam messages ourselves, global statistics bespeak even worse. Cisco Talos team of virus researchers have estimated that the number of spam messages the regular Internet users receive daily has boosted from 200,000 to around 450,000. At such rate, the record highs of 2010 when spam was most actively distributed will soon be reached and bypassed.
There may be a variety of factors determining such a sudden upsurge. On the most part, it is the general flare-up of various cyber threats and their distribution. Malware creators have found that delivering malicious programs straight into the victim's inbox is a very productive technique. Thus, adware, browser hijackers, tech support scams and even the file-stealing ransomware viruses are now being distributed this way.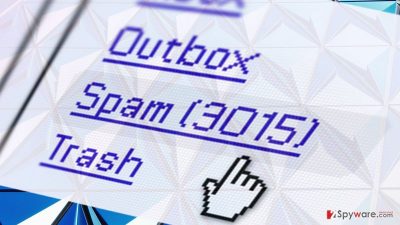 Currently, the biggest distributor of junk mail is the Necurs botnet which has been in action since 2012. Although earlier this year, this net of "zombie" computers has fallen silent, a couple of weeks later it has returned with even greater power. While previously, the botnet focused on delivering P&D stock and Russian dating spam, now it has become even more aggressive and started propagating such malicious software as Dridex and Locky virus. Dridex is a famous banking Trojan which infiltrates computers to steal banking credentials and other financial records, while Locky ransomware is a type of cyber infection that is designed to infiltrate computers and lock all the personal information stored on them. For the data retrieval, the hackers demand a considerable amount of money. Both of these programs use Word Macros for their utilization to serve different purposes, and they both need spam emails to deliver the infectious Word documents on their victims' computers. Sadly, numerous users around the world are still getting hooked on such scams, because what can be more innocent than a good old Word document attached to some serious-looking email?
The mentioned viruses are probably among the most dangerous cyber threats out there and the growing amount of spam which carries them around only increases the chances of getting infected by them. More importantly, their developers have learned to speculate deceptive information about supposed invoices, speeding tickets, online purchases, flight confirmations, etc., which you can't simply ignore. We do not believe that the growth of spam mail will cease any time soon, so it is crucial to learn how to recognize potentially dangerous content and avoid more serious infections. For your convenience, 2-spyware team has prepared an introduction to spam and spam tools.
About the author