Spam Tools are illegal programs used by spammers to send their messages to hundreds of different recipients. The majority of such junk emails seek to promote pharmacy-related topics, replicas, and phishing. Phishing is considered the most dangerous topic because it typically involves malicious links, infected attachments, and similar content. Also, the malicious email message can redirect the victim to dangerous websites and other domains that are considered insecure. The main problem here is that you can never know what you are dealing with, so it is highly recommended installing a reliable spam blocker (also known as mail message filter) and anti-spyware software.
In general, Spam tools are capable of working with the huge amount of email addresses. They can be used for inserting the predetermined text into the message, adding headers, footers, and other components, and then distributing spam via different mail servers. In most of the countries, such software is considered illegal, and unsolicited e-mail messages that are spread via these tools are called malicious. However, only one half of them can cause infiltration of malware. Another half is usually filled with commercial content seeking to promote casinos, weight loss programs, pharmacy goods and other "miracle" products.
The term that we should exclude is 'referral spam'. This pseudo tactic has already become a pain for the most of website owners, web masters and admins because it pollutes Google Analytics data and tricks them into visiting suspicious domains. Referral spam (or referrer spam) technique is based on repeated site requests created using a referral URL. If used correctly, it makes the specific domain to show up in victim's analytics and can trick him or her into visiting it. By using this tactic, spammers are trying to increase the traffic of needed websites. No matter that such activity is not considered dangerous, fake references can not only corrupt your Google analytics data and statistics, but can also cause increased load times, higher bounce rates and lower rankings. Besides, referral spam can be an invitation to a malware-filled website, so stay away from it!
The main categories of Spam Tools:
Depending on their functionality, Spam tools are usually divided into these categories:
E-mail extraction software. Such Spam tools are mostly used for collecting e-mail addresses from various websites, documents and other resources. Once they are collected, they are added to mailing lists and prepared for the use;
Mass mailing programs. This category of Spam Tools is usually used to spread email messages. They help spammers to send their emails to thousands of different recipients;
E-mail management programs. Such software can be applied for identifying and removing useless email addresses from the list of email recipients. These addresses usually include emails of specific organizations that are capable of identifying the owner of the Spam tool.
Referral spam. This technique is used to abuse website's referrer and change its URL to a needed web page. By using it, spammers expect that website's owner will see this link in his/hers Google analytics and will think that this site is important. Beware that the most of websites that rely on referrer spam are harmful and visiting them can cause infiltration of malware!
History of Spam:
Spam was introduced in 1978 as a new model of advertising for the company called Digital Equipment Corporation. The person who was the first to use an email spam for promoting himself is known as Gary Thuerk. He and his assistant Carl Gartley managed to send their spam message to almost 400 recipients. They did that with the help of a single mass email, which hadn't been used previously.
The date of the first major use of the spam is considered 1994 when a couple of lawyers started promoting their immigration law services via mass emails. It seems that these e-mails, that additionally were named as "Green Card spam", managed to help for this couple increase their popularity because some years later they released a book called "How to Make a Fortune on the Information Superhighway."
Nowadays, the most of the people has to deal with aggressive spamming campaigns and referral spam. Such spam technique is typically used to promote specific websites and help them increase their visitors' traffic. The biggest amount of referrer spam is captured on WordPress websites.
The most common characteristics of Spam messages:
Tricky address of the message sender. Spammers seek to make the user think that he/she received an email from the familiar person.
The eye-catching theme of the subject.
The content. Spam tools are usually set to spread emails filled with advertising content. Such messages can also promote links to third party websites (legitimate and illegal) and malicious email attachments.
No Reply address.
Unsubscribe button. This button has been actively used for spreading malware, so you should NEVER click it.
Examples of Spam Tools and spam:
1st Mass Mailer is a Spam Tool also known as Mass Mailer. It is presented as a very powerful software dedicated for spreading personalized email messages. However, if this program gets into a spammer's hands, he or she can use it for distributing malicious messages. The program allows creating an internal database and importing a list of subscribers into it. 
'You are cordially invited to celebrate our wedding'. This is the latest Spam campaign, which was initiated with the help of the Spam Tool. It is known that this campaign was used to spread the worm called Kuluoz, which is considered a very serious cyber threat capable of stealing personal information. Security experts believe that there are thousands of people who have been tricked by this misleading email message. If you think that you could be one of them, you should immediately scan your computer with the reliable security tool. In this case, using an anti-spyware is highly recommended.
Copyrightclaims.org is a referrer spam that may show up in your Google Analytics and falsify its data. Visiting this domain is not the best idea as this is a fake site used to collect visitors' traffic and redirect people to additional domains. Copyrightclaims.org referrer spam is mostly spread with the help of spam bots. While this link is not related to any copyright claims, it can increase your website's load time, the bounce rate and may decrease the ranking. 
Protecting yourself from Spam Tools:
All in all, there is no such email user who is capable of avoiding spam because we all publish our email addresses on the Internet. Security experts have also estimated that we all are at the risk of receiving a malicious email message seeking to infect our computers with malware. The same can be said about website owners and referrer spam. That is why they highly recommend installing a reliable anti-spyware, which could find malicious files and warn the user about them. For the protection of your computer, you can use one of these tools: FortectIntego, SpyHunter 5Combo Cleaner. These programs can also be used for the removal of viruses, which can be spread around with the help of Spam Tools. In most of the cases, spammers promote these threats:
Latest SPAM tools added to the database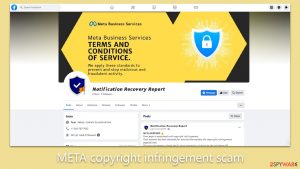 META copyright infringement scam attempts to steal your Facebook credentials.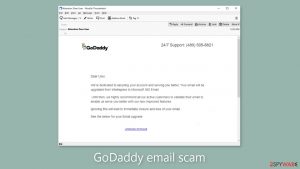 GoDaddy email scam tries to redirect users to a phishing site to obtain their login credentials.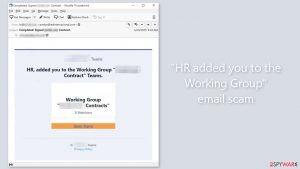 "HR added you to the Working Group" is a fake email that attempts to lure out personal information.
Information updated: 2017-05-11