CryptoSearch — a new remedy for the ransomware victims
Crypto-ransomware has been terrorizing the computer users for years [1], and the virus experts have been working hard to help the victims recover from the attacks. Apart from improving anti-ransomware tools, professional developers are inventing free decryption tools, introducing ransomware aid and decryption pages such as NoMoreRansom or ransomware recognition tools such as ID Ransomware. In fact, the creator of the latter, Michael Gillespie, has just released another remedy for the ransomware victims — a tool called CryptoSearch — which might be just the type of help the devices infected with undecryptable parasites need.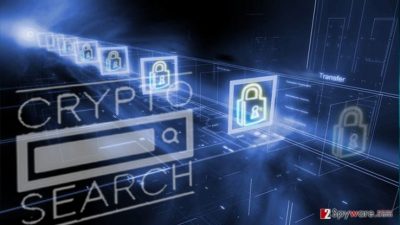 In the most general terms, CryptoSearch is a handy tool that helps ransomware victims to transfer the ransomware-affected files to some other locations where they can safely wait for the future decryption [2]. We are sorry to disappoint the users who were hoping for the CryptoSearch to be some magical ransomware decrypter capable of decrypting malicious ransomware — this tool does not do that. Nevertheless, it has a bunch of useful features that will make the archiving and segregation of the infected and safe documents much easier. For instance, "List File" feature allows listing all of the encrypted files or folders that contain them. These lists can also be saved using the "Export List" function. The program also has the "List Clean folders" option which automatically compiles a list of unaffected folders. But the most essential of all these features is, of course, the "Archive Files" option [3]. Using this option, the encrypted files can be easily copied or moved to selected locations, external hard drives, thumb drives or some other storage devices. This way, the infected computers can be properly cleaned up [4] without any risk of damaging important files.
It is important to note that CryptoSearch works together with the previously-mentioned ransomware identification service ID Ransomware which ensures that the tool recognizes all the latest ransomware types and detects their encrypted files. In other words, it does not matter whether your device gets infected with Cerber, Osiris or other ransomware — as long as its description is on ID Ransomware database [5], you will be able to use CryptoSearch without any problems. The program is currently under development, but you may already download its beta version from Michael Gillespie's official Twitter page or by clicking this like here. The author promises to add a variety of other features to the program in the future, one of which will most likely be the "Offline mode."
About the author
References