Experts warn about expected malware activity increase on Black Friday
November 25th is the day most enthusiastic shoppers are eagerly waiting for. While some of them are preparing to get out there and sweep the stores, others are staying home in hopes of hunting down the best Black Friday sales online. Unfortunately, for the later group, such shopping spree may end up in coming across something entirely different than their desired goods, e.g. Locky. Malware creators are stocking up the most fraudulent and nasty programs for the two months of probably the most active Internet traffic during the whole year. They are working on getting as much of this infectious content on the web as possible. Thus, the chances of becoming a victim of a malware attack during this particular period drastically increase.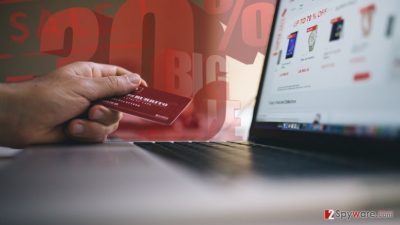 According to the statistics, last year, the number of malware infections increased by half, compared to the attacks recorded back in 2014. The further growth is predicted this year as well. The experts warn against three main types of tactics the online scammers and hackers use for such occasions:
Deceptive advertising. During major sales and holiday season in general, companies invest more in online advertising, so you typically notice various deals being presented to you more often than usual. Malware creators use this upsurge to embed malicious advertisements next to the legitimate ones, this way enhancing the distribution of their fraudulent creations, such as mylucky123.com or web-start.org virus. Usually, the fake ads hardly suspicious, so it is difficult to distinguish them from the real ones.
Email spam. Doesn't it sound convenient to get the best Black Friday offers straight to your inbox where you are just one click away from reviewing them and, hopefully purchasing some goods you were looking for for quite some time? It sure is handy, but if these offers are not coming from the official retailers, but rather unknown senders — you are probably being targeted by scammers who are working on infecting people with Thor ransomware or similar threats. Be careful! Some clever crooks may act as reputable companies and try to lure you into purchasing their merchandise.
Malicious links on web pages. This is yet another technique which gives the hackers an ability to provide the users with malicious content while they are looking for some goods online. These links may be displayed on reputable websites or embedded by malware, such as browser hijackers or adware.
Keep in mind that such infections can lead to data loss or leakage, system performance issues or even complete corruption. Thus, it is always useful to follow the old saying and hope for the best but prepare yourself for the worst. Keep away from the spam folder in your email and refrain from opening unknown emails, no matter the tempting offers they may preach. Same goes for the ads — do not trust everything you see online and before taking any action carefully consider the potential consequences. So go ahead, have fun and shop till you drop, just don't forget to remain vigilant!
About the author
Read in other languages