The term "encryption" has been gaining a lot of negative connotations with the arrival of ransomware viruses. These malicious creations are notorious for encrypting files on the infected computers using complex algorithms and then asking victims to pay for the private decryption key, to unlock these files. However, is the file encryption always a bad thing? In fact, no. If you use it for the right purpose, the encryption can protect your personal files and other information from being exposed to unwanted third parties. Essentially, there are two types of encryption tools. The before-mentioned illegal ones which encrypt data in an attempt to make a profit, and the legitimate ones which can be used per personal data-securing purposes. Let us discuss each of these categories individually:
Legitimate file encryption software. Why do I need it?
If you are wondering, whether file encryption is really useful, remember that with a little programming your computer's password can easily be cracked, so in a case of a break in, your files are completely unprotected. But when files, messages or other documents are encrypted, no one will be able to access them without a special key or password. So, this technique is especially useful and can be applied for exchanging sensitive details, securing the cloud storage files from potential leaks and protecting your system data in general. Therefore, securing your data with encryption is a strong addition to the safety of your data.
Before encrypting your files, you should consider whether you want to encrypt your entire system or just the most sensitive data. Fully encrypting the system's data may provide you with better protection against malware or break-ins, but there is also a higher risk of losing your files in case your drive becomes corrupted. However, you should remember that neither of these methods will secure your data unconditionally. You still need to take care of backups and encrypt them as well. So what software can you use for data encryption? There are a variety of software options to choose from.
What file encryption tools can I use for encrypting my data?
Built-in encryptors. The OS developers are aware of the multitude of threats the computer user may be exposed to. For this reason, computer manufacturers take time to add the built-in encryption option to the list security features. Similar utilities are available on Windows, Mac OS X, and Linux operating systems. Let us look at them in more detail:
BitLocker. This utility belongs to Microsoft and is available on almost all of Windows operating systems. It is a closed-source program, which allows the users to encrypt single files or an entire drive, keeping your information private and protecting the system from being exposed to different alterations if infected with malware. You do not have to download this application. Besides, it is relatively easy-to-use. You may find numerous detailed tutorials explaining how to encrypt your files with BitLocker safely.
File Vault 2. OS X does not fall behind and offers an in-built encrypted. Just as BitLocker, File Vault is another closed-source program which uses XTS-AES 128-bit cipher. The utility also allows full-disk encryption, which secures all the startup drive. So, every time the computer is rebooted, the user has to submit a special password to be able to access data. What is more, this tool is compatible with Find My Mac option and allows the user to clean the data from the lost or stolen device remotely.
Downloaded software. There are numerous software you can download from the Internet that offer encryption services. However, you should always be careful when choosing what software is worth trusting. We recommend doing a little research beforehand and choose only the reliable and acknowledged utilities. If you are not sure about the downloaded software's legitimacy, you can always scan it with some reputable antivirus tool like SpyHunter and make sure that it is not infested with viruses and is safe to use.
Zip, 7-Zip, and other archives. Even though these utilities are widely used, not everyone is aware that you successfully encrypt your files using these data compression tools as well. In fact, 7-Zip uses a 256-bit AES algorithm to encrypt the files and allows the users to enable a key access to particular archives that they wish to protect to protect. This tools is free and can be downloaded on any operating systems. This way, the encrypted files are much easier to manage, transfer and store on external drives as well. Despite its simplicity, it is a powerful tool you can use to protect your data.
Smartphone protection. Nowadays, as the smartphones are used as often or even more frequently than computers, it is becoming increasingly important to protect data on these devices as well. The good old PIN code is not enough for the protection of your files. The mobile OS developers add built-in encryption function as one of the security options. Even though Apple does not have a manual encryption option, it allows its users to enable the passcode protection, which ensures the majority of the files on the device are encrypted. Android OS, on the other hand, enables a full disk encryption, after which, the content on the device will not be accessed without a password.
What do I need to know about dangerous file encryption tools?
We have already mentioned that data encryption is currently trending among the creators of malicious programs called ransomware. The development of a ransomware programs, which exploit encryption for profit-extortion is rather quick and not too complicated, so the financial outcome the cyber criminals receive from developing such programs really pays off.
Usually, such malicious creations encrypt the victims' data using RSA and AES algorithms, making the file decryption virtually impossible. Such programs encrypt the data with a public key, but they can only be unlocked with a private one, which must be purchased from the ransomware developers.
The cyber criminals ask for large sums of money for this decryption key but even if the ransom is paid, it does not guarantee that the files will be retrieved. Therefore, security professionals are intensively working on the alternative decryptors. However, this task is encumbered by the fact that different ransomware may use different types of RSA and AES algorithms, so each ransomware should be analyzed individually. This takes time, so it is advisable that the users remove the malicious program from their computer rather than wait for the decryptor to be invented.
It is also worth mentioning that encrypting the files with the legitimate software does not guard against the ransomware attacks. You should use it in combination with other security features. Keeping your system updated and stable, obtaining a reliable antivirus software and, most importantly, creating backups is the key to avoid having your files encrypted by malicious viruses.
Latest Software Reviews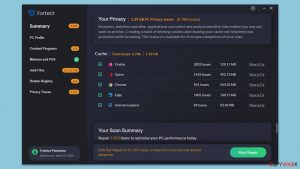 Fortect – a comprehensive system repair utility that leaves computer troubles behind.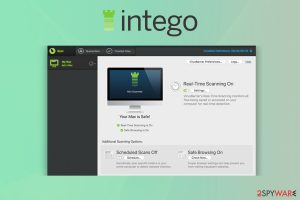 Intego – multi-functional security software for your macOS.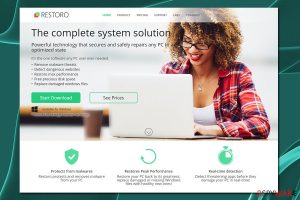 Restoro – a powerful system repair and maintenance tool for Windows platforms.
Information updated: 2017-05-11