Plumbytes Free vs Plumbytes Full version
Plumbytes Anti-Malware is a program that is rapidly gaining popularity among computer users. Although the publisher of this program, Plumbytes Software Lp. is relatively a new anti-malware software company, it has grown quickly and proven that a new anti-malware program can be just as powerful as an old and well-known one. Plumbytes Anti-malware program provides essential protection that identifies, stops and uninstalls suspicious spyware programs or critical malware examples. Besides, this application has an user-friendly interface, so even the least experienced PC users can easily handle it and keep their computers clean with the help of it. Besides, Plumbytes Software provides free 24/7 Technical Support service to users of this product and helps to delete even the most stubborn computer infections by providing a customized fix. To learn more about Plumbytes' operation principles, read this review.
Just like any other reliable anti-malware program, it does not provide the full set of features for free. The full version of Plumbytes Anti-Malware costs 34,99 Euro (excluding VAT). The licensed version of this application detects and eliminates malware, spyware, protects browsers against browser hijackers, and even most severe computer threats such as worms, Trojans, and rootkits. However, users who wish to try this program before purchasing it, test how quickly it scans the system or just to see if the computer needs to be cleaned or not can try the free version of the software. Bear in mind that the free version can detect malware, but cannot uninstall it. If the user decides not to use this anti-malware tool, he or she can easily uninstall Plumbytes via Control Panel.
Download Plumbytes
You can download Plumbytes Anti-Malware setup here. The file (antimalwaresetup.exe) takes up only 568 Kb, so it should take only a few seconds to download it. To launch the setup, just double click on the downloaded file. Once the pop-up asking if you wish to allow this program to make changes on your PC appears, click OK, and the Plumbytes installer will show up. To start the installation, just click Install. The installer will download the program and install it on the system. Plumbytes is a lightweight program, so the entire installation process should not take longer than a few minutes.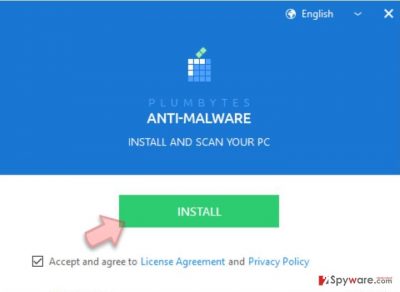 Scan the system with Plumbytes
The program starts the Smart Scan as soon as it gets installed. Plumbytes uses multi-thread scan algorithm, which works up to 5 times faster than any other. In other words, Plumbytes scans the system quickly, but thoroughly. It does not only check files and programs stored on the system, but also scans web browsers and detects all suspicious tracking cookies, extensions, or other components added to them. After completing the scan, the program allows the user to deselect particular threats found and leave them on the system.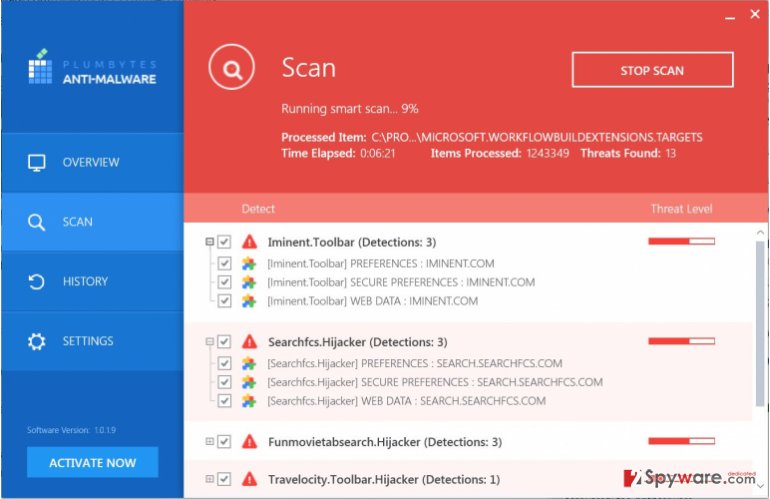 You can set this program to examine the system as soon as you start your computer. Just go to Settings > and make sure that Launch Anti-Malware at PC Startup and Perform Scan on Startup options are selected. It is also advisable to check for software updates frequently and install them as soon as they get released – this way, the threat database will be loaded with latest virus definitions and the anti-malware program will become capable of identifying and removing them. To update the anti-malware program, go to Overview tab and click Check for Updates. Install them, if there are any.
Activate Plumbytes Anti-Malware and remove detected threats
When this PC protection program completes the Smart Scan, it presents all threats that were identified. The user can deselect the ones that he or she wants to keep to prevent them from being removed from the system. To delete dangerous items, the user needs to activate the software by entering Plumbytes Serial Key, also known as Plumbytes License Key. If you do not have the key yet, click on Remove Threats button and then click I want to purchase the key. Then you will be taken to a website where you can buy the key. If you have already purchased Plumbytes full version and you have the key already, just enter it into the box and click Activate. Then go back to scan results and click Remove Now again. The anti-malware program then will start deleting one malicious object after another, making the system clean and malware-free. You might be invited to restart your PC to apply changes once the program deletes all malicious programs and components.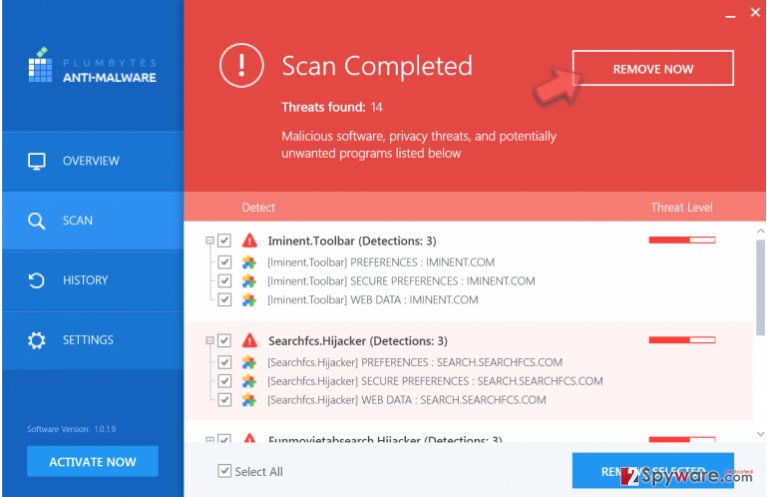 Reviews in other languages