Anonymizer Anti Spyware review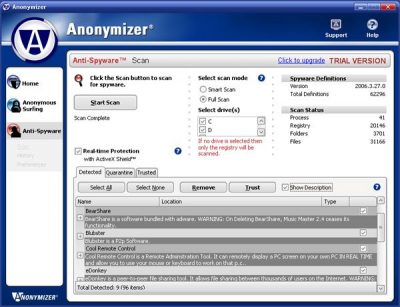 Anonymizer Anti-Spyware, made by Anonymizer, Inc., is a powerful spyware remover able to identify and completely remove most spyware and adware infections from the compromised computer. The program detects not only well known parasites, but also relatively new threats. Such effectiveness along with the implemented real-time protection makes Anonymizer Anti-Spyware a really strong security product. However, it has a few noticeable problems, especially with performance and its malware definitions database.
The application provides two scan modes – Smart Scan and Full Scan. The first one is a quick, but yet effective system scan that needs up to 4 minutes to complete. During this basic scan the program manages to detect practically all spyware and adware parasites in the system. However, it fails to find some complex, widely spread trojans. Full Scan is much more thorough. When this mode is selected, the program not only checks the Windows registry, running processes, web browser cookies, system and known malware files, but also searches the entire file system for threats checking every file and folder. Although Full Scan is intended to be more resulting, we have doubts about its advantages. It usually takes 2-3 hours to complete! In some rare cases, it's one hour. Moreover, the scan results are almost the same as Full Scan's.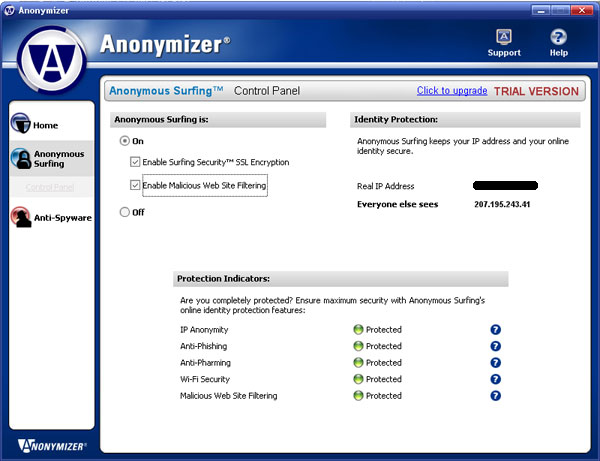 Other program's issues are minor false positives. Anonymizer Anti-Spyware quite often produces a few of them. Our tests revealed that the application identifies some absolutely legitimate software as malware. For instance, it associates FileZilla, a harmless FTP client with the UrlBlaze threat. Furthermore, it doesn't like the Mirabilis ICQ software – its registry keys are identified as objects of Aureate and Pinch 1.0 parasites.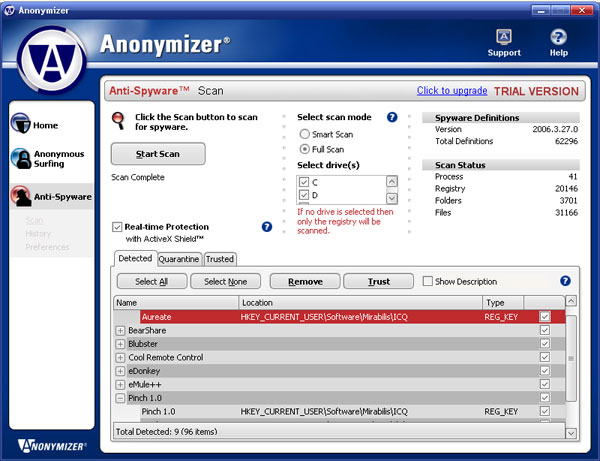 Despite the mentioned problems, Anonymizer Anti-Spyware is a good product. It eliminates all the parasites it can find, and does not give them a chance to restore themselves later. The application uses a large spyware definitions database updated on a regular basis. Currently, it includes more than 62,000 pest signatures. Furthermore, Anonymizer Anti-Spyware implements an effective real-time protection with the ActiveX Shield. It allows the program to prevent common spyware infections and block the installation of parasites and unsolicited software.
Anonymizer Anti-Spyware is very informative. It provides the user with detailed parasite descriptions, their exact location and type. The user also receives online help and support.
The program comes with the Anonymous Surfing tool. This additional component enables malicious web site filtering, anti-phishing and anti-pharming protection. Anonymous Surfing can also hide your real IP address and protect your wi-fi connection.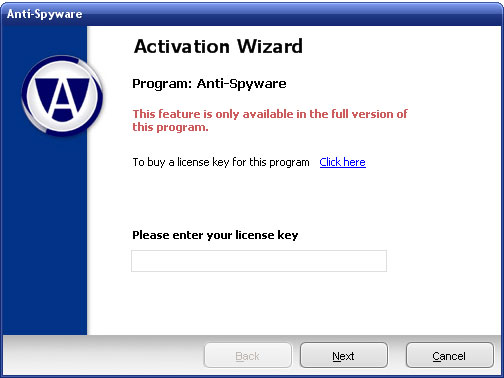 The application's interface is simple and attractive.
The free 7 days version is available. Unfortunately, it refuses to remove any malware it finds and asks to purchase the full product. Nevertheless, the vendor calls it a trial.
The official web site is www.anonymizer.com.
Purchases are made using secure connection.
About the author