Brave browser – a new web browser that leverages online privacy to the next level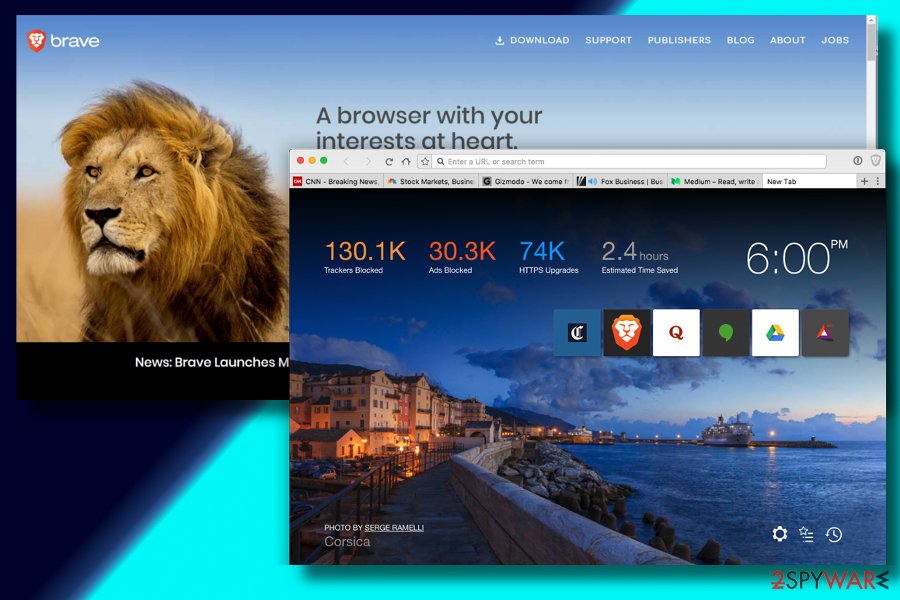 Brave browser is a newly-introduced web browser that showed up in the beginning of 2016. It was created by the team of IT specialists guided by Brendan Eich and Brian R. Bondy, co-founder of Mozilla Project. It's an open-source browser built on top of Chromium and Chromium's Blink engine.[1]
Although it's settings might seem to be very familiar to Google Chrome, these two browsers should not be assimilated. In fact, Brave browser has already been dubbed as Anti-Chrome. If you are wondering why, we'll explain this a bit later.
While it's a traditional web browser in the conventional sense of the term, specialists keep predicting a very bright future for this newcomer and often present it as a superior over Chrome, Mozilla, and Safari regarding speed, privacy, and ads control. As a regular web browser, Brave browser allows surfing the web, exploring the sites, and initiating other daily tasks on the Internet. However, the goal of its developers is to change people's web browsing experience positively by blocking ads and trackers that interfere with people's privacy and waste people's time and money.
Developers goals are perfectly descripted in the following quotation:
Brave aims to transform the online ad ecosystem with micropayments and a new revenue-sharing solution to give users and publishers a better deal, where fast, safe browsing is the path to a brighter future for the open web.
It seems that they are not just empty promises since the Brave has surpassed Google Chrome, Mozilla Firefox, Safari, and IE in many tests and has been included into the list of Best Secure Browsers of 2018.[2] 
Brave browser incorporates Tor Project's network identity-hiding technology
Looking for true privacy? Check out Brave browser! Tens of such and similar slogans can be found on the web. Those who haven't tried the browser or have just started using it might be skeptical about that. However, experts all as one agree upon the fact that Brave is one of the web browsers that concern about users' privacy the most and will surpass the others if it hasn't done that yet.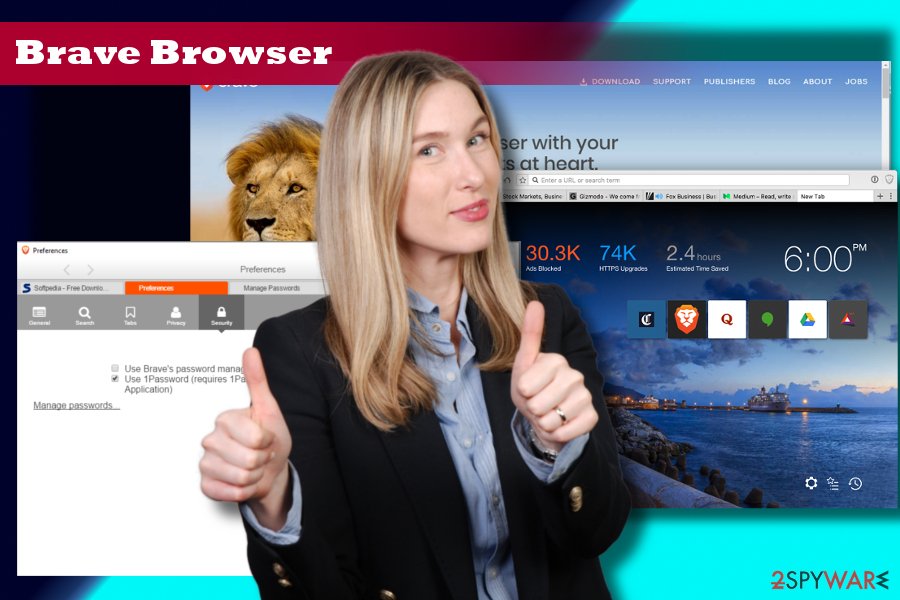 Likewise other popular web browsers, Brave browser features "Private browsing" option, which allows the user to surf the net in the incognito mode without leaving the traces. Its privacy settings are exclusive in a way it incorporates the Tor Project's network identity-hiding technology,[3] which ensures strong data encryption and protects people from data leakage and identity theft.
The identity-hiding technology is not enabled by default. It is accessible on the private tab, which can be found under Brave's drop-down menu at the top-right corner of the screen.
In comparison to Tor, Brave browser is simple to use for everyone. However, it does not yield to Tor. According to Yan Zhu, one of its programmers, the privacy tab "will give the user better protection from local surveillance, such as by their internet service provider or other users on a shared Wi-Fi network."
Besides, experts point out the following pros regarding Brave browser privacy:
Upgrades insecure HTTP[4] website's links into encrypted HTTPS links;
Private tab blocks HTTP links at all;
Private tab blocks scripts thus minimizing the risk of attacks;
Blocks tracking Pixels and tracking Cookies;
All in all, Brave browser is a great choice for privacy-conscious Internet users who also like speed and simplicity.
The browser is faster than Chrome and Safari
Apart from privacy, speed is another advantage of the Brave browser. Available for Windows, Linux, OS X, and Android, this relatively new web browser has already outmatched the biggest players on the market.
Researchers point out that Brave managed to load major news sites 2 to 8 times faster if compared to Chrome and Safari (desktop version) and two times faster on Google Chrome desktop.[5]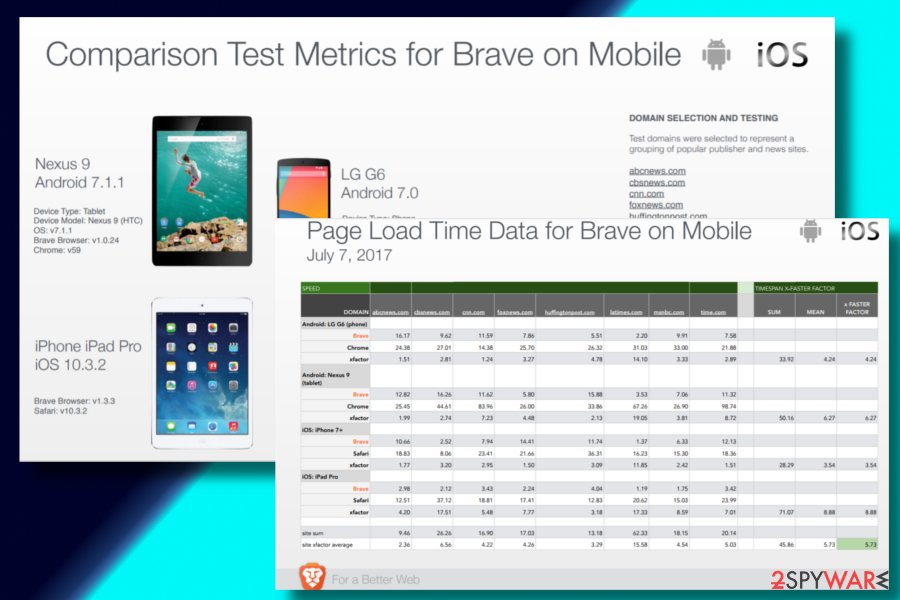 It is also praised for deliberate CPU consumption, which sticks to the line through the entire day of usage. Even the critics of the browser admit that Brave loads websites instantly, including the sites that contain an excessive amount of junk.
Choosing Brave browser: you won't have to install ad blocking extensions
Probably there's not a single Internet user who did not notice how audacious and arbitrary online advertisers have become. Brave's developers think that the current ad-tech ecosystem is out of control and should be addressed immediately. This browser has been developed to become "the new weapon of choice for improving their browsing speed, safety, and privacy."
This Chromium-based web browser features and inbuilt ad blocker, which is set to block ads and trackers by default. The feature not only allows the web browser to run faster, but also increase web browsing experience, save people's time, nerves, and protect them from cyber attacks initiated via malicious online ads.
The release of the default ad-blocker[6] in Brave (by the way, Chrome has recently represented one as well) does not mean the end of online advertising. This is hardly possible because ad-free cyberspace would stop offering the content for free. What Brave seeks is to block the most intrusive ads, such as pop-up ads, pre-roll ads, full-page pop-ups, and all content that refuses to go away.
The ad-blocker will put its forces to prevent malwaretising that helps to spread malware, adware-type programs or browser hijackers that are involved in affiliate marketing and seek to replace original ads generated by website developers with potentially dangerous ads.
Some people claim that the default Brave's adblock is not that aggressive as the most popular ad-blocking extensions because it may fail to filter some of the irritating ads or block websites that feature extremely high ad density.
Advantages of the browser are not limited to speed, simplicity, and privacy
The list of Brave's advantages is rather long, so we will not expatiate on each of them that much. Nonetheless, the following features are worth mentioning in this Brave browser review:
It supplies only respected and widely used plug-ins only. Although some may argue that Brave lacks for extensions, people claim that the supply of plug-ins is deliberate and that they feel safer to choose them as there's not doubtful offers.
Has automatic cookies, browsing history, cache, and other junk removal option.
Simple design. The start tab provides a random picture, which differs each session. Besides, it provides a clock and some quick access tabs.
Does Brave have some cons? Definitely yes
Nothing is perfect. Brave either. The web browser build with Chromium code may have many disadvantages, but note that they depend on each user's opinion and preferences. However, most of them agree with the fact that this browser is rather primitive and has loads of space for improvement.
Critics claim that the web browser is too simple and compare its design to Windows 10 interface, which is often criticized for being old-school and primitive. UI is missing some essential pieces.
People reported that when using DuckDuckGo, they encounter Vim-like "J," "K," and "L" result navigation just like in Chrome or Firefox. This issue has been fixed with the latest Brave beta, so if DuckDuckGo has been ruining your usage experience on Brave, make sure to install its most recent version.
Additionally, the support team has been informed about two most irritating bugs of the browser. Many people experienced total crashes on random occasions and they were forced to close it via Task Manager. The other issue is related to the quality of the displayed content. All of a sudden all the view gets blurry and does not recover for an indefinite period. These issues are under investigation and will be soon fixed, Brave's team responded.
In a nutshell, despite some minor shortages, the Brave browser is worth a try. Simple, fast, and secure – these are the three words that describe this browser most accurately.
About the author
References