CheckFlow Anti Spyware 2005 review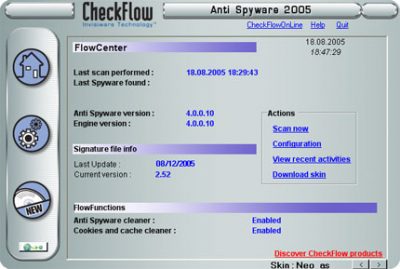 It is a relatively simple spyware remover with basic set of functions. Although it cannot be compared with the most popular anti-spyware solutions, it is absolutely free and simply works.
CheckFlow Anti Spyware 2005 checks the registry, running processes and entire file system. A user can configure the program to scan selected hard disks, define what file types to check, what infection categories to search for. Full system scan doesn't take more than 3 minutes. Apparently the program doesn't thoroughly examine content of each file and relies only on its spyware definitions database, which is updated on a regular basis. Such detection technique allows to easily find known widely spread parasites, but is absolutely ineffective against the most recent threats. CheckFlow Anti Spyware 2005 has an additional tool that cleans up web browser cookies and temporary Internet files.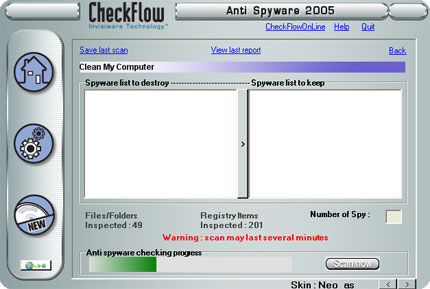 Program's interface is simple and supports skins. Nevertheless, we find it too inconvenient and amauteurish. Scan reporting is poor, the program doesn't provide detailed information on found parasites.
The application doesn't have plenty of functions, but uses too much system resources. On our test PCs it causes 100% CPU usage and consumes up to 50 MB of memory. CheckFlow Anti Spyware 2005 needs to activate 3 different processes in order to run properly. Moreover, it simultaneously opens numerous command prompt windows while removing found malware. Such behavior is really weird.
CheckFlow Anti Spyware 2005 is programmed using Microsoft .NET framework and doesn't work without it.
Official domains are checkflow.net and checkflow.com.
About the author