CleanMyPC Registry Cleaner review
CleanMyPC Registry Cleaner is a registry tool which is designed to remove faulty and obsolete registry values. By removing faulty registry values, your system should run faster and errorfree. Additionally, Registry Cleaner lets you backup your computer registry, which is good, because modifying registry might cause problems and system failures, which can be fixed with restoring your registry from an older backup.
Besides, Registry Cleaner has a startup and BHO organizer feature, which lets you manage your startup and Internet Explorer BHO items in an easy way. You can control which programs will start when you boot up Windows, and Internet Explorer becomes more handy with some new features.
However, this cleaner shows a lot of false positive alerts, which makes it a questionable tool, because none of the legitimate registry cleaners show them. Even when we checked a newly installed Windows XP registry, it showed more than 100+ errors in the registry, which means, that most of these shown errors aren't true, or aren't really important.
If you want CleanMyPC Registry Cleaner to clean your PC's registry, you will have to purchase a full license of this program. We recommend you not to pay for this registry cleaner, and to try some other free and legitimate cleaners out there.
CleanMyPC Registry Cleaner download:
not recommended
CleanMyPC Registry Cleaner was carefully tested by 2-spyware.com research center. The review is the result of our test. If you know additional information about CleanMyPC Registry Cleaner please
send us the note
Advice:
If your computer seems sluggish, or you are suffering from unwanted advertisements and redirects to unknown websites, we highly recommend you to scan it with reputable anti-spyware program. Do some FREE scan tests and check the system for unwanted applications that might be responsible for these problems.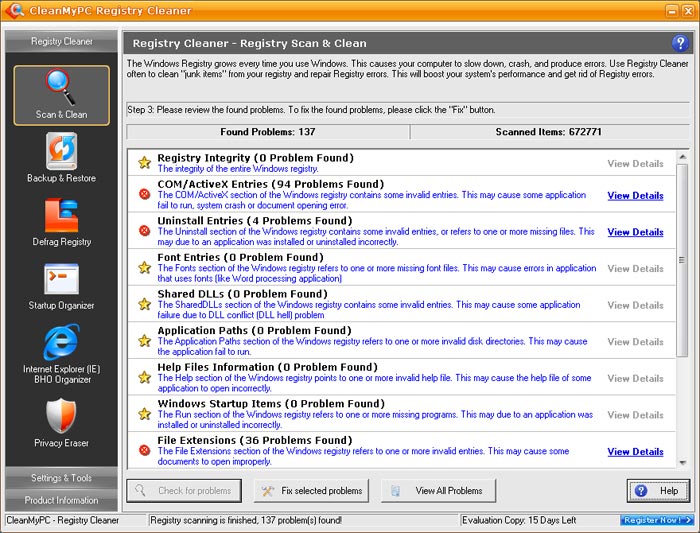 About the author