Microsoft Safety Scanner review
Microsoft Safety Scanner is a legitimate scanning software developed for the security of your computer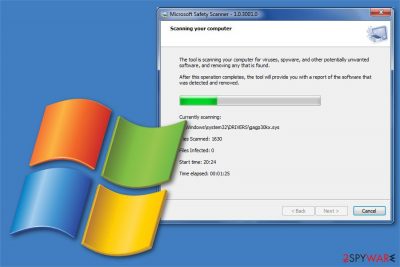 Microsoft Safety Scanner is a security software which is offered by Microsoft company. Users are allowed to manually select the capabilities of the program to maintain computer's security. It automatically performs system scans at determined intervals to check for various potentially unwanted programs (PUPs) and malware[1].
Pros
Cons
Conclusion
Contains Full, Quick and Specific scan options
Does not update automatically
Microsoft Safety Scanner is a great option for quick malware removal. Although, those who do not want to re-install antivirus every ten days might choose another security software. 
Allows to select whether to get rid of identified threats or not
 
Similar to other antivirus programs, Safety Scanner by Microsoft has multiple scanning options which might be selected manually. Users can choose to check the system entirely by picking Full scan option. It checks all computer directories for potentially dangerous programs, including:
Spyware;
Adware;
Browser hijackers;
Malware;
Trojan horses.
The quick scan by Microsoft Safety Scanner is a less time-consuming option for a fast system check. Unfortunately, this option skips specific folders which are not usually used by cybercriminals to hide malicious programs. Likewise, there is a risk that during the security software might miss specific cyber threats during the procedure.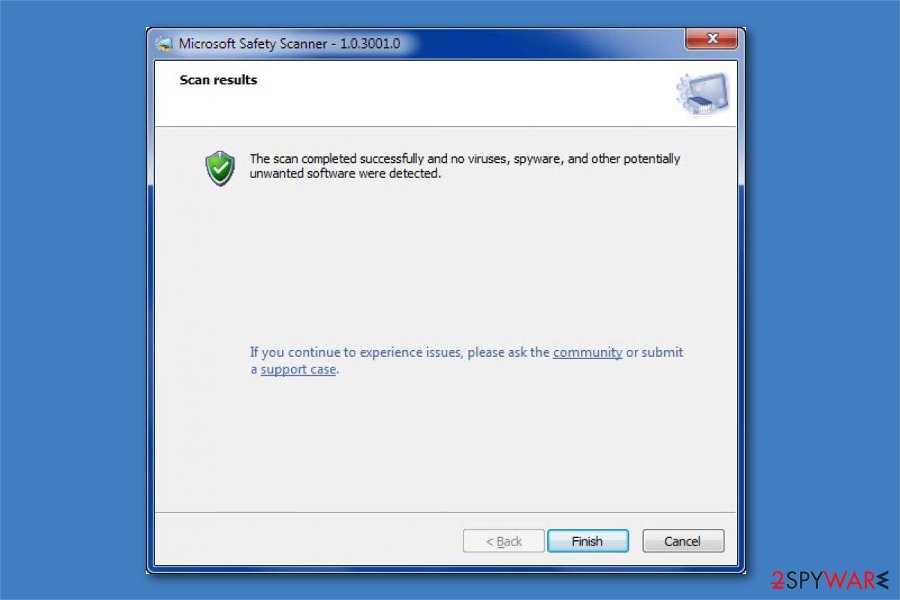 Furthermore, Microsoft Safety Scanner for Windows 10 provides another option for those who are eager to check specific files. Users can upload suspicious files for the checkup. This option is a great way to maintain computer's security and avoid downloading potentially unwanted programs (PUPs)[2] when installing third-party software.
According to the experts, after performing a scan with Microsoft Safety Scanner, users are provided with the list of programs which are detected as malicious or potentially dangerous to the computer system. Likewise, people can choose whether they want to remove malware with the current antivirus or use another removal tool. 
The security software does not update automatically
Microsoft Safety Scanner review is the place to outline both, advantages and disadvantages of the security tool. Even though this software consists of numerous great features which are highly beneficial for the daily computer user, there are also certain flaws that might be repellant for specific people.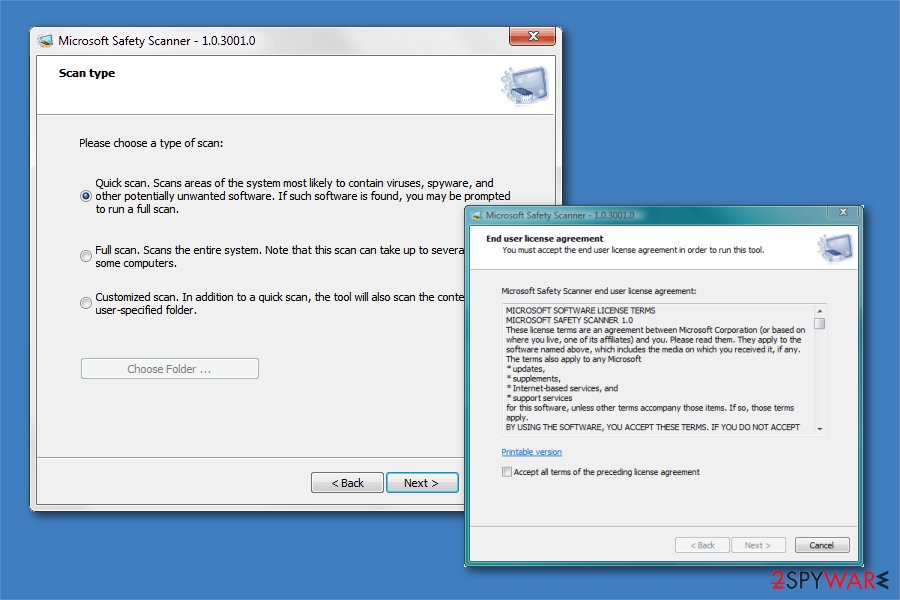 The main disadvantage of the product is that it does not perform automatic updates. As a result, people must uninstall Microsoft Safety Scanner and re-install it afterward. This procedure must be completed every ten days as the developers are updating malware database regularly to keep users protected.
Otherwise, the outdated Microsoft Safety Scanner for Windows is not practical — newly emerging cyber infections are not included in the database. Likewise, the security software neither can identify new malicious programs nor eliminate them from the infected system. 
Keep in mind that in case re-installing Microsoft Safety Scanner is not an option for you, there is a possibility to download Microsoft Security Essentials which includes the full version of the security software. In other terms, you will no longer need to update the tool manually. 
Comparing Microsoft Safety Scanner to other security tools:
Before users decide to complete Microsoft Safety Scanner download, they usually search for alternative antivirus to make comparisons and choose the best one. Our experts have prepared a short review of other security tools to help you pick which malware removal software suits you the best. 
Additionally, some people report being unable to complete Microsoft Safety Scanner download[3]. In this case, you should make sure that you are using the official Microsoft site and your computer is not infected with malware. You can download the security application here. 
Microsoft Safety Scanner vs. Windows Defender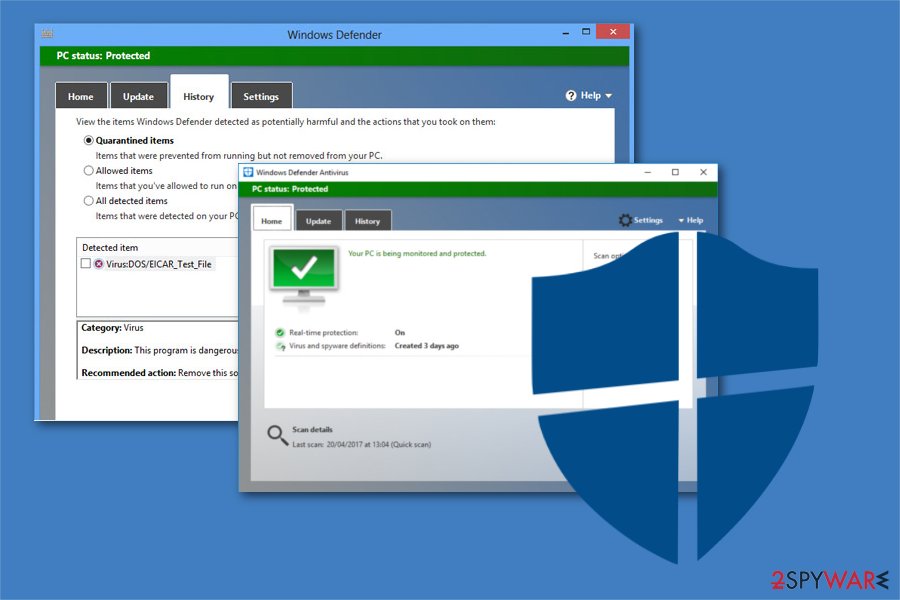 Windows Defender is an inbuilt security tool which is already installed on the operating system. It is a great tool which does not conflict with other applications. Additionally, it stays on as long as there is no other antivirus installed on the computer. Thus, people can be sure that their systems are protected at all times.
Windows Defender
Pros
Cons
Conclusion
In addition to Full, Quick, and Custom scan it provides Offline scan
Only detects spyware in Windows 7 and below
Windows Defender is an excellent in-built security tool which can detect hard-to-remove cyber threats before Windows is fully loaded. Although, users with previous Windows versions should consider using another antivirus for an extra layer of protection. 
Continuously operates on the system if no other antivirus is present
 
Although, Windows Defender compared to Microsoft Safety Scanner is only effective in Windows 7 and above. It is because the security tool does not include malware protection in previous Windows versions. Thus, people are required to use an additional antivirus together with this application.
Furthermore, both applications provide their users with the ability to choose between multiple virus scanning options — Full, Quick, and Custom Scan. However, Windows Defender offers a possibility to scan Windows operating system before it is fully loaded. In other terms, the Offline scan is designed to search for malware before any of its processes are started, and the malicious program is defenceless[4]. 
All in all, Microsoft Safety Scanner and Windows Defender are great tools which can complement each other when the person aims at maximum security for its system. Luckily, users of Windows 7 and below can use both of the applications at the same time.
Microsoft Safety Scanner vs. Malwarebytes Free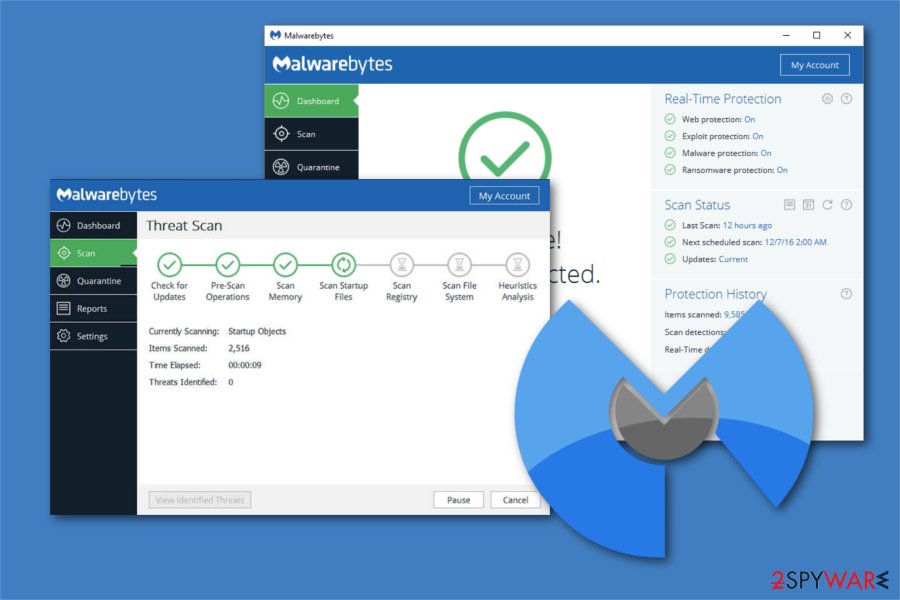 Malwarebytes Free is another great security tool which helps users protect their systems from various cyber threats, including spyware, PUPs, adware, etc. However, it does not provide real-time protection[5], so can only be used as an additional tool to the primary antivirus.
Malwarebytes Free
Pros
Cons
Conclusion
Finishes scanning the computer quicker than other apps
Only provides Full scan option
Malwarebytes Free is a great choice for those who don't want to invest much in their computer's security. Although, it can only be used as an additional software to the antivirus with real-time protection.
Free
 
 
According to the analysis of the experts, Malwarebytes Free is an easy-to-use application which scans your computer for malware fast. Although, the results are not always satisfying. So, it would be wise to double-check the system with another security program, like Microsoft Safety Scanner. 
Furthermore, if you can pick one from multiple scan options in Microsoft Safety Scanner, Malwarebytes Free merely allows scanning the system entirely. Thus, people who like to have the ability to choose from several options might be less than satisfied with this antivirus. 
To conclude, Microsoft Safety Scanner and Malwarebytes Free are both great security applications. Although, the antivirus by Microsoft might be more attractive to those who seek to have multiple options when scanning their computers for malware and other malicious programs.
About the author
References