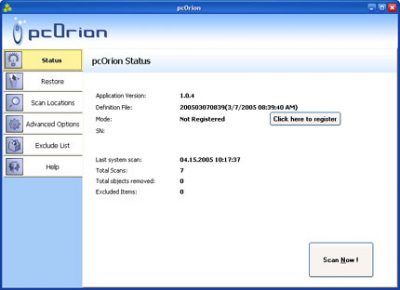 pcOrion is a simple, effective and fast spyware remover. It was carefully tested on several computers and showed quite good results.
The application checks the registry, running processes, cookies, files and directories on all local disks. It performs fast full system scans, can check user-defined locations and system components. Its engine doesn't decrease computer performance. Spyware definitions database contain enough signatures to protect the system from most common threats. It is updated on a regular basis. Updates are available in free version. pcOrion is a lightweight antispyware with no additional tools. Other functions are: Exclude List and Restore.
Program's interface is simple and clean. It can be described as user-friendly, although it could look better.
Free version of pcOrion refuses to remove any malicious objects it found and asks to register and purchase full product.
The official site is pcorion.com. Orders are made via secure connection.
About the author