SpyCatcher Express review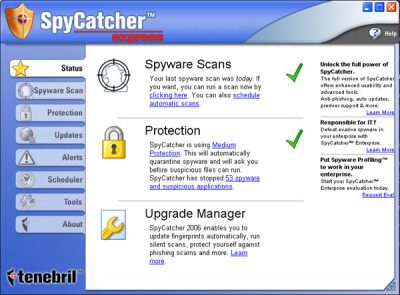 We have carefully tested SpyCatcher Express, a product of Tenebril, Inc., on a large number of different computers including badly infected machines and absolutely clean systems. Our tests revealed that this product provides effective protection against most spyware and adware threats as well as some dangerous trojans, remote administration tools and other malicious parasites.
SpyCatcher Express was noticeably improved in comparison with its prior versions that we have tested one year ago. The new product is different and much better. Nevertheless, it suffers from a few stability and compatiblity issues. Furthermore, it may produce minor false positives.
The program's scan engine is relatively fast. Scan reports contain not only malicious objects, but also items related to suspicious, unknown software. Although such detected method allows finding and eliminating hidden threats, it also complicates the removal process. Inexperienced users can accidentally remove important system and software objects and even corrupt the entire system.
SpyCatcher Express uses a large parasite definitions database, which currently contains over 96,500 pest traces. It is updated on a regular basis.
The application thoroughly checks the Windows registry, running processes and the entire file system. It can perform either the Deep scan or the Quick scan. The first one is the most effective. It requires 7-9 minutes to complete. The Quick scan is usually less resulting. However, it needs only 2 minutes. The user can also set the program to perform custom scans of defined locations.
SpyCatcher Express not always identifies malware correctly. Our tests revealed that it classifies a lot of unknown objects as "suspicious". For example, some files of Oracle database software were showed as suspicious. Furthermore, the program is prone to minor false positives. On one of our test systems it identified the layout.bin file related to Oracle products as the Remote Control Panel trojan. It also detected the C:\Windows\System32\fk.dll file related to TrojanDownloader-Bw. However, further analysis revealed that there was no such file in our test system.
The program implements DeepDefense, the real-time protection technology, which prevents the installation of aggressive spyware parasites, intercepts and blocks rootkits and other malware.
SpyCatcher Express provides additional useful tools. The System Explorer shows the detailed list of all applications running on the computer. The Cookie Manager allows examining web browser cookies and removing the tracking ones.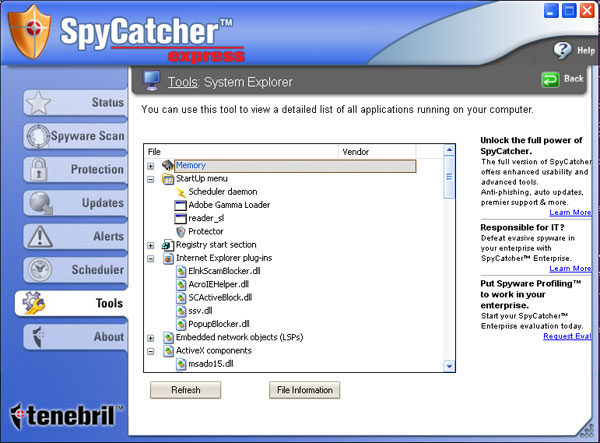 Unfortunately, a lot of SpyCatcher Express users report various stability and compatibility problems. On some computer the program blocks legitimate software and crashes installed applications. It is also responsible for system crashes and Internet connection problems.
SpyCatcher Express is a free product. It can be upgraded to SpyCatcher 2006, which is paid. Both products are very similar. However, the paid one has more features and integrated tools.
The official web site is www.tenebril.com. Purchases are made via secure connection.
About the author